Als een echte quiltjunkie moest ik vannacht aan het machinaal quiltprobleem denken, en ik dacht toen dat ik misschien vergeten was er een nieuwe naald in te stoppen, toen ik klaar was met die -ook al zo akelig door te quilten- quilt van Suzanne. Was het de lijmspray op de naald die mischien voor de problemen zorgde? Ik moest me inhouden om het niet te gaan checken, om 3 uur in de nacht, en besloot het in de morgen te doen. Like a real quiltjunkie I couldn't sleep last night, thinking about the quilting-problems of the day before, and then it hit me: perhaps I had forgotten to change the needle after I worked on Suzanne's quilt, which also was a complete nightmare to quilt because of too much glue-bastingspray. Na 3 uur slapen moest ik eruit om brood uit de bbm te halen, het rook heerlijk en toen ik een uur later het brood fatsoenlijk kon snijden -wat meer aan de versheid van het brood lag, dan aan mijn gemoedstoestand zo vroeg in de morgen-, heb ik mezelf gelijk getrakteerd op een zalig knapperig kapje met boter en komijnenkaas. After 3 hours of sleep I got out of bed to take the bread out of the oven, and an hour later I could cut it and treated myself to a luke-warm sandwich with butter and old cumincheese, mouthwatering! After I got dressed I heard a horrible miauwing outside and saw Zipje with the mother of all pigeons in his mounth; he ran to the other side of the hedge -almost tripping over the claws of the bird- when he saw me coming outside, with Zopje trailing behind me. No way he was going to share his prey, not with his boss nor his brother. Ik was net klaar met douchen toen ik afschuwelijk gemiauw hoorde vanuit de tuin, en toen ik ging kijken kwam Zipje aanlopen met de moeder alle duiven, hij struikelde bijna over de poten van het beest, maar hij dook weg achter de heg toen hij mij zag aanlopen, met in mijn kielzog Zopje, die ook een graantje wilde meepikken.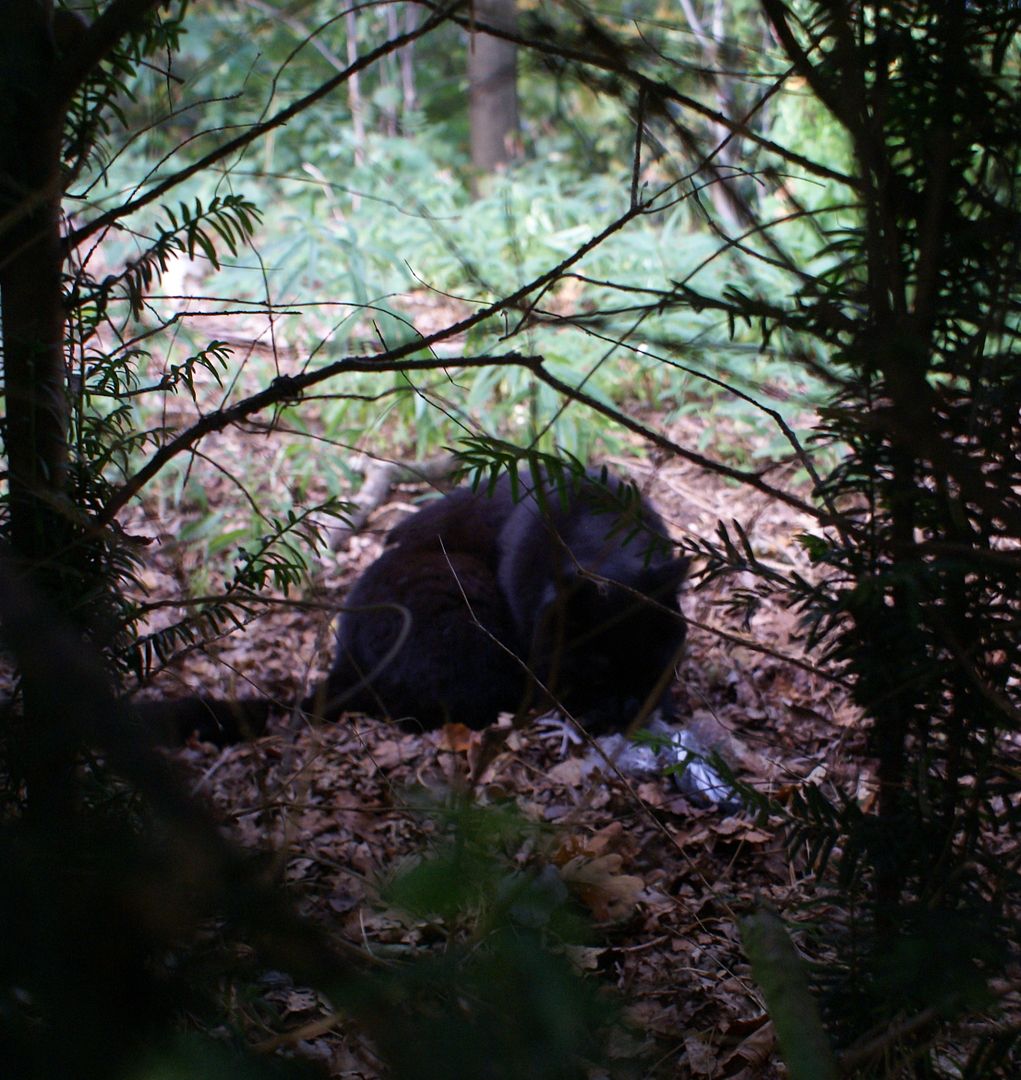 hier probeert hij onverschillig te kijken Below: Zopje trying to look cool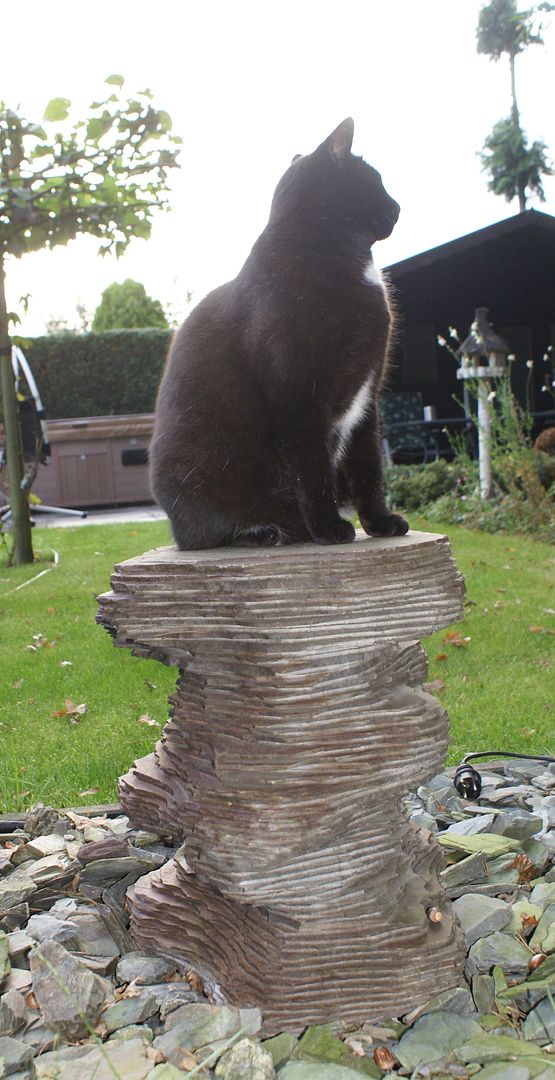 terwijl hij er wel flink de schurft in had dat hij niet mocht aanschuiven met eten.
Vanmorgen even op en neer gereden naar mijn ouders, het plan was dat ik de Singer 222 zou brengen, en na gedane uitleg en de nodige bakjes koffie en show&tells (mooie zelfgeverfde lapjes) weer huiswaarts zou keren. De Singer dacht er anders over; no way dat ze zonder d'r zusjes uit logeren zou gaan, en ze vertikte het ten ene male om een mooie quiltsteek te laten zien. Continue lussen en knopen aan de onderkant, wat ik ook probeerde. Toen ik ze weer in haar koffertje stopte meende ik een tevreden gezoem te horen, huh? Voor het quiltprobleem thuis kreeg ik van mijn moeder Microtex Sharp Needle mee van Schmetz, en hoera, het ging al een heel stuk beter met het stikken, maar een paar keer draadbreuk, en ik ben nu op een kwart. Zaterdag krijg ik van een lieve quiltvriendin een Titaniumnaald om uit te proberen, wow, dat klinkt wel stoer, een naald van titanium. Ik zie dat je ze oa hier kan kopen. When I dropped by my parents this morning, my mother gave me some Schmetz-needles (Microtex Sharp) to try on the weave-it quilt, and it helped a lot, though it's not 100% yet. I can still feel the thick white leaves pulling on the needle. A quilting friend emailed me, she's got Titanium needles, and she's giving me one next saturday, so I can try. Wonderfull and exciting, it sounds so Star-Trackish, "beam me up some Titanium needles, Scotty".
Zipje lag vanavond met een hittepit in zijn nek op de bank, hij had pijnlijk stijve nekspieren overgehouden van het hooghouden van de duif tijdens het lopen, vertelde hij me, nadat hij nog een maagtabletje had ingenomen. Zipje lay on the couch tonight, with a hotpack in his neck to ease the sore muscles; "damn that pigeon", he said, burping loudly, after taking yet an other anti-heartburn pill to calm his stomach.