Vandaag heb ik een UFO uit de kast gehaald van onder de stapel van de vloer geplukt, heb hem gesandwiched met de tacker, en ben begonnen met al meanderend door te quilten. Al na 5 cm² brak het draad tot twee keer aan toe, en nadat ik het had vervangen door steviger garen, brak het weer in no-time. Today I took an UFO out of the closet from under a pile of stuff from the floor, sandwiched it with a tacker and started quilting it, using a small meander-patern. Within 5 cm² the thread snapped, switching to a tougher thread didn't help much, and it still skipped stiches every now & then. Buggers. Slowing down helped a bit, but that's not so good for my bloodpressure.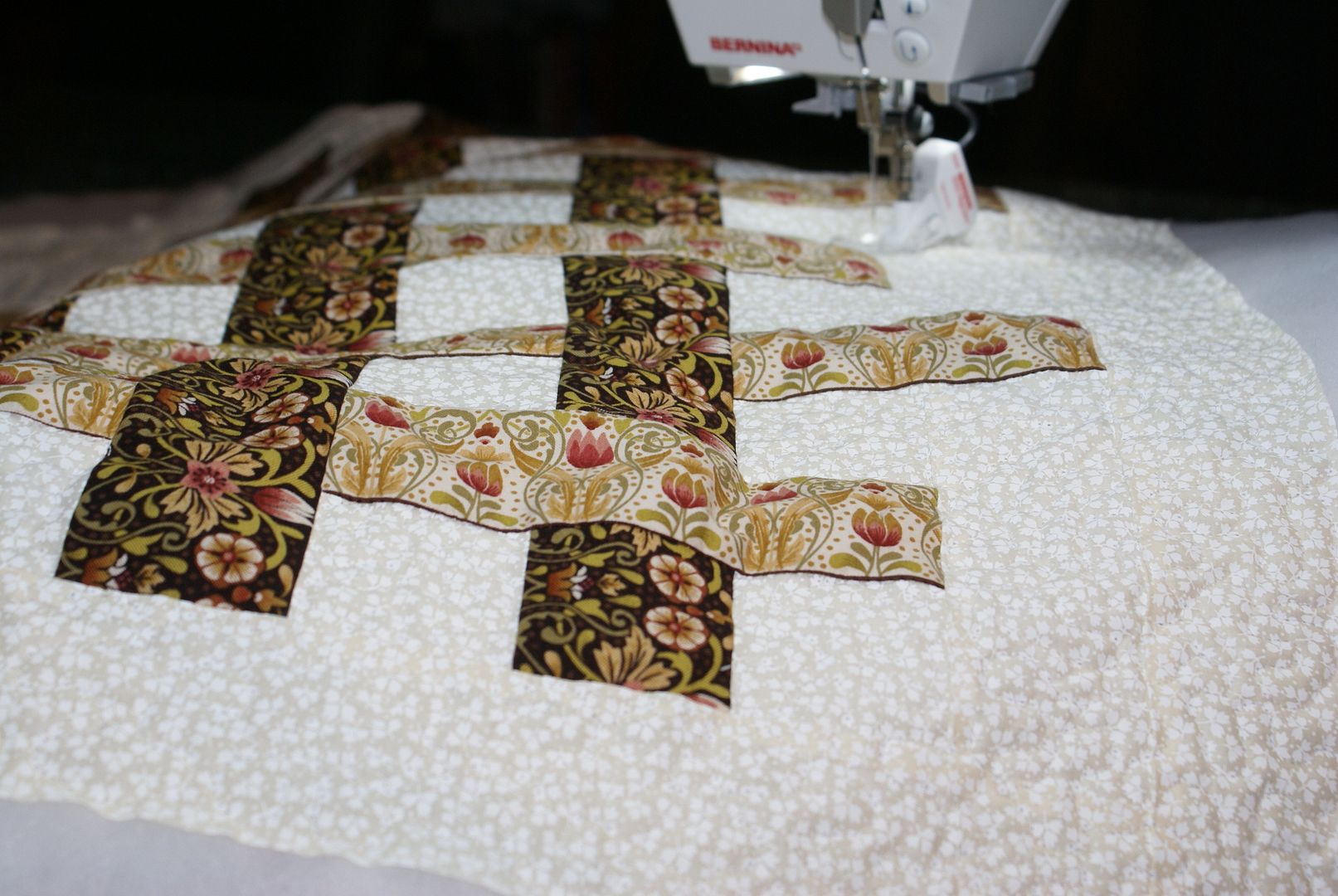 Ook slaat hij steken over, dus op z'n elf-en-dertigs ben ik nu aan het stikken, ondertussen rustig doorademend, en mezelf heel gelukkig prijzend dat het maar een kleine wandquilt is. Wat een k..stof is dat witte, eens maar nooit meer. I think the leafprint on the white fabric is the problem, the needle is having trouble with it, it's like plastic, grrr.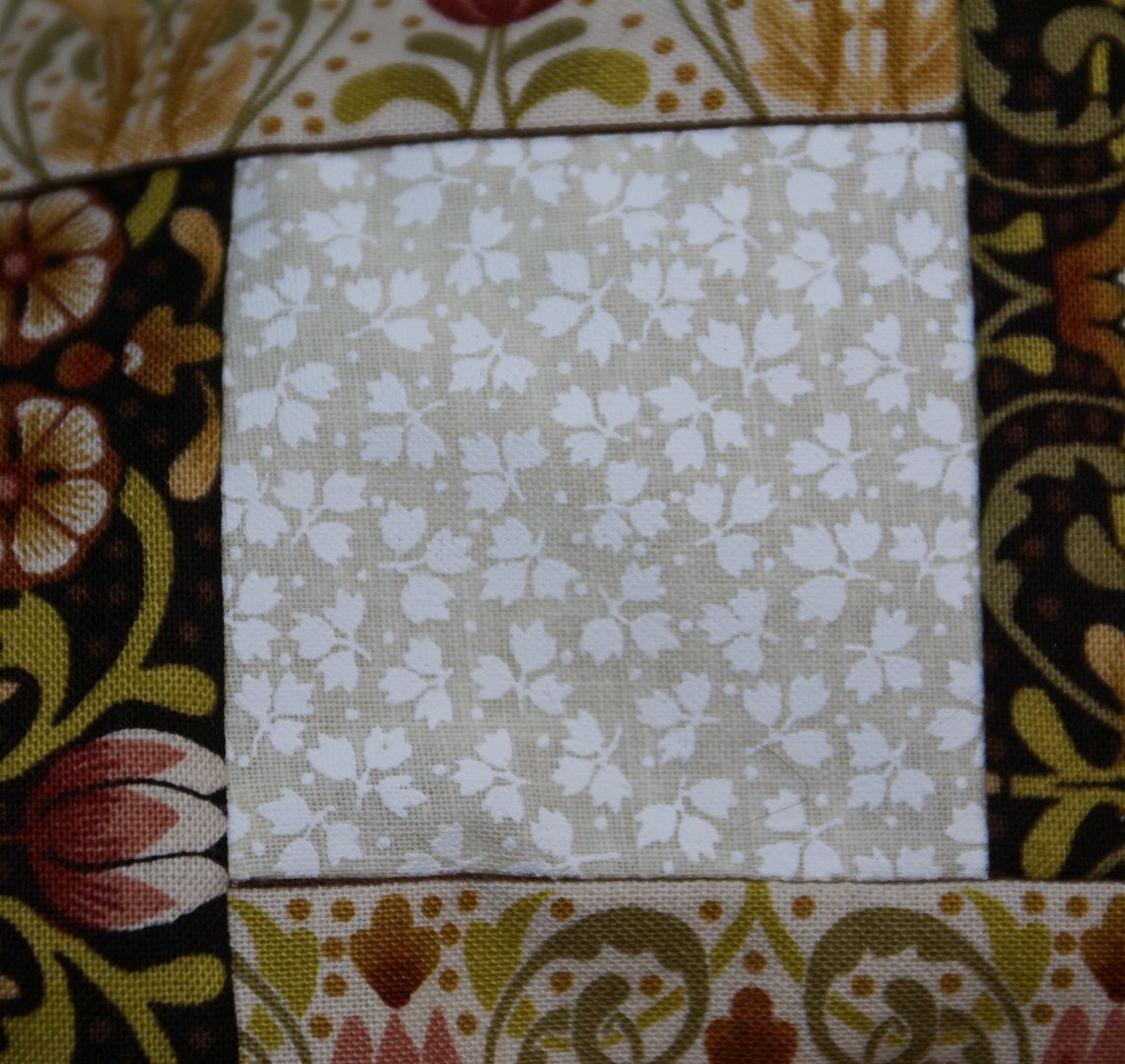 Het ziet er schattig uit (als een wolf in schaapskleren), zo met die witte miniblaadjes die er op liggen, en daar zit het probleem ook in; de naald heeft moeite met hier door steken, of ben ik echt de enige die hier probleem mee heeft? En ik kan mijn lol niet op; ik heb nóg 3 meter van deze stof in de kast liggen, want ik gebruik hem ook voor de antieke quilt! The fabric looks so lovely, and the best joke of all is that I have no less than 3 meters of it in my closet; I'm using it in the antique quilt as well. But I'm not going to use it any further, this quilt is going to be a kingsize one, and I'm planning to quilt it by machine too; thank goodness I found out in this early stage of piecing, and I'm glad didn't cut the white parts for the 28 stars yet.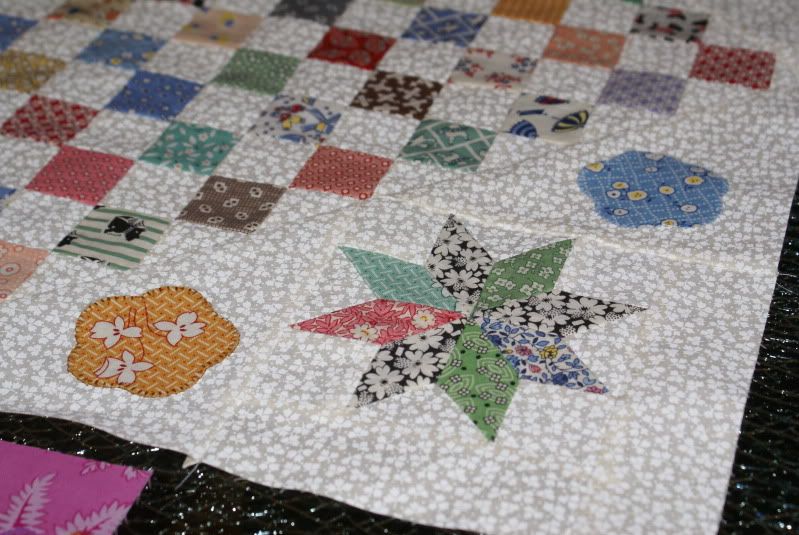 Godzijdank heb ik wat ik voor de sterren nodig heb nog niet gesneden, ik ga toch echt andere stof voor de rest gebruiken, aangezien deze quilt wel heel groot wordt.