Na het sporten (body-balance: pilates, yoga en nog wat voor mij anatomisch onmogelijke rek-, strek- en draaioefeningen) vanmorgen heb ik weer een klein GDO blokje afgekregen,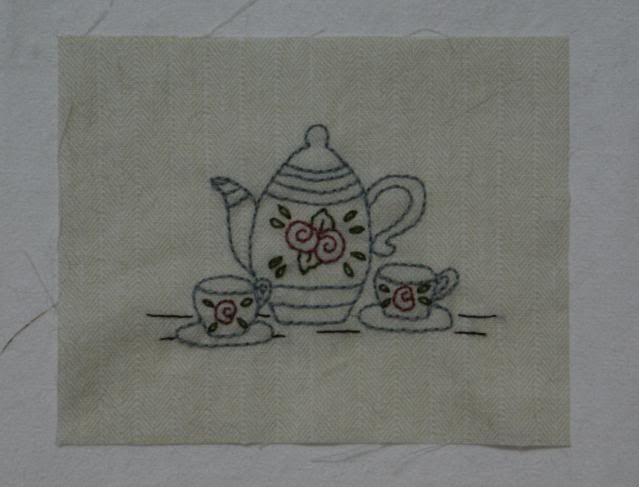 ondanks de aanwezigheid van aandachtvragende en later drijfnatte (van de regen) schootkatten, eerst Zipje en later Zopje. Zopje was het gekriebel van het lapje op zijn rug uiteindelijk zo zat, dat hij met zo'n vaart van schoot sprong met zijn staart zo hoog dat hij mijn lamp bijna omver trok.
Vanavond heb ik het grote middenblok van de Girls Day Out voorbereid met opgestreken applicatie delen,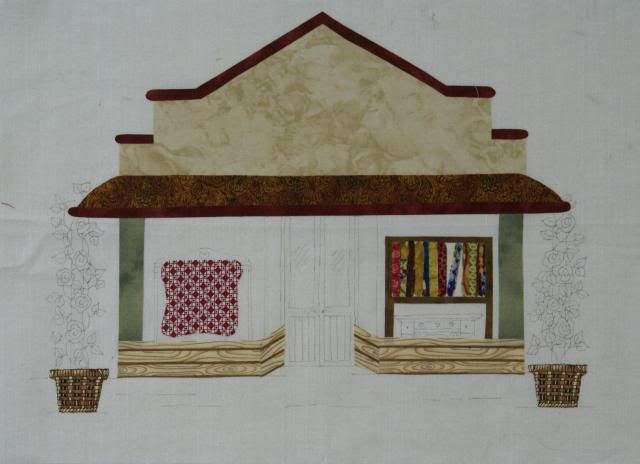 het ziet er al heel leuk uit vind ik. De plantenbakken heb ik uit stof geknipt welke ik van Ine had gekregen, ik vind ze super. En ik heb de blokken op de designwand geplakt zoals ze in de quilt komen te zitten, niet geheel naar verhouding goed gedaan en die kat gaat er af. Het zigzagbandje op de fashionshop zit nog los, gewoon omdat ik er nog niet uit ben of ik deze wel ga gebruiken, het liefst zie ik het een tintje donkerder. Morgen op de markt hoop ik het te vinden, als ik nou maar niet weer vergeet naar de markt te gaan, net als de laatste 4 weken.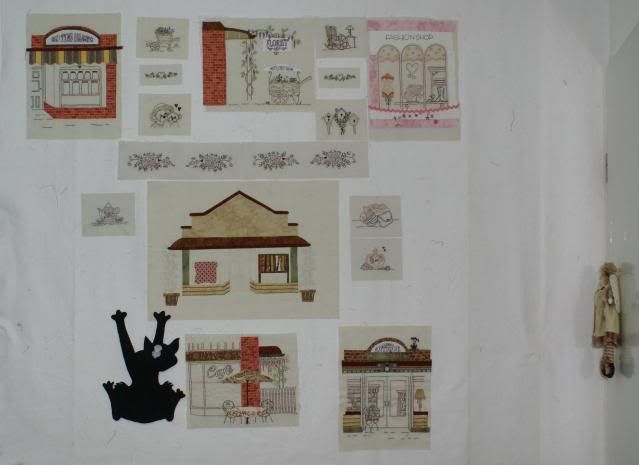 This morning I finished yet another small block, even though the cats tried to hold me from my work, sitting on my lap begging to be scratched. And later this day I made preparations for the big block in the middle, the quiltshop. It was fun searching for the right fabrics and cutting out the baskets from fabric I got from Ine a few months ago. I put all the blocks on the designwall the way they're supposed to be, looking good. The ric-rac on the fashionshop is almost falling of, I haven't sewn it in place yet, because I'm still having second thoughts about the colour. I hope to find a tat darker colour tomorrow, on our market.