Voor het 2e deel van de antieke quilt van Guute moeten sterren gemaakt worden, en dat wilde ik met de naaimachine doen, want ik had bij Fee ooit geleerd hoe dat moest, de lichte hoeken dmv pivoting in stikken. 'k Was alleen vergeten dat ik het met grote blokken had geleerd en als je met kleine friemelblokjes werkt, gaat het wel effe lastiger. A long time ago Fee taught me how to pivot on my machine, so I tried it and I managed to make a nice star, but it was tricky, and it took me like for ever (half an hour) to make 1 star with the off-white pieces! The tutorial with Fee was easier because of the size of the blocks I guess, her blocks were 12 inch, these are 5 inch.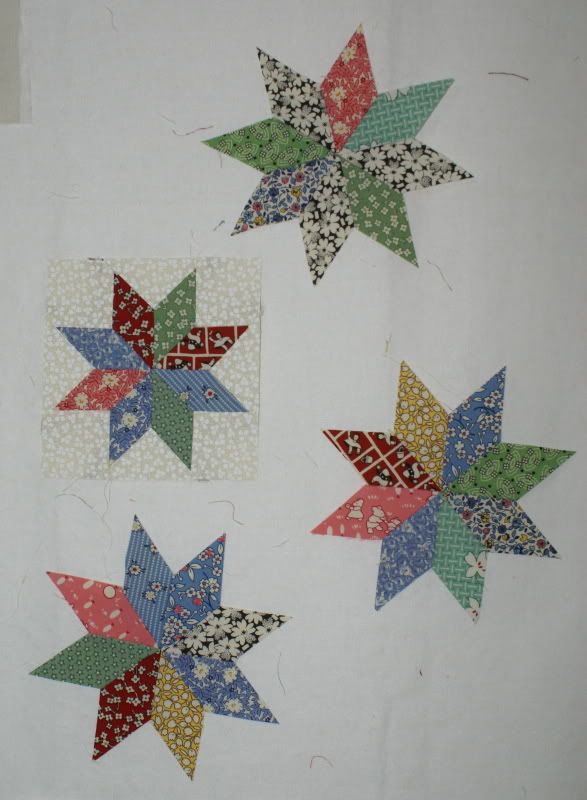 en zo moeten ze uiteindelijk alle vier worden, pffff. Volgens mij maken de rest van de dames deze met de hand. One finished, three to go, pfff. I think most of the ladies are doing them by hand.
Zondagavond zijn we naar Harry Potter gegaan, de zaal zat bomvol, wat op zich wel gezellig is -mijn gegil (van schrik) liet lekker veel mensen schrikken- maar ook de nadelen heb je wel; een hoop geklets in de zaal, naast mij zat een knul de hele tijd te eten! Eerst een wrap waarbij de alufolie behoorlijk kraakte, en daarna iets met nootjes. 't Is een leuke film, maar je moet dus echt wel het boek gelezen hebben en hebben zitten opletten bij de vorige film, want anders krijg je wat wij hadden in de auto op de terugweg; een om uitleg vragende man, die ook nog had zitten slapen voor de pauze! Sunday evening we went to see Harry Potter, it was sold-out what's nice -my scream did had a lovely effect on the people sitting around me- but it also had its cons; lot of talking and a guy sitting next te me ate the whole time! At first he ate a wrap, wrapped in foil, and for the remaining time he ate nuts, nice and crunchy. I liked the movie, it's best to refresh your memory by watching the previous one at home, and having read the book is also a pro. My hubby never read the books and couldn't make head nor tale of it, no wonder he slept throught some of the first part.