Nadat ik de top van Suzannes quilt af had, hielden de meisjes hem op, ik hoorde Suzanne nog vragen of ze hem los moesten laten, ze dacht dat ik daar ook een foto van wilde maken. Zelf op de foto staan leek hun geen goed idee, dus doken ze weg. De witte rand is overal gelijk, leuk dat het precies zo uitkomt met de blokjes naar de bovenkant toe he. Ik ga hem afbiezen met een roze stof, maar eerst moet hij natuurlijk doorgequilt worden, en daarvoor heb ik tussenvulling nodig, die ik niet meer heb! Met mijn licht-grieperig hoofd mag ik niemand aansteken, dus kan ik niet even hup de auto instappen, dus denk ik dat ik morgen Evelien en Perry op pad stuur.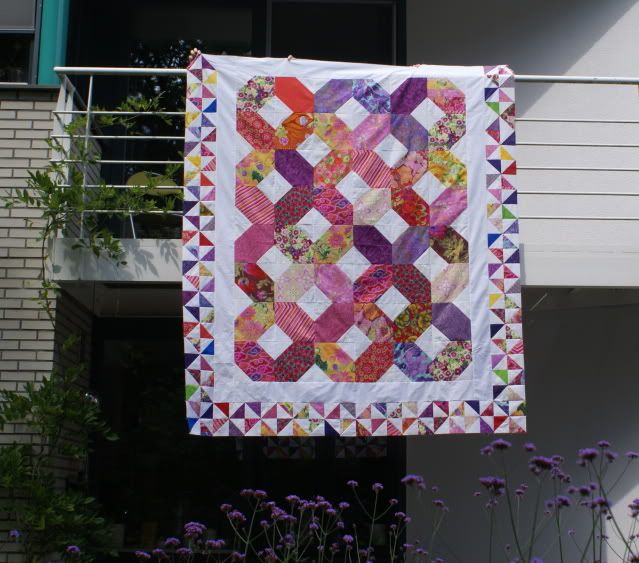 After finishing the top of Suzannes quilt, the girls held it hanging down from the balcony for me to take a nice picture, but they hid behind it, bad hairday and more nonsence. I like the way it turned out with the white borders, matching to the milimeter all around! The outside edge will be pink, but first it needs quilting and for that I need batting which I ran out off! And with a flue-ish head I'm not to go outside to fetch it myself, so tomorrow I hope I can sent Perry and Evelien out to buy a few yards for me. After a good mornings work it was time to smell the roses, and this one in particulary, so breathtakenly sweet, I got it from my mum Daarna was het tijd om aan de rozen te ruiken die in de tuin groeien en bloeien, zoals deze, die ik 'zomaar' van mijn moeder had gekregen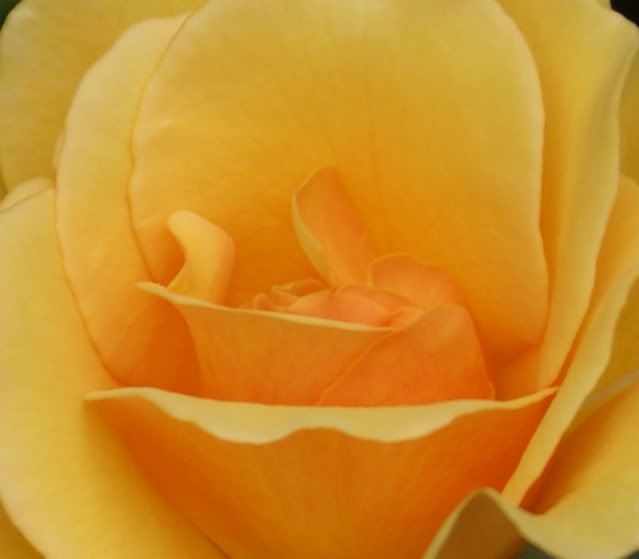 zo heerlijk bedwelmend zoet. En de Japanse Anemoon, waar een oorwurm zich in verstopte achter de meeldraden This Japanese Anemone caught my eye for its tender colours, and if you look carefully you can see an earwurm hiding behind the stamen.
  trok mijn aandacht vanwege de tere kleuren
Tim is weer beter op een lichte kuch na. Gelukkig! Evelien kan haar rijbewijs morgen al ophalen, is ook dolgelukkig!