En terwijl de onweerswolken en regenbuien elkaar in hoog tempo afwisselen, neem ik plaats achter mijn pc, muziekje aan en foto's uploaden, want ik heb weer wat om te showen. Het middenblok van de antieke quilt is klaar, hehe. Ik had alle stukjes gesneden en heb ze eerst per 2 aan elkaar gestikt (dus licht en bont) en toen heb ik ze toch maar even uitgelegd om de verdeling van kleurtjes toch wat georganiseerder te doen dan ik eerst van plan was. En ja, ik heb ook voor een andere achtergrondstof gekozen, niet de ongebleekte pitjeskatoen maar de wat fijnere wit op ecru. Here are pictures of the centrepiece of the antique quilt, I did make a lay-ou in the beginning, after sewing pairs of light and dark together- though my first idea was to pick the pieces randomly. Naah, better safe than sorry. I also added a few yellows and changed the backgroundfabric to white on beige, instead of the plain unbleached cotton.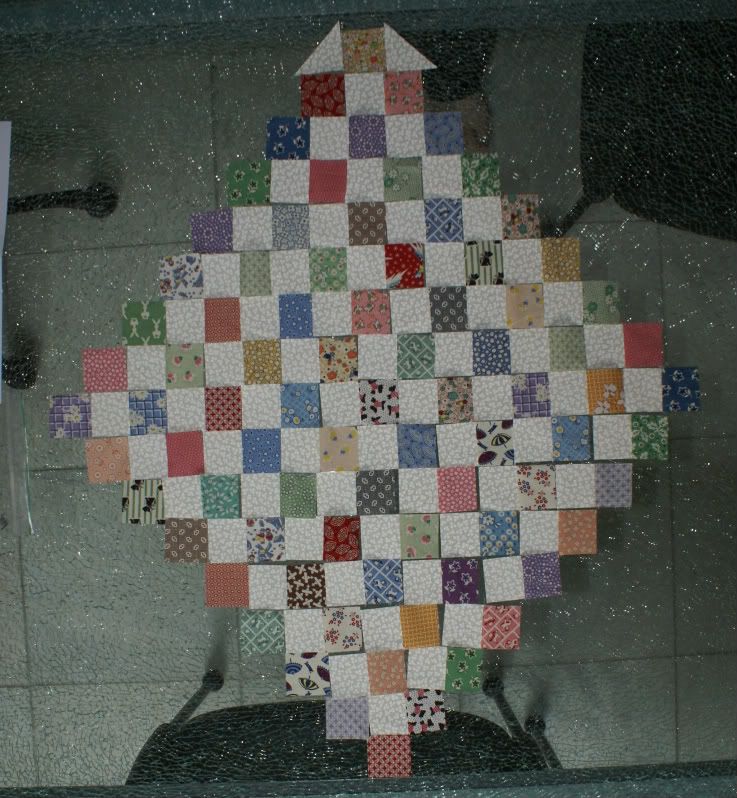 En na een halve avond stikken waren de rijen al zover Last night I got this far
en halverwege de ochtend was hij klaar and halfway through the morning it was finished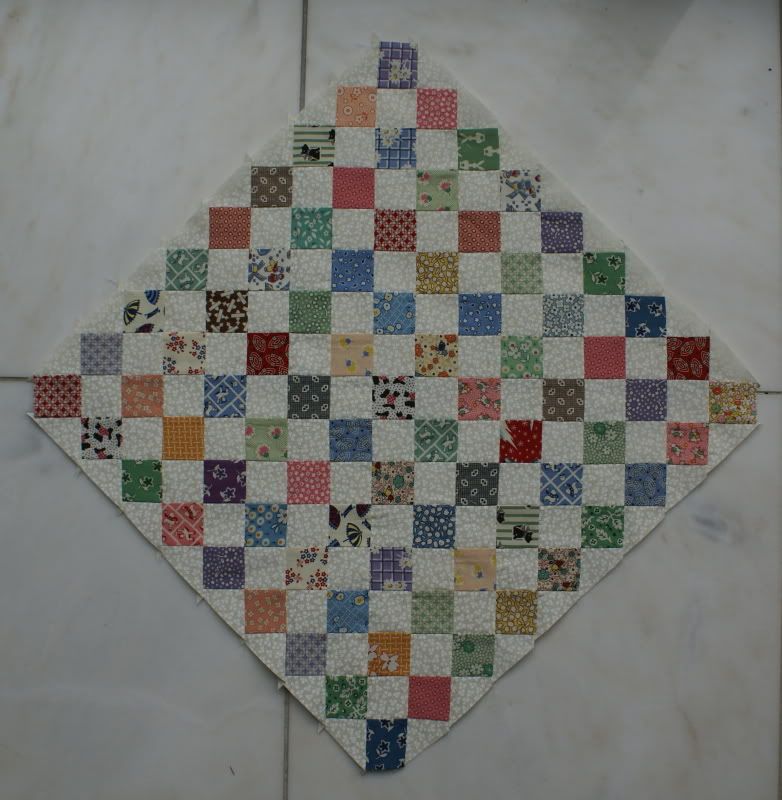 zo ziet hij er uit na een flinke stoomstrijkbeurt, gevolgd door het strijken van de opgespaarde overhemden, alle 27 stuks hangen nu heerlijk glad te wezen in diverse kasten. Je moet er even voor sparen, maar dan heb je ook wat om naar uit te kijken☺ It needed a good ironing to get it flat, and no need to get bored, 27 shirts were in desperate need of a touch of the iron as well; it feels good to have them out of the way.
dit was mijn geheugensteuntje, dat ik na het opnieuw aanzetten van de naaimachine niet zou vergeten de naald 6 stapjes naar rechts te zetten. Het opgevouwen papiertje (dik papier) zorgde ervoor dat ik een stootrand had voor mijn stofjes, heel handig. Zo kon ik af en toe naar de tv gluren tijdens het stikken zonder wisselende naadbreedtes. Ik geniet van de Michael Jackson specials op tv (en radio) jammer dat hij er eerst voor moest dood gaan. En nu ga ik snel het middenblok van de Girls Day Out quilt afmaken, het is bijna klaar! And this was my memoriecard, so I wouldn't forget to put the needle back 6 steps to the right after turning the machine back on this morning.The thickness of the paper keeps the fabric from wondering off while I glance at the tv every now & then. I love all those Michael Jackson specials on tv (and radio), a pity he had to die for it first! Now I must finish the centrepiece of the Girls Day Out, I'm almost done!
2 hele mooie nummers met 2 verschillende Michaels, en kennen jullie deze hier onder ook? Op de helft van het filmpje komt het