Het doorquilten ging zo lekker, ik ben al bijna helemaal klaar, net de rand nog. Ik heb steeds een paar rijtjes gequilt -ik ben steeds tot het midden gegaan, en zodoende eerst de ene helft en daarna de andere helft doorgequilt, minder belastend voor de polsen-, en tussen het quilten door het ik gewoon huishoudelijke dingen gedaan ter ontspanning. Ik kreeg pas tegen de avond last van mijn rechter pols, gewoon van het vasthouden en heen en weer bewegen van de quilt. Ik zal een foto maken bij daglicht, het quiltwerk ziet er gewoon fantaaastisch uit, al zeg ik het zelf.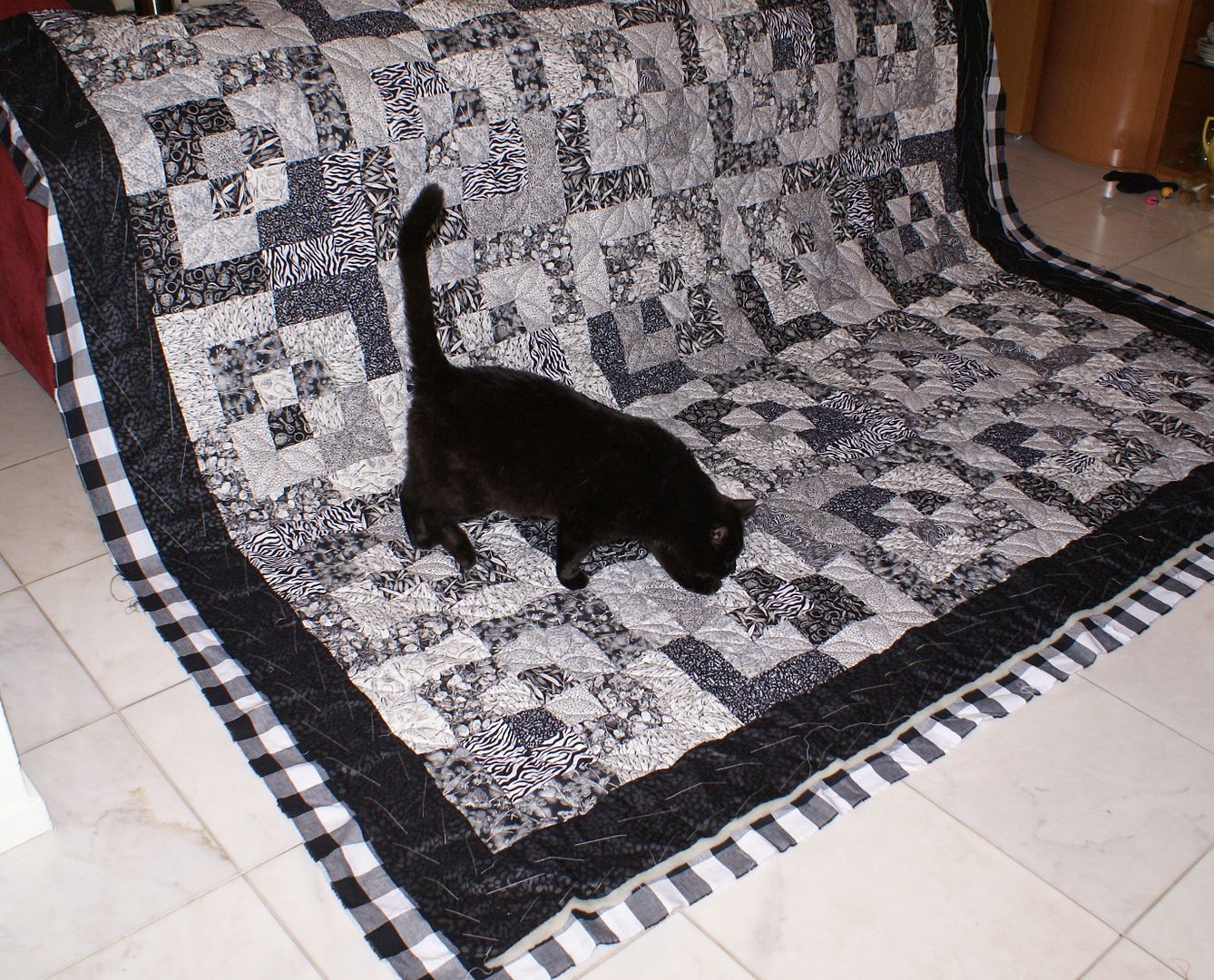 I'm almost done quilting this one, just need to do the border, I'll do it tomorrow. I quilted the rows up to the centre -less stressfull for my wrists- and when I reached the end I did the other side. Started at 8.30 and finished at 6.30, and in between the quilting I did some householdchores, just to relax my arms& shoulders. I'll take an other picture in daylight, the quilting looks just fab, darlin'.
Dit aten we gisteren: bak met wokolie eerst een zakje mosselgroenten in de wok, mik er dan 2 kg mosselen bij, half kopje water, en met deksel op de wok op hoog vuur nog ongeveer 5 minuten doorstomen, tussendoor 2x omscheppen. Zalig! Voor wie van pittig houdt: 1 e.l. sambal meebakken en dan de mosselen erbij mikken. Ook lekker: half glas wijn ipv water.
we had this for dinner yesterday: bake special vegies in a wok with special spiced-up oil, throw in 2 kg's of mussels and half a cup of water, and cook on high fire for appr. 5 minutes with the lid on. Stirr/churn (what's the difference?) it 2x while cooking, to make sure all the shells open and get cooked. Yummie! You can also try adding 1 tblsp. sambal with the veggies before tossing in the mussels. Or white wine instead of water.