Dat denken veel mensen als ik vertel dat ik een quilt van 250x 250 op de naaimachine ga doorquilten, en dan zeggen ze dat het niet mogelijk is. Nou moet ik eerlijk vertellen dat ik ook even aan mijn verstandelijk vermogen twijfelde, toen ik er achter kwam dat ik in al mijn enthousiasme de hele top aan elkaar had gezet ipv ze in 2 delen te maken zoals gepland. Maar de tussenvulling is zo zacht en soepel, dat het geen stugge dikke pakket is, en ik heb het erop gewaagd en ben na het doorquilten van 1/5e deel heel tevreden! A lot of quilters think I'm insane, quilting a 250×250 cm quilt with a sewingmachine, but the batting of this quilt is so soft and pliable, it's almost a piece of cake, and I've already done 1/5the of the quilt. I'm having a ball!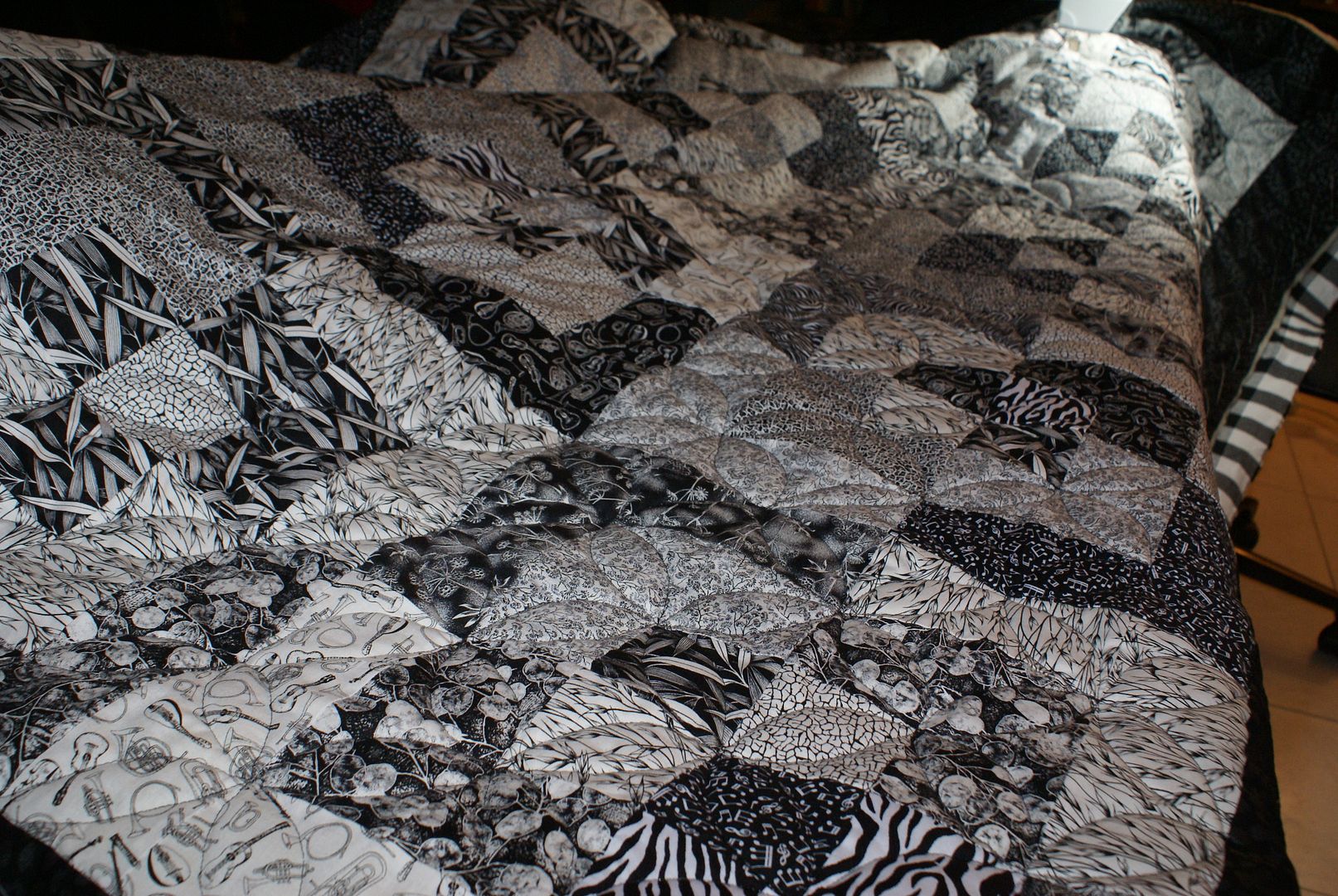 en zonder flitser
  dit is de achterkant, het patroon is hier beter te zie the quiltpatern shown on the back
Nee, ik teken niks af, ik wil wel verklappen hoe ik het doe. Ik werk van links naar rechts en ben onderaan begonnen. I do it by sight, no drawing or using templates, I like fast and easy.
Het punt is dus dat je de quilt niet oprolt om in het gat te stoppen tijdens het quilten, maar je duwt het er al quiltend in. Zorg dat de rest van de quilt niet trekt of achter de tafelrand blijft hangen, je maakt een nestje rond je machine van de quilt -vinden de katten fijn- en zorg dat er tijdens het quilten geen delen onder de quilt terecht komen anders dan waar je aan bezig bent, die meegestikt kunnen worden. The thing is starting at the bottom and going from left to right, not rolling the quilt up but 'nesting it' in the hole of the machine. Also make sure the rest of the quilt is not pulling, so I almost wrap it around the workingspace, but make sure nothing comes in between the quilt and the machine what shouldn't be there.


en dan begint de volgende rij finish this part and start the next row

je stikt nu een klein stukje over een eerder gestikte lijn at first you stitch back on a quiltingline

  en de volgende and the next row

  als je over een andere stiklijn stikt, doe je rustig aan. Pas op dat je met kwetsbaar garen niet teveel door het eerste draad gaat stikken, je kan het draad hiermee kapot maken; stik er dan liever nét naast, het zal in het grote geheel niet opvallen. When stitching over an other sewingline you do it slowly, and when using tender threads you'd rather stitch just beside the line, for stitching on or in the thread could damage it. A short piece of double stitching every now & then will not be noticed in the bigger picture.