De rand van de quilt is -ondanks tegenwerking van Zopje- gisteren af gekomen, the quilting of the border is finished, no thanks to Zopje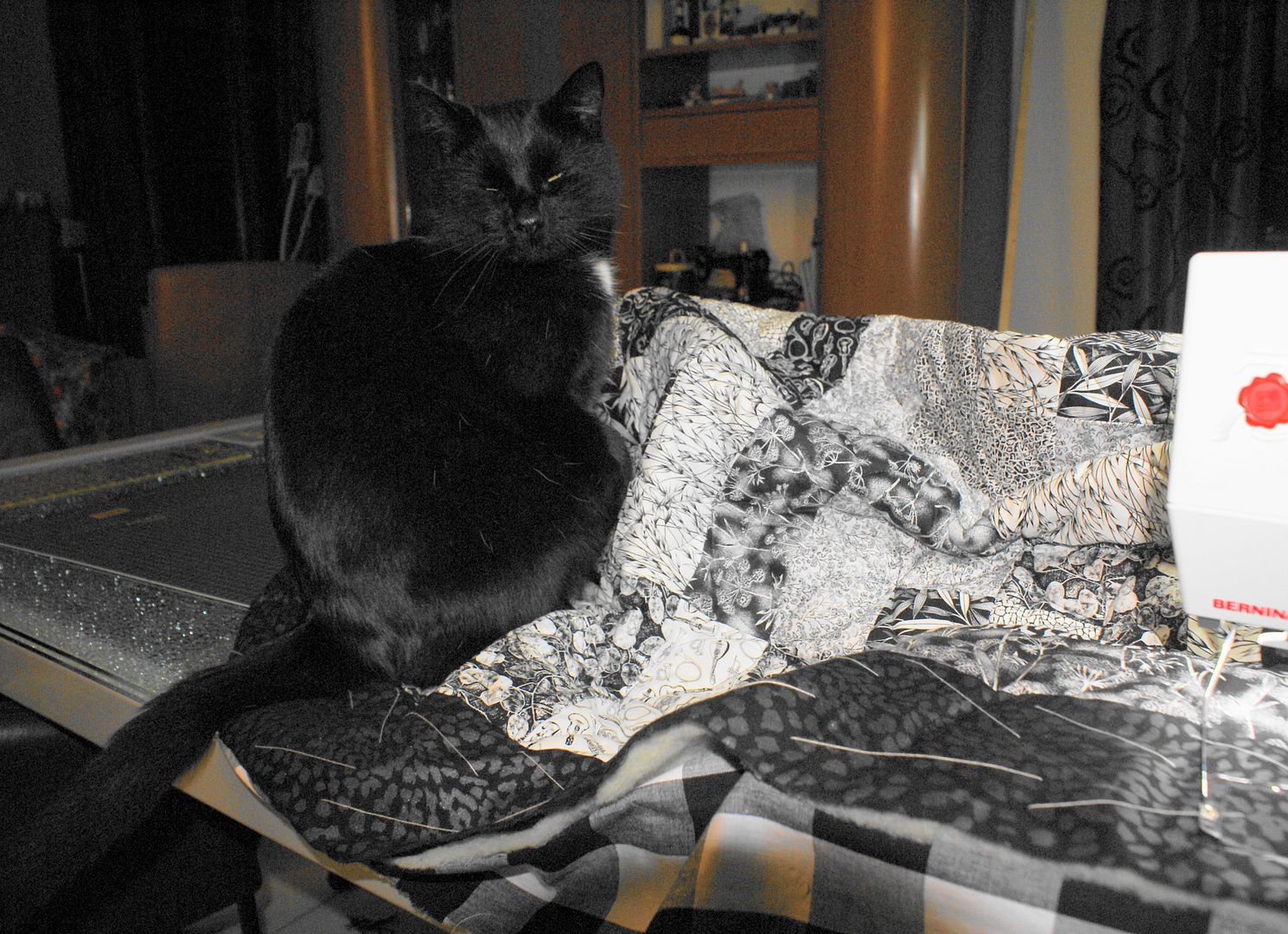 de bies is gesneden, gestreken en ligt klaar om op de quilt gezet te worden, maar tuinwerk en andere bezigheden hielden me vandaag van dit werkje af. Morgen gaat het gebeuren, reken maar van yes. Nadat ik blad had opgeruimd kon ik de quilt even buiten neerleggen voor een duidelijk foto, tenminste, ik hoop dat jullie het quiltwerk beter kunnen zien, anders zit er niks anders op dan even langs te komen. De vulling bolt zo mooi op tussen het quiltwerk, alsof er luchtkussentjes zitten. I've also cut and sewn strips into a 11 meter long binding, but because of gardenwork and other things to do I didn't work on the quilt anymore today, I hope to finish it tomorrow. It was dry and sunny, so I threw the quilt outside for a photoshoot. The batting really pops up in between the quiltlines, like aircushions, so soft and bubbly this quilt looks. You should drop by and see for yourself!
De lage bomen zijn nu zo goed als kaal achter ons huis, en eindelijk hebben we weer zon in de kamer, dat is zo genieten. Zie je hoe laag de zon staat, en hier is het nog maar 4 uur, midden op de dag gaat hij ook nog geheel schuil achter de bomen. The shorter trees and the undergrow are almost leave-less, and finaly we can enjoy sunshine in our livingroom again. Picture taken at 4 PM, can you see how low the sun is in the sky, it gets only twice as high at noon, hiding behind the treetops.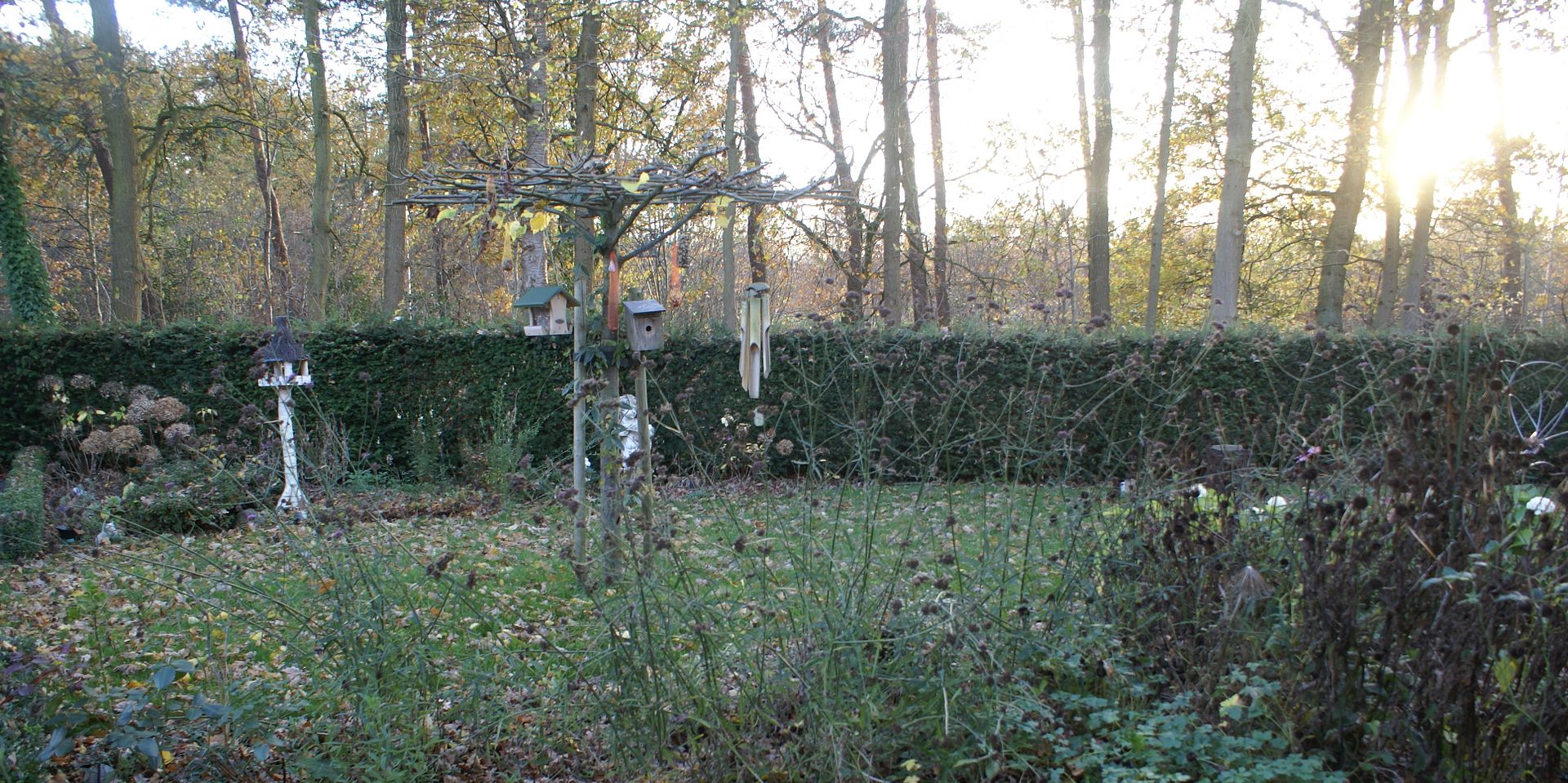 Toen ik vanavond -vlak voordat ik naar de DikkeDamesClub ging- mijn schoenen op de keukenweegschaal zette (op een vel plastik), vroeg Suzanne lachend of ik wilde weten hoeveel punten een schoen was. ☺ Vanavond wilde ik andere schoenen aan doen, en vroeg me gewoon af of deze zwaarder waren dan die ik vorige week aan had. Hoezo onzeker? Maar ik had al een andere iets zwaardere broek aan en wilde niet in 1 klap mijn 1 kg verlies aan kleding kwijt raken. 't scheelde niks, dus vol goede moed naar de DDC. De weegschaal op de club gaf 7 ons minder aan dan vorige week, YEAH en ik kreeg er weer een sterretje bij, zo gaat-ie goed, en zo gaat-ie volgende week ook, hoop ik.
Op de cursus was een dame die voor het op de weegschaal staan op de gang haar schoenen had verwisselt met teenslippers, en ik dacht dat ik spastisch deed! ☺ Oooh, volgende week, ik kan haast niet wachten; dan gaat Yvonne (onze coach) het nieuwe Weight Watchers programma uitleggen, ze wilde er niks over kwijt, maar zei wel dat we allemaal nieuwe spullen zouden krijgen (of kopen tegen forse korting), zoals het boodschappenboekje enzo. Het roer gaat een flink eind om, hoorde ik van een Belgische cursist, die hierheen komt, omdat België haast op loopafstand van ons ligt. De points-telling zou anders zijn, en het dagtotaal lag hoger, en al het fruit zou 0 points zijn; dit had ze gelezen in de krant . O heerlijk, hoef ik geen druiven meer te tellen. I had another Weightwatchers evening tonight, and lost an other 700 grams! It feels great, I hope to keep up the good work. Suzanne thought it was funny, me weighting my shoes on the kitchenscale, she asked if I wanted to know how many points a shoe was for supper, but I wanted to know was if the shoe I wanted to wear tonight would be much heavier than the one I wore last week. I was already wearing a heavier pair of trousers, and I didn't want to see my 1 kg loss vanish into thin air because of my clothes.
At the WW there was a lady who switched her shoes into flipfloppers before standing on the scale, and I thought I was acting weird? I can hardly wait 'till next week, when the coach is going to reveal the new weight watchers programm. It's like totaly different way of calculating the points, a Belgium lady told us -she'd read about it in their newspaper- but our coach wasn't allowed say a thing. Belgium lady said all fruits were 0 points, lovely! Now I don't have to count my grapes anymore.