Als het regent, hard waait en gewoon pokkeweer is, dan zul je geen quilter horen klagen, wij vinden dit heerlijk quiltweer. Eerst moest ik Zipje van de quilt afjagen, hij had toch nog een mooi plekje gevonden waar hij lekker opgerold op kon slapen. Foei, ik had beter moeten opletten gisteravond! Normaal vouw ik zo'n quilt over de naaimachine heen, een knappe kat die daar een stabiel slaapplekje in vind. When it's raining cats and dogs you don't hear quilters complain, for us it's the best weather we could wish for, great for quilting. So I did a lot of quilting on the Girls Day Out quilt of my mother, but first I had to get rid of Zipje, who felt guilty before I had the chance to pick him off, and he jumped off the table just after I made this photo. I'm lucky it was him and not his brother, for Zopje always uses his nails to whipp up the quilt before laying his head to rest. And he drewels a lot too.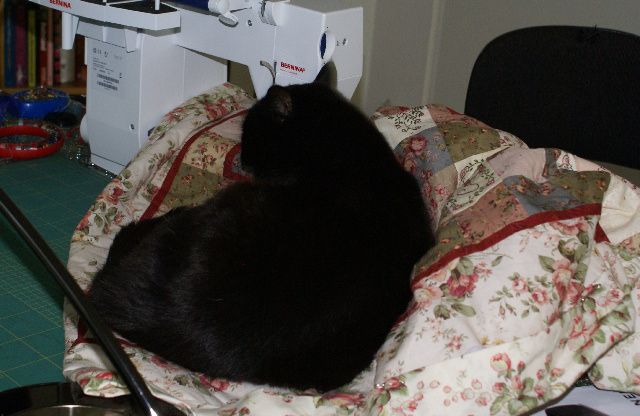 hij voelde zich met het maken van de foto al betrapt en sprong er gelijk van af. Ik ben wel blij dat het Zipje was, en niet zijn broer, want Zopje moet voor het slapen gaan zijn bedje opkloppen, en gaat dat vol vuur te werk, met alle nagels en hoog op trekkend, en hierbij natuurlijk ook flink kwijlend. Dan heb je niet alleen een geperforeerde quilt, maar ook een natte.
En daarna aan de slag, het ene blokje na het andere doorquilten, stapvoets op de Bnina met de BSR voet aan op standje 1 en steeklengte 2.50. Soms was dit te groot en weigerde Bnina te stikken, en dan zette ik de steeklengte op 2,30 en dan ging ze weer. Maar voor in de ditch ging het op 2.50 prima. Nee, ik doe het niet met het boventransport in de ditch, je bent dan steeds de quilt aan het draaien als je hoekjes om moet gaan, en dat schiet niet op, vind ik. In het begin knipte ik de draadjes vlak bij de afhechting weg, tot ik een paar keer in de afhechting knipte, en dat is balen, want dan gaat het stikwerk loslaten. Dus heb ik de tip van een andere dame maar over genomen, ben naam en link van haar weblog kwijt, ere wie ere toekomt, met de draad op deze manier is dus niet mijn vondst. (ik doe het normaal met met een soort mini-smirna haaknaaldje, maar die kon ik zo snel niet vinden) I used the BSR on the quilting in the ditch and around the stitcheries, using stitch lenght 2.50 which workes fine, unless you have to go very slow for precision stitching, in that case I went to sticht lenght 2.30. And when I cut the loose threads and cut into the machinethread-stitching, I decided to do it the other way. Normaly I use a small hook on a needle, but I couldn't find it, so I used a methode with a looped thread through a needle, saw it on a weblog but can't remember were, so I can't give the lady credit.  
op de foto klikken he, als je een grotere foto wilt zien. En om tot rust te komen even hier naar luisteren:en ik denk dat ik morgen deze make-up tip ga uitproberenof toch maar niet….