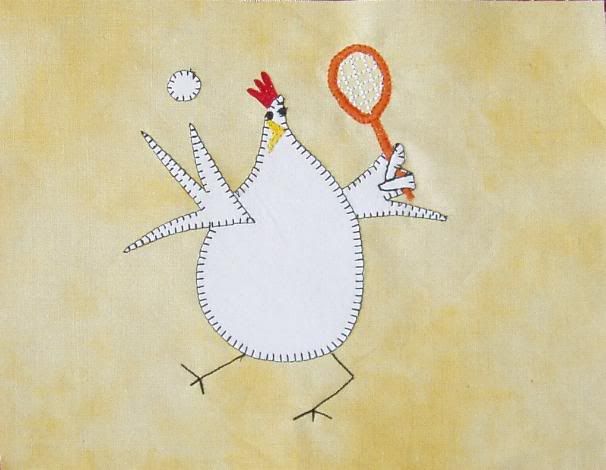 de sportende tenniskip is klaar, ik heb hem vanmiddag afgekregen.
De sunny side up quilt ligt nu klaar om door te quilten maar de batterijen waren ver leeg. Ik ga even bijtanken en misschien later deze dag dat ik er een begin aan kan maken.
Het zonnetje schijnt hier maar de wind maakt het te koud om buiten te zitten.
Het kuikengaas boven het vogelhuisje doet zijn werk, het hing mooi recht vanmorgen en de bewoners zijn happy; ze vliegen af en aan. Zopje zat achter het glas toe te kijken en te mekkeren dat hij met ze wilde spelen.
Na het douchen en afdrogen zag ik dat mijn wenkbrauwen nu bijna helemaal weg zijn; veel minder haren dan gisteren. Nog even en ik mag gaan kleuren met een potloodje. Overdag zijn mijn 'opvliegers' al wat aan het afnemen, hoewel ik nu het gevoel heb dat er vuur uit mijn mond en neus komt met ademen, zo heet voelt de adem aan. Alles wat ik eet smaakt hetzelfde, of ik nou een hapje garnalen neem, of een hapje gerookte ham, een spritskoek, een paar suikerpindas of een plakje kaas, ik proef geen verschil. Stom hoor, terwijl ik zo'n lekkerbek ben en nou juist zin in iets lekkers heb.