Vanavond was het weer bee, en met de Featherweight in de koffer en m'n doosje met sterren-benodigdheden erbij ging ik er helemaal voor. Ik had niet de illusie dat ik veel sterretjes zou maken, met eentje was ik al heel tevreden, en ik heb er ook eentje afgekregen. De dames waren zeer verguld met mijn Singertje, schattig en handig en vooral stil, gesprekken kon ik goed volgen tijdens het stikken, ook zonder de volumeknop die sommige dames goed open hadden gezet. Ik heb er nu 6 af en nog 22 te gaan!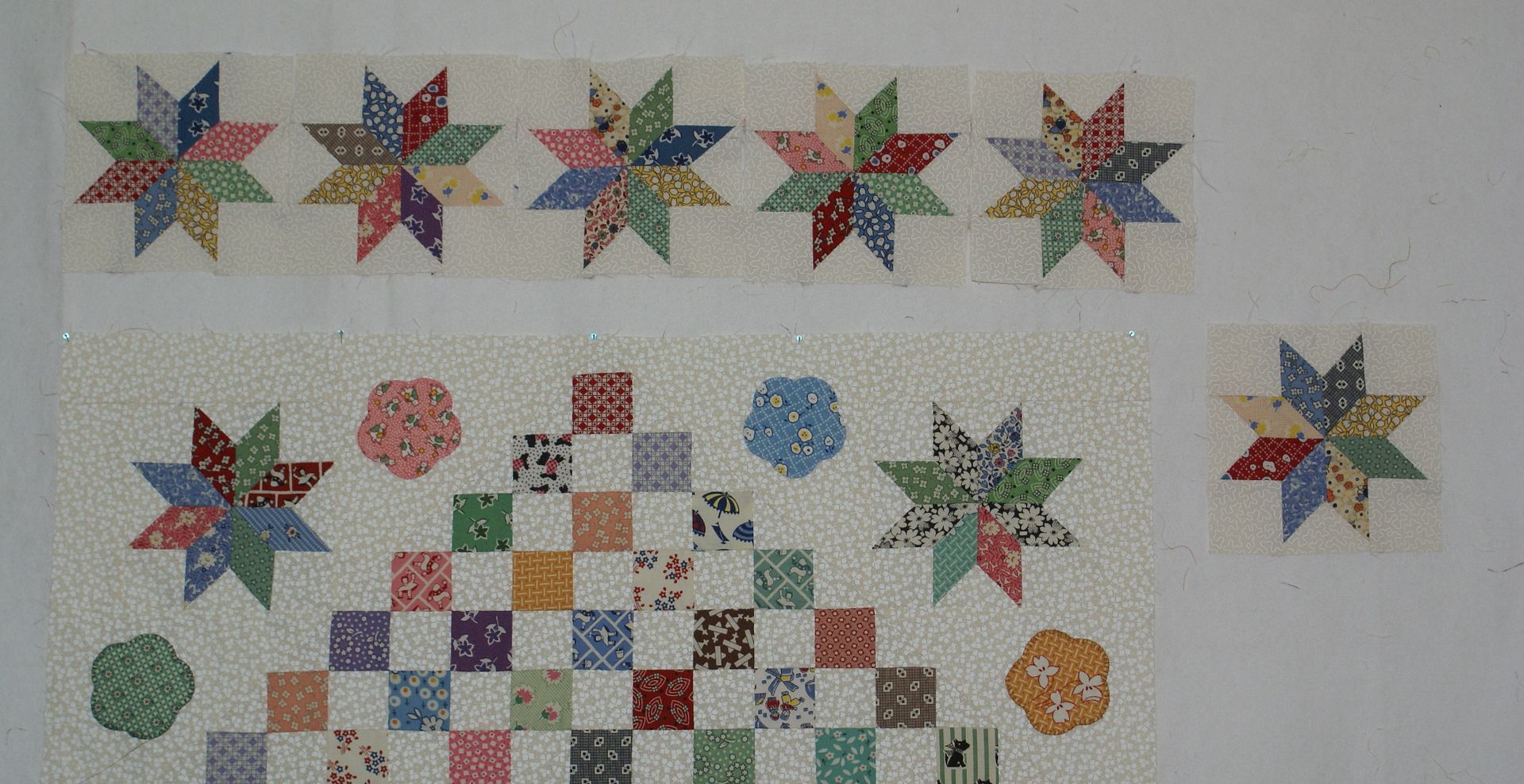 en zo ziet het er van achter uit, na het strijken/ this is what it looks like on the other side, after ironing
There was a quiltingbee tonight, I brought my Singer Featherweight with me to piece more stars for the antique quilt, but I bearly managed to make just one. Showing the ladies how my machine worked was fun, they all loved it, cute and silent, the motor was humming and I could easily folow the conversation, nice.
Time flies when you're having fun, and when I got home I found the men in some distress; husband walking 'round half naked, fuming and wet. Tim managed to throw his noodlesoup in the washbasin (yes, in the bathroom), instead of just the water (and instead of in the kitchen!), and now the drain was blocked. They tried to unplug it with force and now dear son wanted to push the noodles down with chopsticks, bright idea came from husband! Handyman is not my hubbies second name, and it's hereditary, apperently. I took the bucket from the garage and opened the U-trap underneath the sink. Out came noodlesoup like vomit, and now Tim knows how to fix it himself, and never ever bring food in to the bathroom again.
Zoals bij alles wat leuk is vloog ook vanavond de tijd, en toen ik thuis kwam en hallo riep naar de mannen die ik boven hoorde, kreeg ik maar gematigde reacties terug. Niet dat men me om de hals vliegt en zoent bij thuiskomst, maar ze klinken altijd wel blij dat ik er weer ben (of opgelucht, dat kan ook). Ik ruimde mijn boeltje op en toen ik in de keuken kwam stond daar mijn mannie met ontbloot bovenlijf zich af te drogen en zoonlief zocht en vond in de keukenla een eetstokje. Hè, had ik wat gemist? Mannie stond te stomen van boosheid; het was dus niet van hitsigheid dat hij zich had uitgekleed, ik vond het al een beetje kinky met zoonlief erbij, er zijn grenzen. Wat bleek: zoonlief had een beker Noodlesoup in de wastafel boven willen afgieten en toen was -oeps- de hele inhoud van de beker in de wastafel terecht gekomen. Slimme zoon (net zo a-technisch als z'n pa) had getracht met doorspoelen de zooi op te kunnen ruimen, maar helaas, afvoer bleek verstopt. Deur dichttrekken en net doen of zijn neus bloedde ging ook niet, want vader was op het gestommel afgekomen en aanschouwde de rommel met afgrijzen. Zijn oplossing was even geniaal, nadat het met de plopper niet was gelukt, gewoon met eetstokje in de afvoer duwen, dan zou jhet wel doorschieten. Ik hoorde alleen de zin "noodles in wastafel gevallen, waardoor afvoer verstopt is", en ik liep de garage in en kwam terug met een emmer. "Gewoon de sifon even losmaken en leegkiepen moet voldoende zijn.", en inderdaad. Tim heeft gezien hoe het moet, zodat hij het voortaan zelf kan oplossen. Mannen!