Wat een dag zeg, een kapotte garagedeur-opener/motor zorgde gisteren voor kortsluiting en vandaag voor een boel gezoek en geregel, maar gelukkig heb ik een ventje gevonden die morgen een nieuwe kan plaatsen; zo vlak voor het eind van het jaar valt dat nog niet mee zeg. We krijgen 2 afstandsbedieningen bij de nieuwe motor, jottem! Nou ja, krijgen….
vanmiddag hier aan gewerkt en nog voor het eten de rij vast gestikt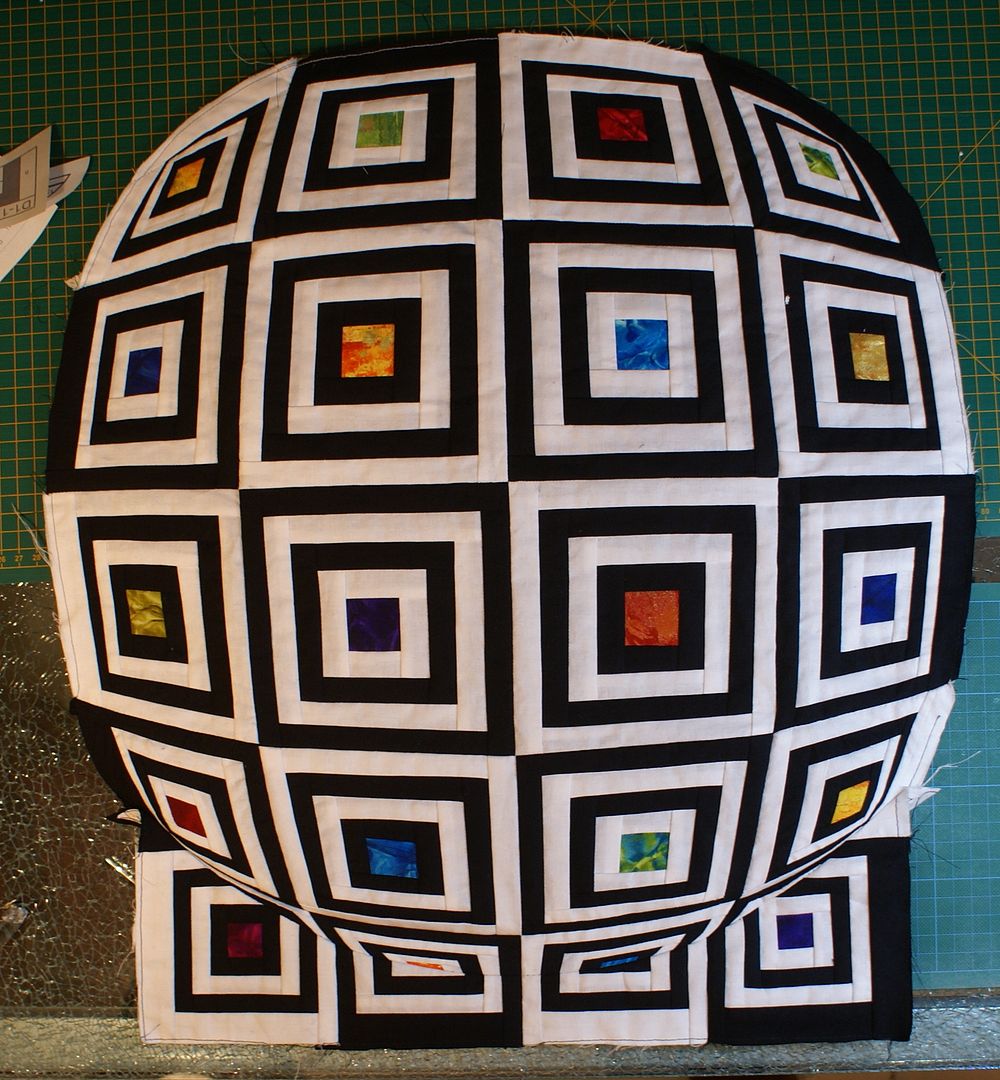 This afternoon I spent over an hour pinning the row to the rest of the quilt and stitching it. Just the thought of 3 more to go makes me want to quit, but knowing hoping it'll look great once it's finished makes me go on.
ziet er mooi uit op een zwarte ondergrond he? Maar die naden zijn zo dik, niet normaal meer, ik ga ze morgen eens proberen plat te persen. De gedachte dat ik er zo nog 3 moet maken, maakt me bijna moedeloos, maar de wetenschap hoop dat het eindresultaat er mooi uit ziet geeft me moed. It's not getting any easier as I go. Looks good with a black background, but boy, the seams are so thick (4 and sometimes 6 layers of fabric!), I want to try to press it flat tomorrow, or should I wait? En daarna heb ik de nodige papiertjes weer weg gepeuterd.
I made a mess taking out all the pieces of paper. If you want to give it a go, go to this website , you can find the PDF-link of the patern if you go to the bottom of that page, look for a blue link behind the ps: I'm doing it al by machine, the Rushian lady uses the English paperpiecing method. And to the right of my blogs you see categories, I also made one for this quilt, called lensquilt.