Toen ik vanmorgen beneden kwam lag Zopje op de rij blokjes van de antieke quilt, alsof-ie wilde zeggen: "Deze wordt voor mij". Hij ging er pas vanaf toen hij later de koelkastdeur open hoorde gaan, de liefde van de kat gaat door de maag.
When I walked in the room early this morning Zopje was on top of the blocks, thinking: "This one's all mine". Only the sound of the fridge got him off the table, the only thing he loves more than a fresh quilt, is food.
Na het snijden van weer tig witte lapjes ging ik verder met naaien. Ik moest ook nog een paar blokjes aan de rij stikken, en bedacht me dat het toch ook zonder op elk lapje aftekenen van de kwart inch moest kunnen. En jawel, zolang je alle blokjes maar precies even groot heb afgesneden, dan lukt het heel goed op deze manier: Teken een kwart inch lijntje op beide hoekpunten, waar de lijntjes kruisen is waar het stikken begint en eindigt.
Draw quarter inch (sew allowance) lines on the block, the crossing of the lines is where the stitching starts and ends.

je hebt voor de laatste maal de kwart inch lijnen op de hoeken afgetekend. Zorg dat dit blok klopt qua maat, want vanaf nu gaan alle blokjes volgens deze maat gestikt worden.
Ik hoor iemand vragen "hoezo, kloppen qua maat?".
Nou, eerst begin je de blokjes voorzichtig een voor een te snijden, je ziet dat het goed gaat en doet er 2 op elkaar en snijdt. "Hee, dat gaat lekker, laat ik er eens 4 op elkaar doen, ben ik sneller klaar.", en voordat je het weet snijd je de stapeltjes van 6 lagen dik. En reken maar dat het lapje dat bovenop ligt ietsje groter wordt dan het lapje dat onderop platgedrukt ligt. Hoe meer lagen, hoe minder secuur, dus grote stappen snel thuis moet je maar even uit je hoofd laten als je met zulke kleine stukjes werkt, waarbij 1 mm verschil per naadje op het einde van de rit op cm's lengteverschil per baan kan opleveren. Weer wat geleerd. (goh, hoe zou zij dat toch allemaal weten?)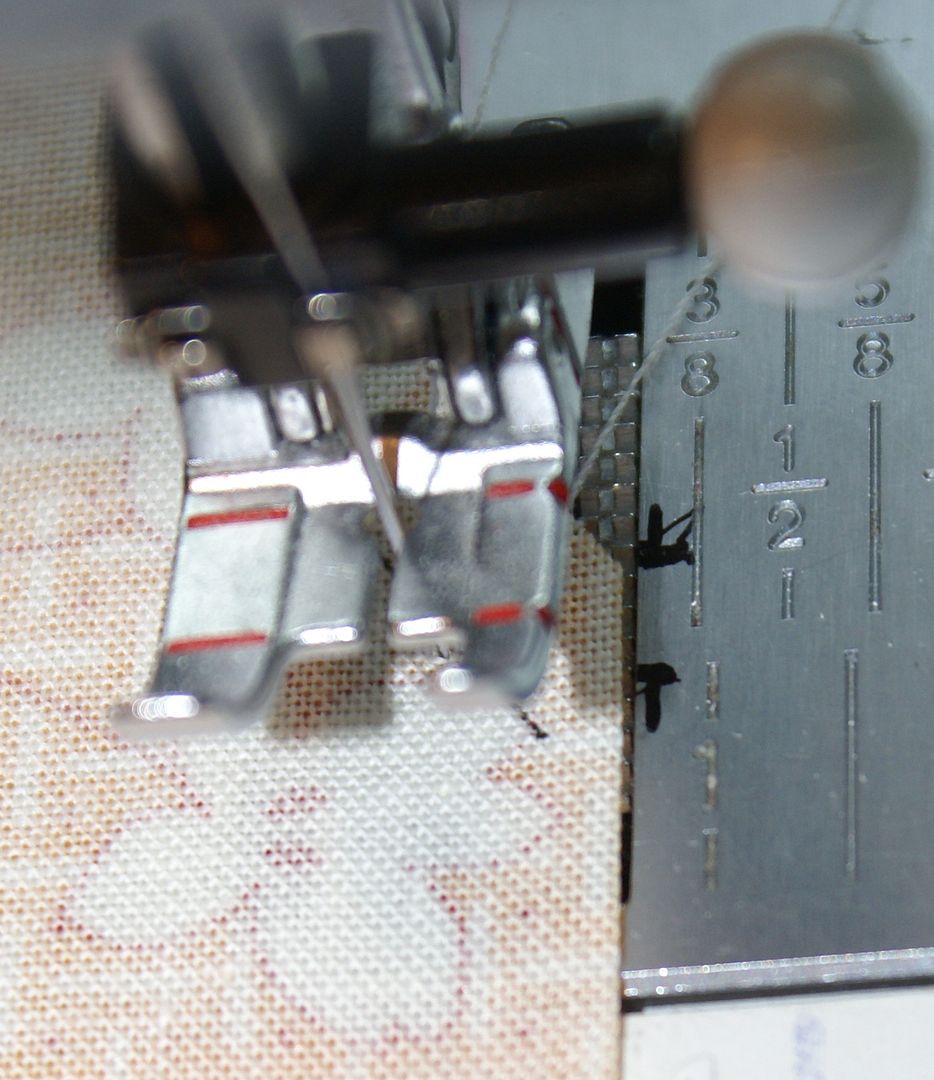 Zet de naald op het kruispuntje en teken het punt precies ter hoogte van het hoekje van het lapje af op de steekplaat,
en doe hetzelfde met het uiteinde van de stiklijn die je moet maken
en vanaf nu hoef je niks meer te tekenen, volg gewoon de zwarte tekens op je steekplaat.
Make sure the piece you use as a 'marker' is perfect by size and the 1/4" lines are also precizely where they should be. The marks you make on your machine based on this blocksize is the one you'll be using for the rest of the blocks. And also be sure all the blocks are exactly the same/right size. If you cut 1 piece at a time it'll be accurate, if you cut a layer of 6 blocks at once, the top piece will be a little bit bigger than the piece at the bottom of the stack. More is not better, and while working with these small pieces it realy matters, 1/16" more per block in one row and that row will end up 1 inch bigger than the other, or more.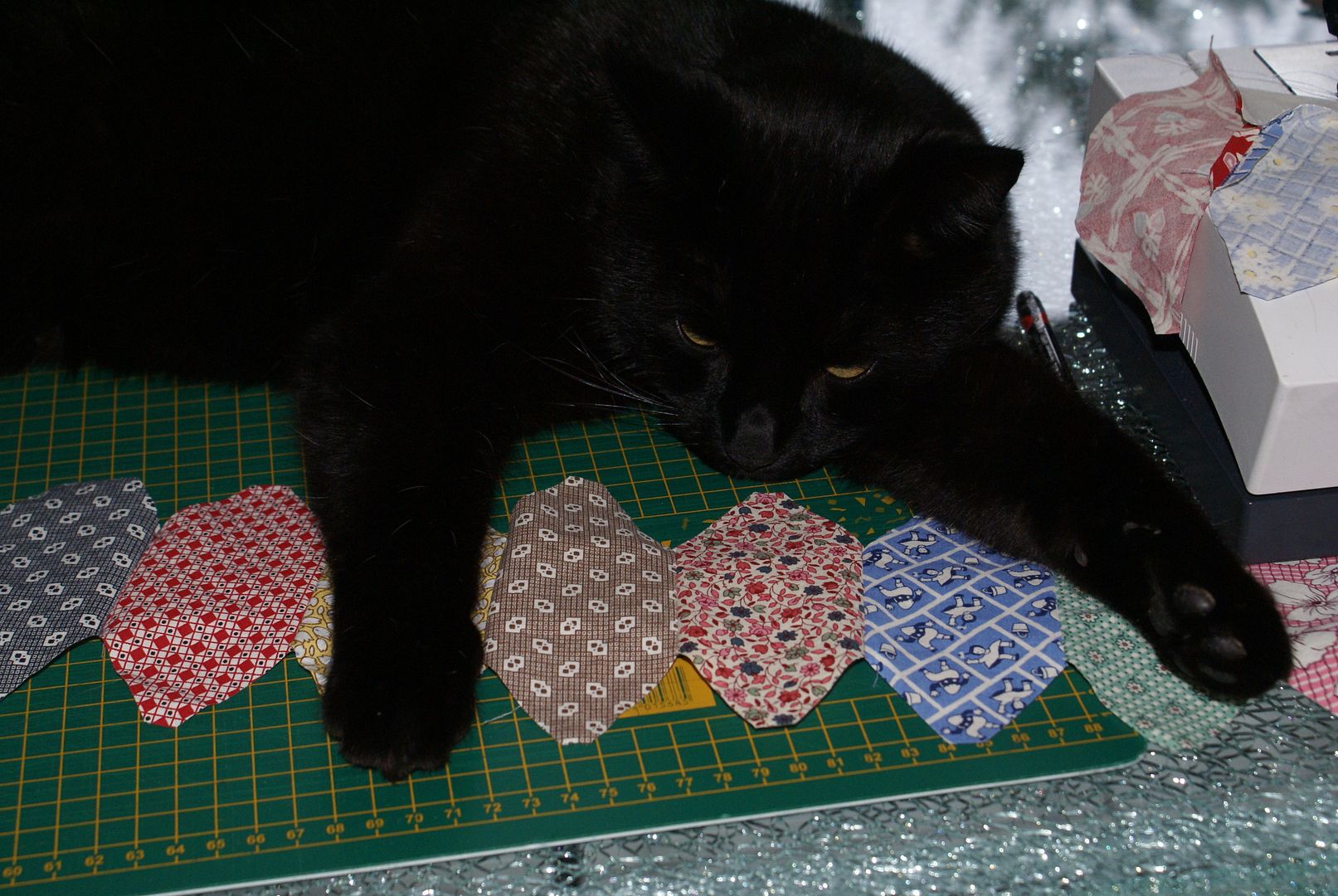 Zopje, kwaliteitsbewaker.
Hé, waar gaat dat heen?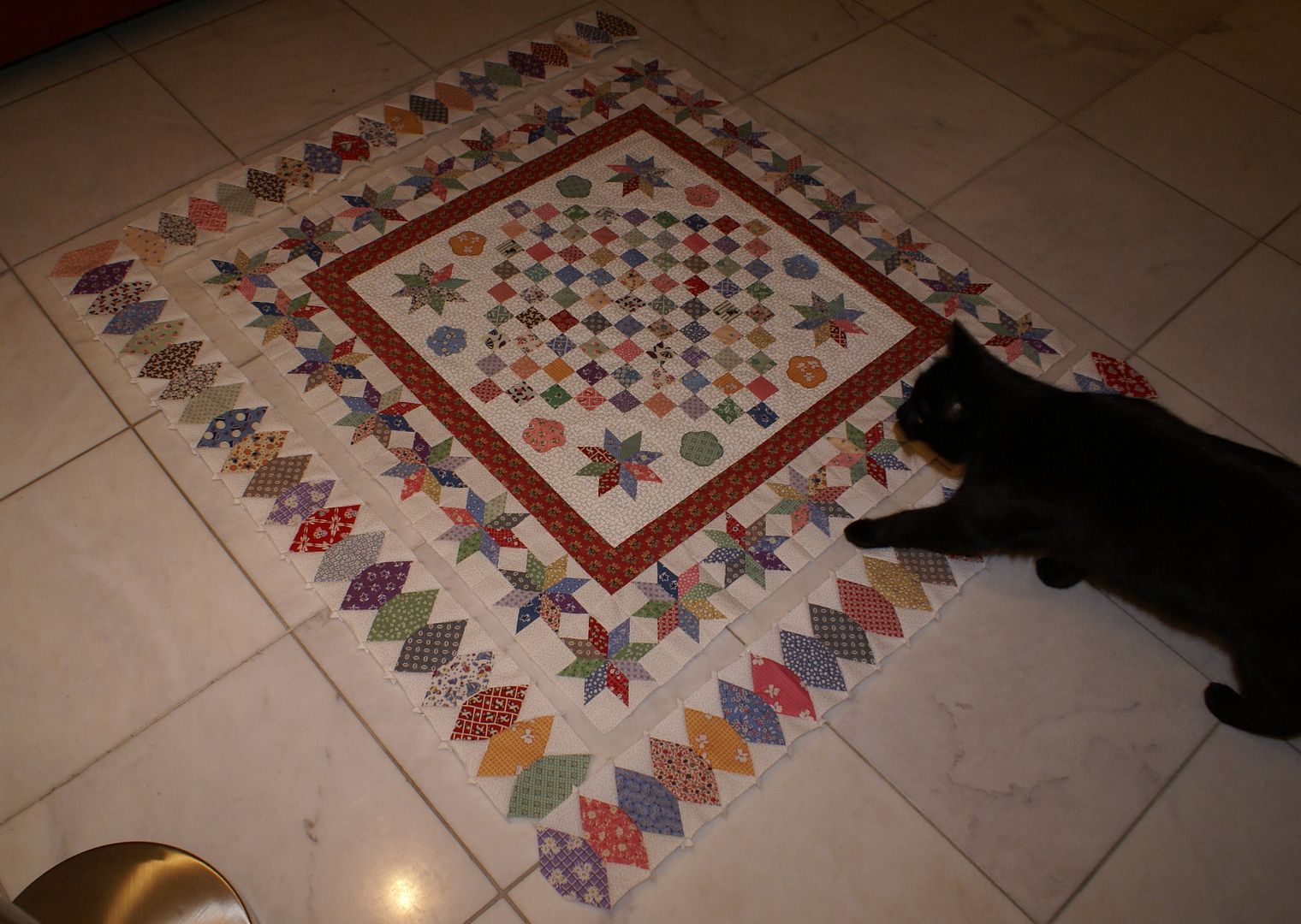 En hier hele mooie foto's van Tokio festival 2010