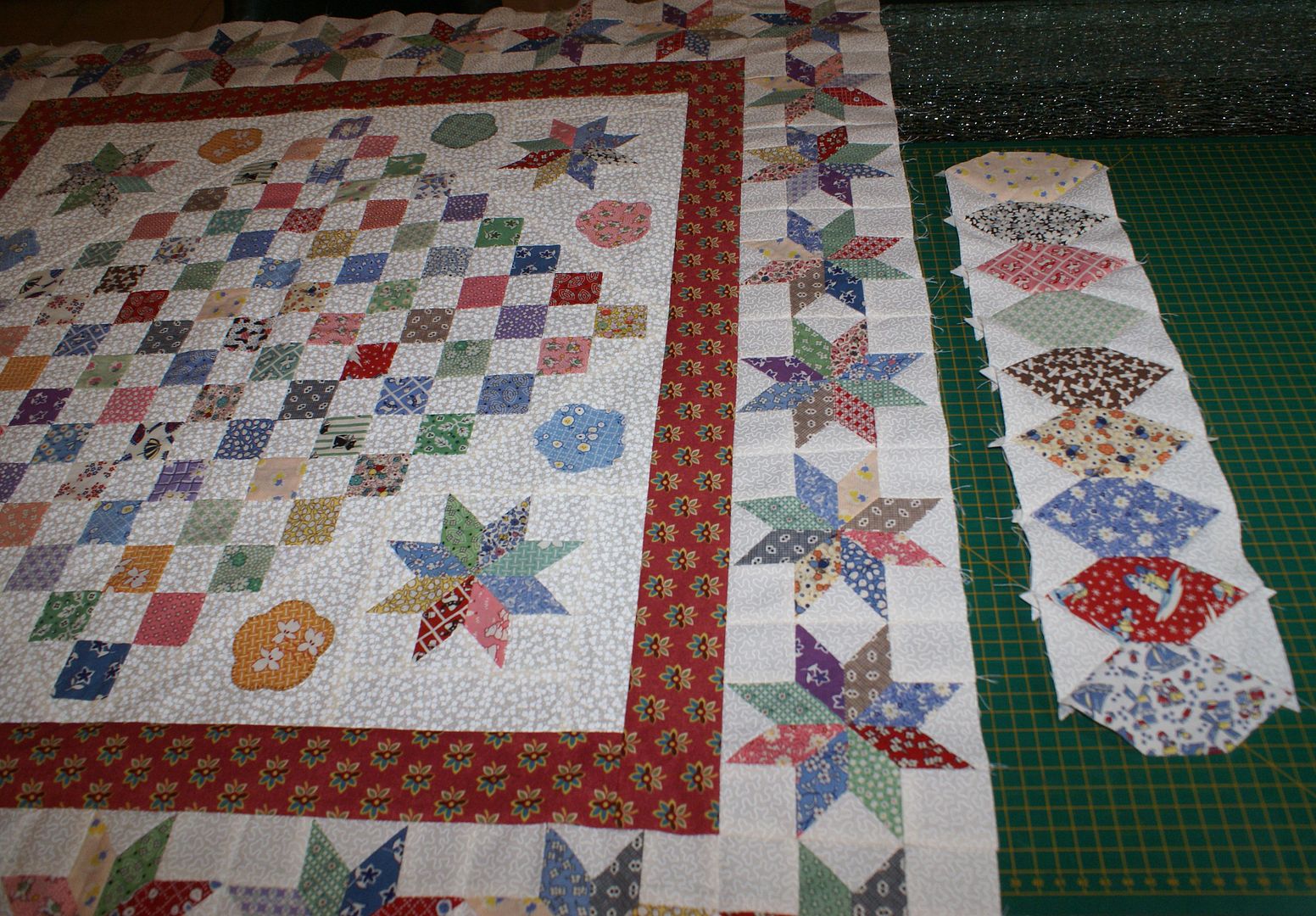 After a false start I am off again for the next row of blocks of the antique quilt, -patern is for sale at the weblog of Guute and check out her version of this quilt!- the Y-seams scared me off a bit at first (no, not again!), but after the stars these are a breeze to make, and I made 9 in an hour, including drawing the seam allowances on the crossroads. I use a Micron pen to do that, for with a plain pencil you must put to much pressure on the fabric, and with the bias pieces I don't want to stretch it. So I draw on the back of the fabric and I do it lightly so it doesn't show in the front.
Na een aarzelende start ben ik weer lekker op gang met het maken van de volgende rand voor de antieke quilt, jullie weten wel, die Guute als patroon heeft uitgewerkt en ook verkoopt als patroon. Moet je kijen naar haar quilt, echt om te smullen. Ik was even bang voor de Y-seams, maar ze vallen zo mee na al die sterren, dat ik er geen probleem mee had, piece of cake! Op een uurtje tijd heb ik er zo 9 gemaakt, ik heb in die tijd ook op de gekleurde middenblokjes en op de witte stukjes nog de kwart inch kruising gezet met micron-pen. Ik vind met potlood lijntjes trekken te moeizaam gaan, je werkt hier met stof dat snel uitrekt. Morgen ga ik er lekker aan verder, tussen overhemden strijken en fitness door. De lijntjes op onderstaande 2 foto's heb ik met paint even ge-photoshopt, het origineel was te licht voor de foto.
je stikt de grote delen tussen de streepjes aan elkaar, stiklijn heb ik even aangegeven. Stitch in between the marked-lines -as the black line shows- to stitch the big blocks together.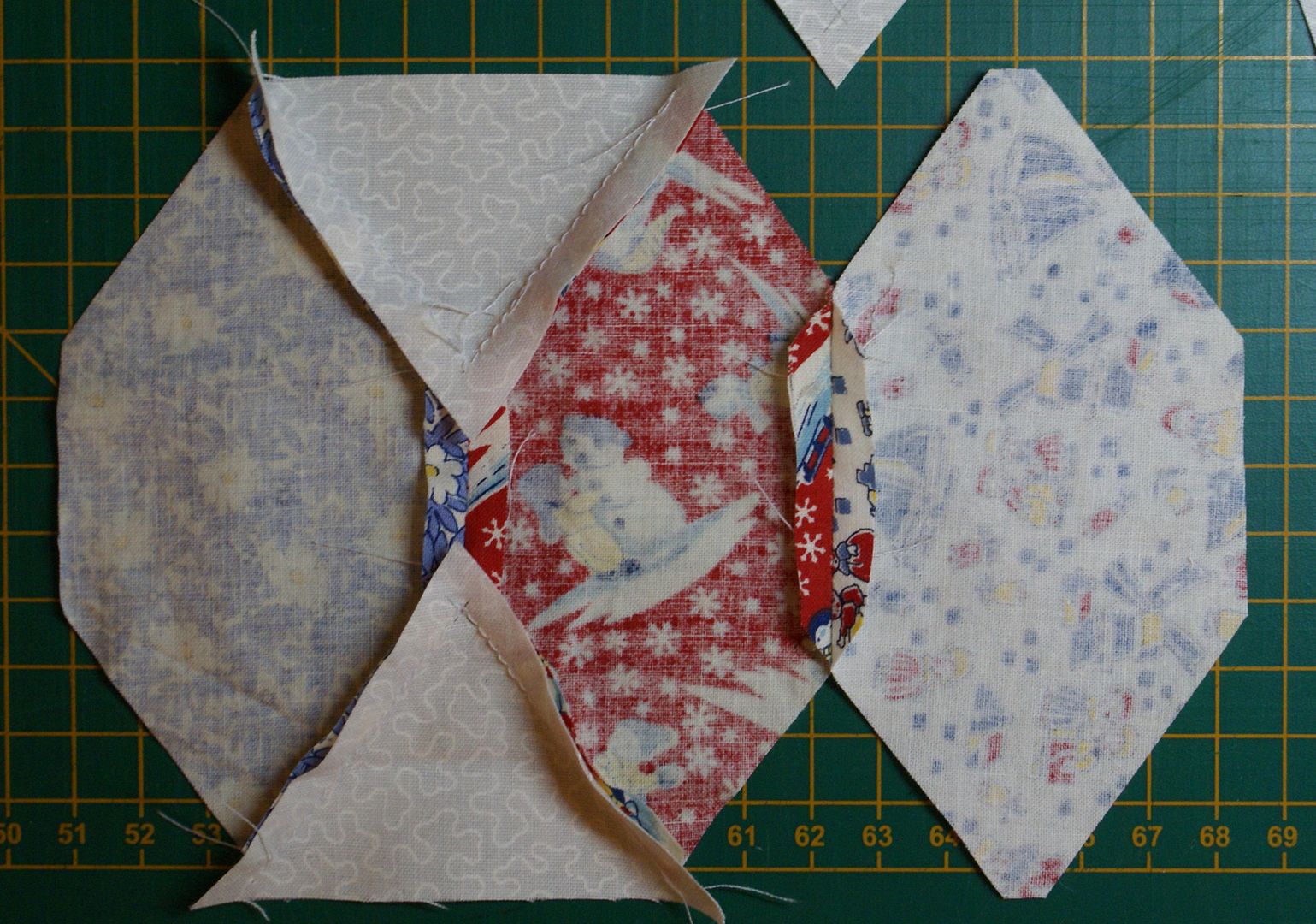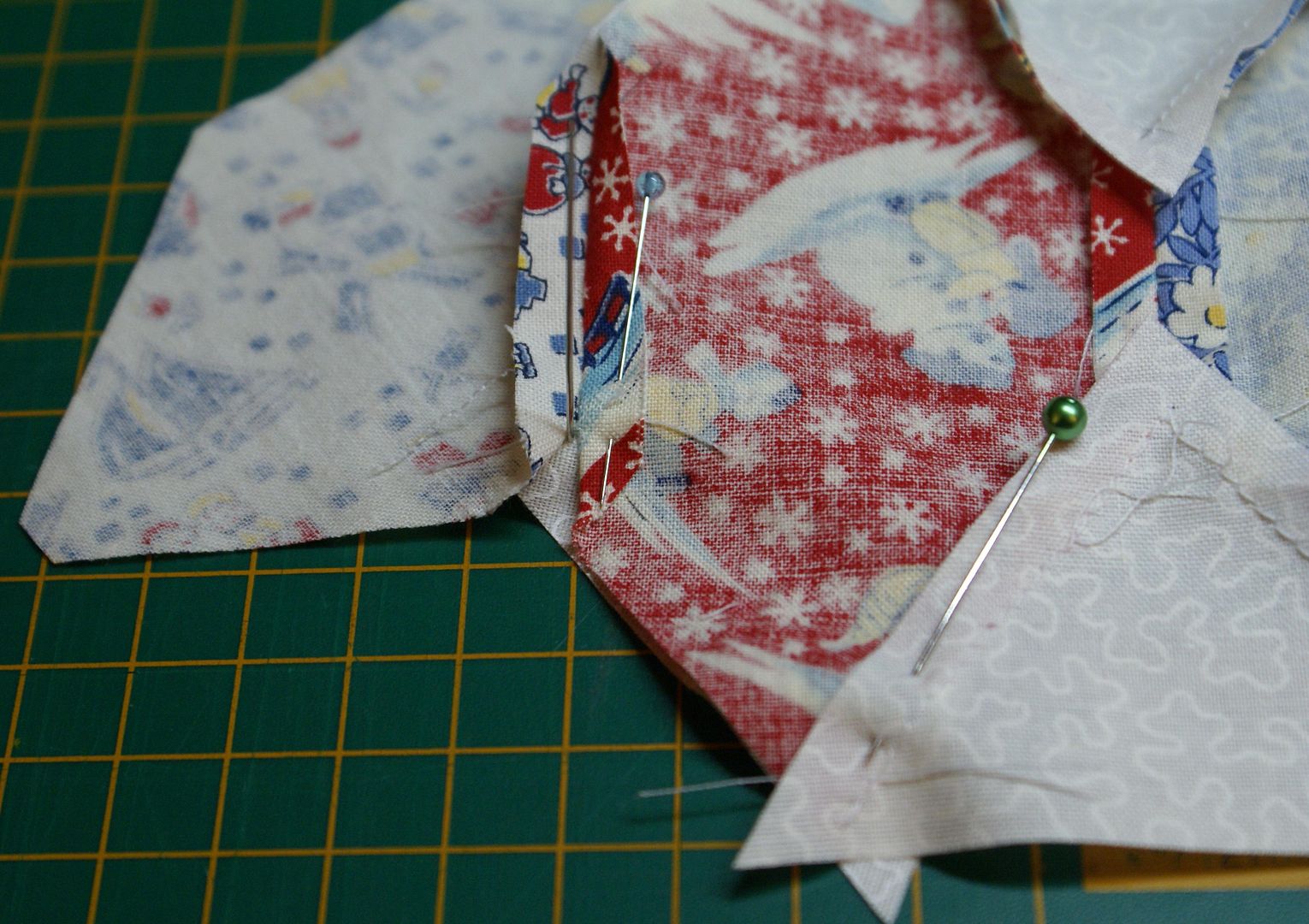 foto boven: begin met stikken bij de groene kopspeld en stop precies tussen de 2 stukjes stof met de naaldstand omlaag, waar je de speld omhoog ziet komen. De te stikken zijden van mijn witte stukjes zijn schuin van draad, dus ze rekken heel makkelijk.
Start sewing below where the green pin shows, and stop with the needle down inbetween the fabrics above, where the other pin pops up, as illustrated as a black line on photo below.There's a lot of streching going on with these pieces, cut on the bias, so be carefull out there.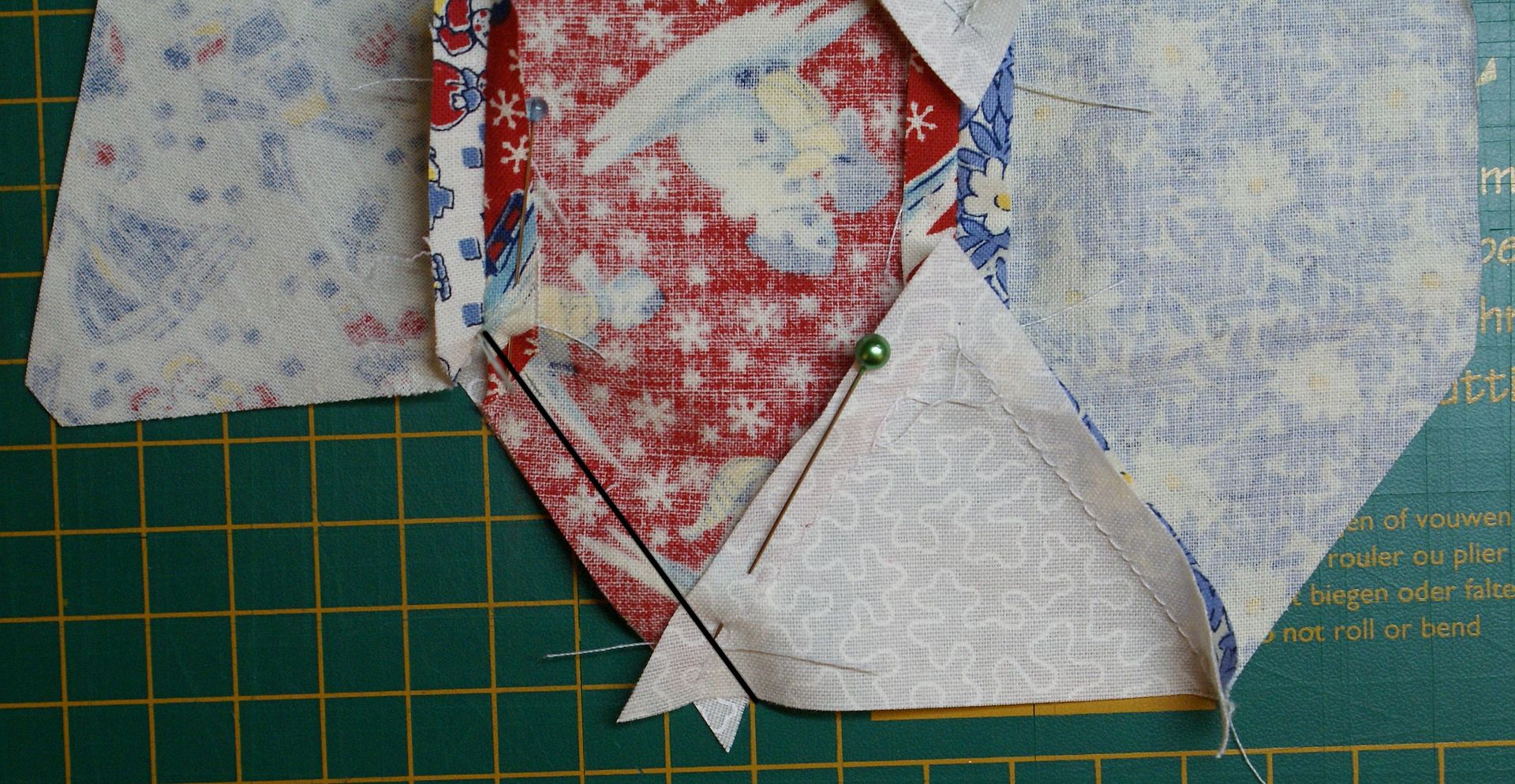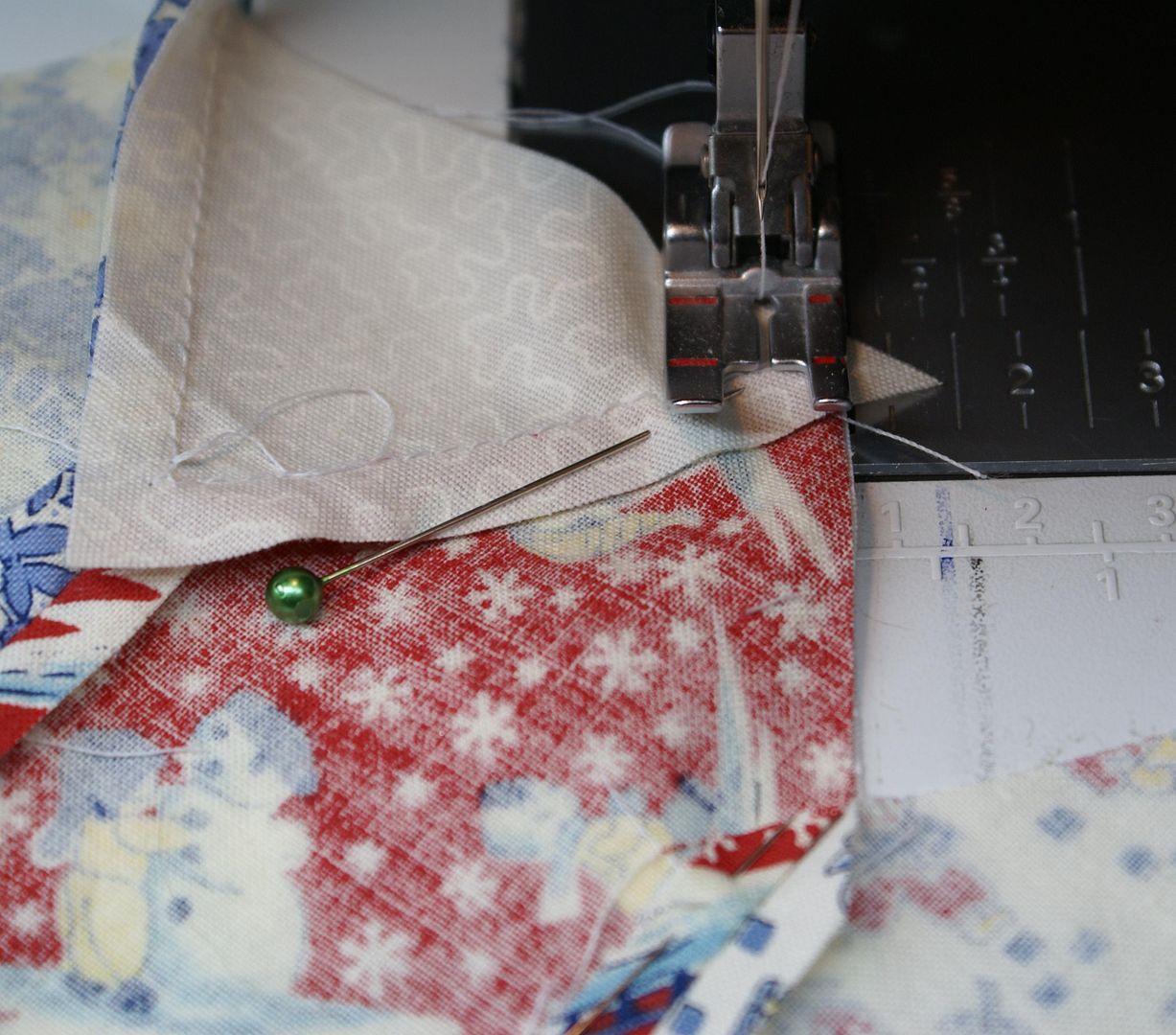 Naai precies voetjebreed -kwart inch- en begin met stikken op de inkeping, het onder- en bovendraad even vast houden om te voorkomen dat het gaat knopen of in de steekplaat opgegeten wordt.
Use quarter inchfoot for the perfect allowance, and hold on to the thread ends at the first few stitches, to prevent knotting. Stop with the needle down exactly in between the 2 seams, lift up the foot and pivot the lot to the left and then pivot the white fabric below even more so it allignes with the top fabric.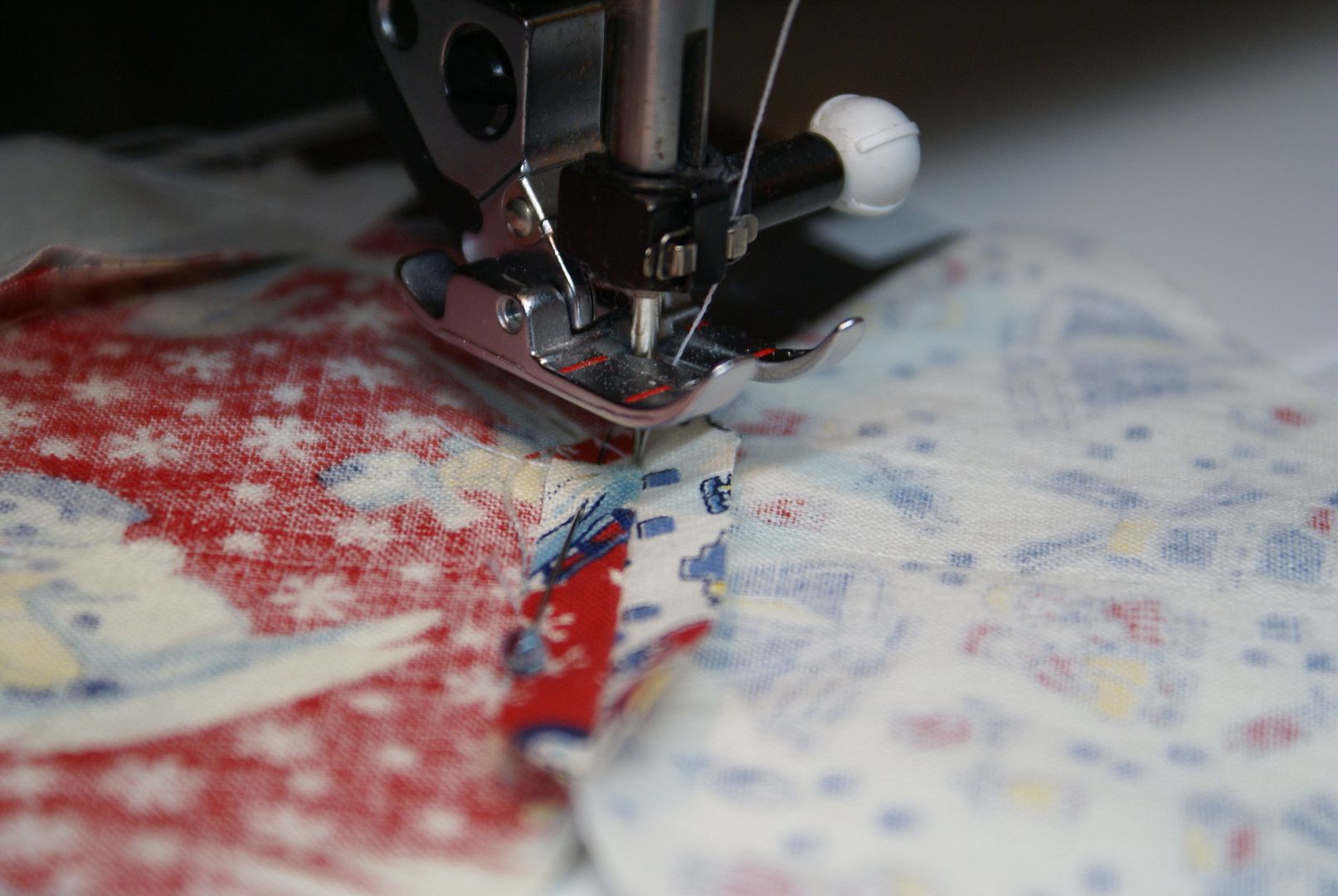 en stop met stikken met de naald omlaag precies tussen de naden van beide lapjes; draai het geheel zodanig zie foto hieronder. Draai het witte lapje -dat onder het blauwe ligt- zodanig dat de zijkant gelijk loopt met de rand van het bovenop liggend stukje. Let ook op dat je genoeg van het puntje van de uiteinde van het witte stukje stof uit laat steken. Je moet met stikken precies links van het puntje uitkomen. Wazige foto. Zodra ik halverwege de naad kom, zorg ik wel dat de stofdelen recht op elkaar liggen, dus niet zoals op de foto waar de blauwe stof naar rechts overhelt.
When stitching you must end left of the white 'ear' popping from under the blue fabric. That way the pieces will all be of the same size (or almost) showing a straight edge when you're done (photo below) en als je het goed heb gedaan, dan lopen de witte blokjes allemaal gelijk, allemaal even groot.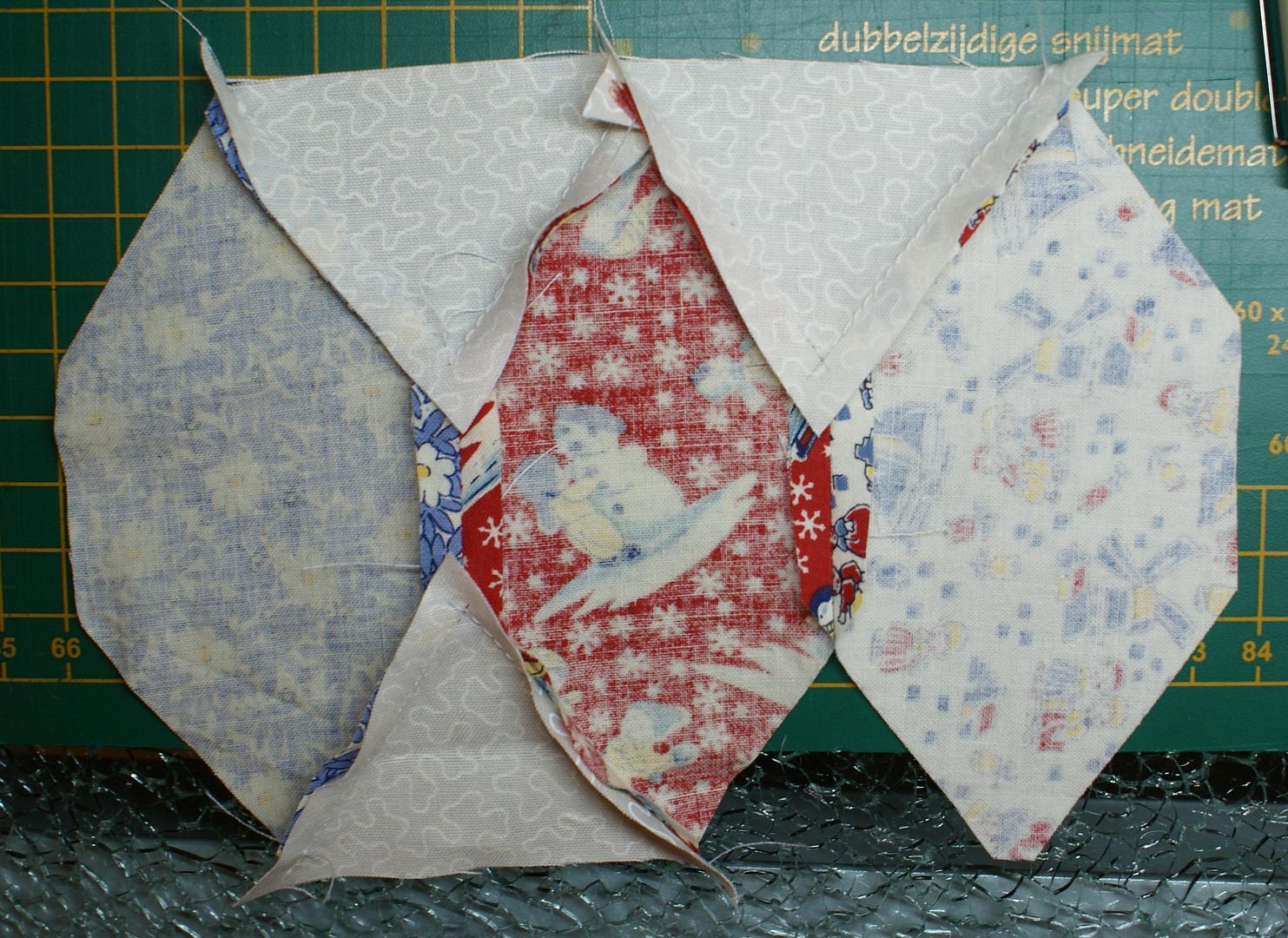 enz. enz.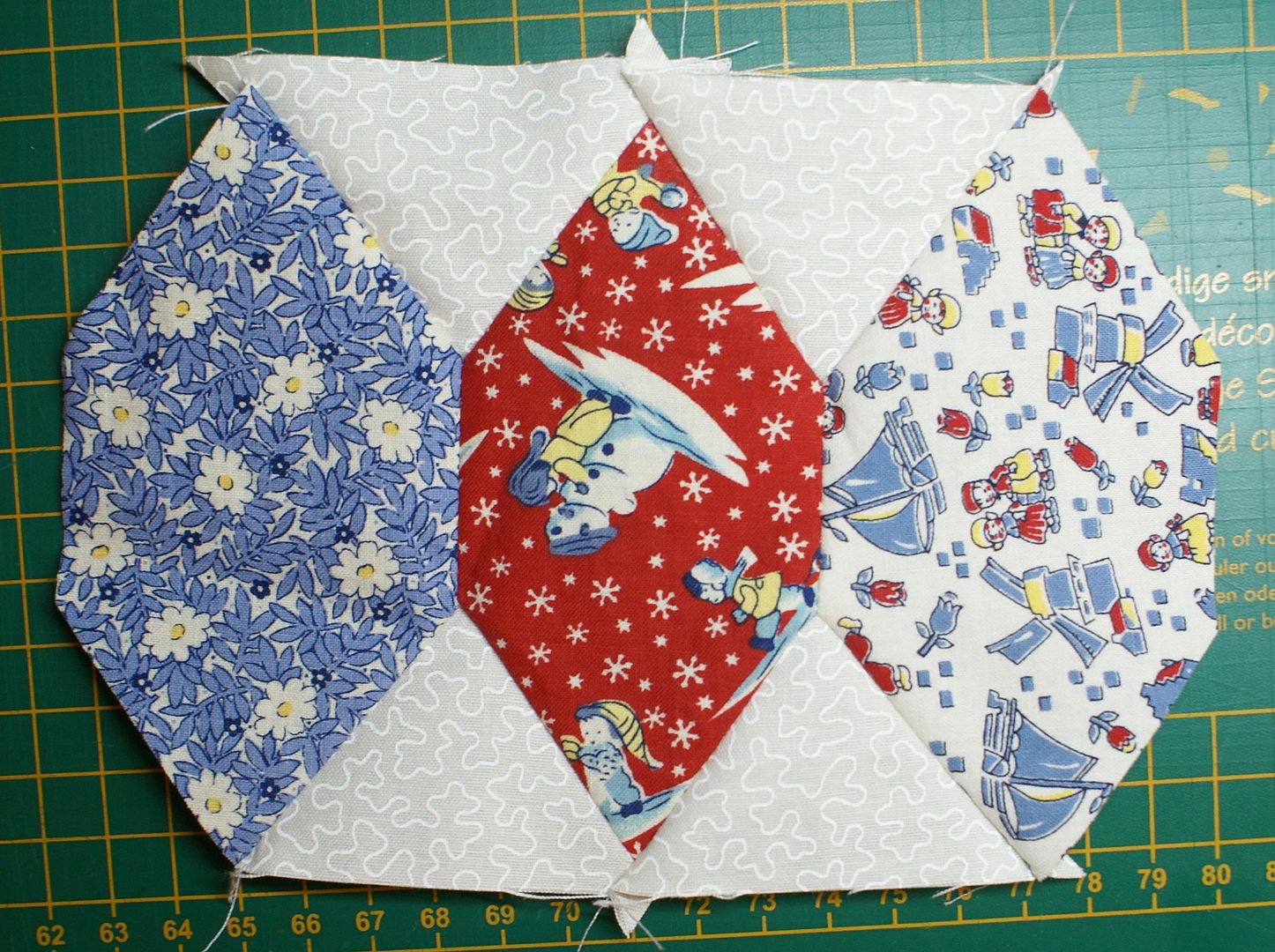 ik denk dat ik tussen deze rij en het middendeel een blauwe border ga zetten, of een gele. Kortom, ik weet het nog niet.☺ I think I'll make a blue border in between this row of blocks and the middle section, or a yellow one, I think. Naah, I'm not sure yet.☺