Had ik in een vorige blog geschreven over een zalig uitziende en op internet volprezen citroenplaatkoek, nou, ik kan jullie dus zeggen dat hij niet zo lekker is als dat ik hoopte. Ja, de eerst paar hapjes waren zalig, mierenzoet, dat wel. Maar de misselijkheid die daarop volgde was niet zo fijn, het duurde toch wel zeker een paar uur eer ik weer dat zuurhappen en onbestendig gevoel hoog in de maag kwijt was. Ik dacht dat het aan mij lag, niks meer gewend enzo, maar de kinderen dachten hier net zo over. En ook de 2e dag smaakte het nog net zo akelig zwaar, terwijl in het recept stond dat deze koek met de dag lekkerder gaat smaken.
De MonChou taart aan de andere kant kan je niet vaak genoeg maken, zalig lekker! Had ik daar al eens het recept van geblogt? Did I ever blogg about this wonderfull cheesecake in English? It tastes so damn good, it's best to make two at the same time. Scroll down for the recepy.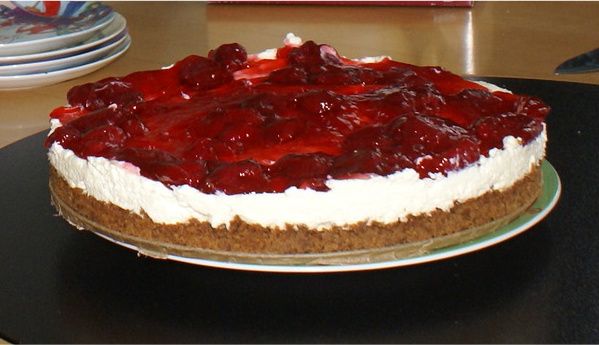 Hier komt-ie
Monchou taart
1 pak Bastognekoeken fijnmalen (in blender )     en deze in een kom mengen  met                           100 g gesmolten roomboter
stort dit daarna in een met bakpapier bedekte springvorm (maatje diner bord) en druk stevig aan met lepel

2 pakjes Monchou (250 g in totaal)                                                                                                             100 g witte basterdsuiker door elkaar prakken

250 ml slagroom met1  zakje vanillesuiker en 1 zakje klopvast stijf kloppen, klopvast pas op het laatst toevoegen
Nu slagroom en Monchoumengsel  bij elkaar in kom doen en zachtjes mengen (laagste stand mixer of met een lepel) en vervolgens  dit mengsel met grote lepel op deBastognebodem doen; verdeel het in meerdere hopen en duw voorzichtig met bollekant van de lepel glad over de bodemuit. Dek af met plasticfolie en laat het in koelkast opstijven, minstens 2uur.
Schep vlak voor het serveren het blikje vlaaivulling erop,verdeel dit ook eerst in kleine hoopjes en met lepel uitsmeren.
You'll need cheese like MonChou, or Philadelphia, or an other neutral tasting (so no garlic or other herbes) creamy cheese. And the biscuits taste like caramel, but you can use speculaas or other biscuits you like, hell, I'd even dare making it with choc.chip cookies.
Anyways, here it goes:
1 package of Bastogne cookies -or other biscuits- crushed into powder, I use the blender.
100 gr of melted butter
mix butter and cookies in a bowl, with a fork, and put it in a -with bakingpaper covered- bakingtin(or whatever do you call those round things I'm holding in my hand above).
Next:
put 250 gr of creamcheese in a bowl and mix it with a fork with
100gr white castor sugar, until it's creamy.
Next:
whipp 250 ml of whipped cream as stiff as it gets, be carefull not to whipp it into butter☺and add
some vanilla sugar and (here I go) that powder that makes the cream stay stiff, (ha, the Viagra for food),no, not jelatine.
Anyway, if you don't add it because you don't know what I mean,it's best to eat the cheesecake the same day.
Next:
mix the cheese/sugar with the whipped cream and cover the cookie-bottom with it. Cover it and put it in the fridge for at least an hour or two.
Before serving you put fruit on top, we use canned fruit, where the juice of the fruit is mixed with jello, so it stays firm. You could -of course- make your own jamísh topping, just boil strawberries for a short time together, and add jelatine to the boiling hot moist, after you've taken the pan off the gas. Leave it to cool before putting on the cheesecake. Best to be made the day before.