Druk in de weer geweest -woensdag- met de quilt voor Evelien, na wijs besluit en in overleg met haar heb ik de blokken verdeeld over 2 quilts, Suzanne straalde toen ze dit hoorde! Wel moest ik er nog 10 bij maken, van de restjes K.F. kon ik nog 4 blokken halen en uit een bloemerig lapje heb ik de andere 6 gesneden. De scrappy blokken zie je linksboven en rechts onder

Wednesday I've been busy stitching up the blocks for Eveliens quilt, I decided to make 2 quilts out of them, by adding 10 more blocks (I managed to make 4 more blocks out of the K.F. scraps, the other 6 are from a flowery fabric) , Suzanne's face beamed with delight when she found out! Evelien helped me sorting the blocks. Before dinner -Perry was the cook-…
Vóór het eten -Perry kookte-
had ik al een groot deel aan elkaar zitten en toen ik daarna er verder aan wilde werken bleek het bezet te zijn. a big part of the quilttop was already finished, and when I wanted to work on it again it was taken
Zelfs met een heerlijk zachte flanellen quilt kon ik Zipje niet overhalen om er af te gaan, je ziet hem denken: "Je gelooft het zelf toch niet he?", I couldn't temped Zipje to leave the blocks, not even with a nice soft flanel quilt, you can see him thinking: "You're kidding, right?",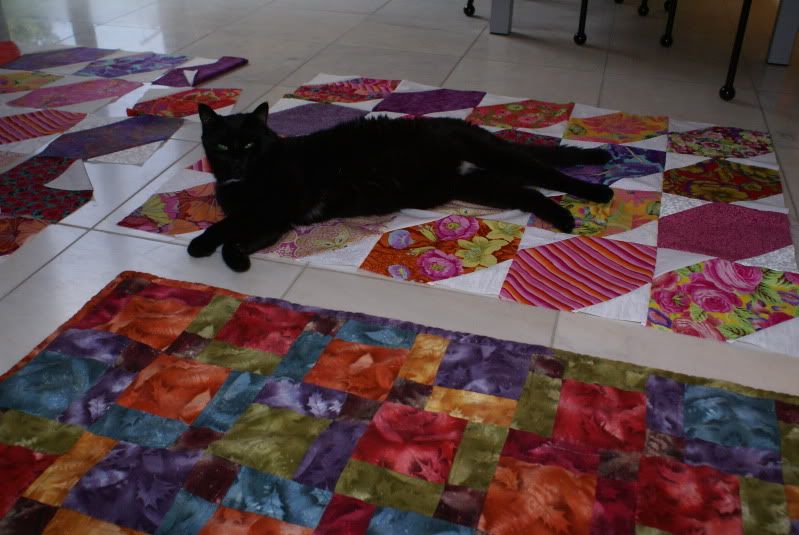 en om daad bij gedachten te zetten draaide hij zich nog eens lekker om and to show me he wasn't, he turned to his other side
maar Zopje had er wel oren naar, want toen ik me omdraaide om het fototoestel op tafel te leggen, plofde deze er heel voldaan op. but his brother Zopje liked the flanel quilt, when I turned around to put away the camera he dropped on it with great satisfaction. Hij had ook wel heel hard gewerkt vanavond; hij sprong bijna 2 meter hoog in de heg midden in een mezennestje, en terwijl deze heftig heen en weer schudde, hoorde we gekrijs van moeder en jonkies. Door de heg heen zag Perry hem met zijn poot op een jonkie liggen en Evelien en Suzanne probeerde hem er weg te krijgen door hem nat te spuiten. Zipje kwam er ook bij en probeerde ook te profiteren van het vliegend en huppend buffet, met 2 ons rosbief (toemaar) hebben de zussen beiude katten naar binnen gelokt en lieten ze pas weer buiten toen de rust wedergekeerd was. En zie ze nu eens liggen, op de quilts. The two of them had been part of a great adventure, trying to hunt down, kill and eat a nest full of young birds, while the birds were screaming and Evelien and Suzanne were trying to scare them away hosing them down and eventualy luring them inside with roastbeaf. Just look at them now: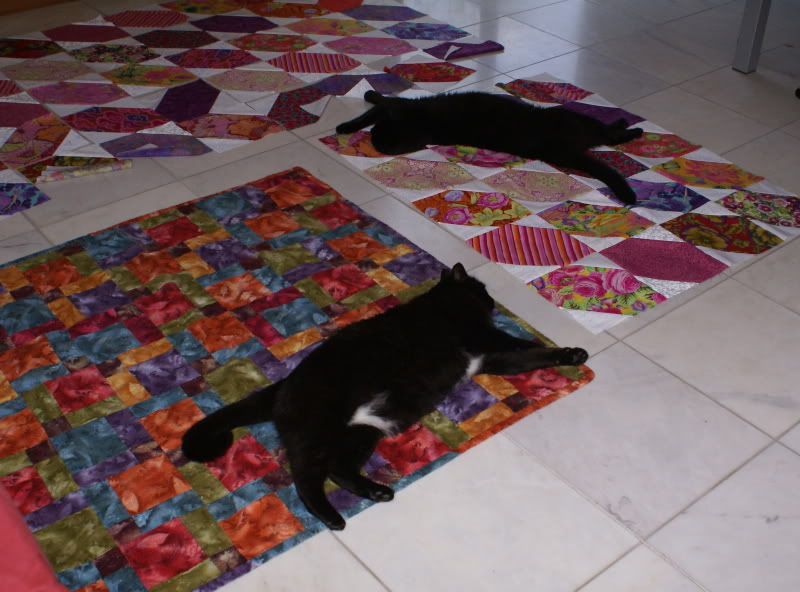 en ondanks alle drukte kreeg ik de blokken aan elkaar no thanks to them I finished the top thus far
ik heb de kleine vierkantjes al gestreken en de helft al op maat gesneden, en rest me nu nog om witte stof te scoren om er eerst rond te doen. the smaller blocks (triangles) are ironed and half of them are squaired up to 3½ inch blocks, tomorrow I must buy whtie cotton for the border, before I can make the outer border of the miniblocks.