Zalig weer, met het zonnetje en de dooi toch nog enkele winterse kiekjes kunnen maken,With sunny weather and temperature up to 5ºC, I made some lovely pictures outside, like this cat, as if he's enjoying a bubble bath
met mijn nieuwste aanwinst van Jim Shore beeldjes: And here's my latest addition of Jim Shore collection: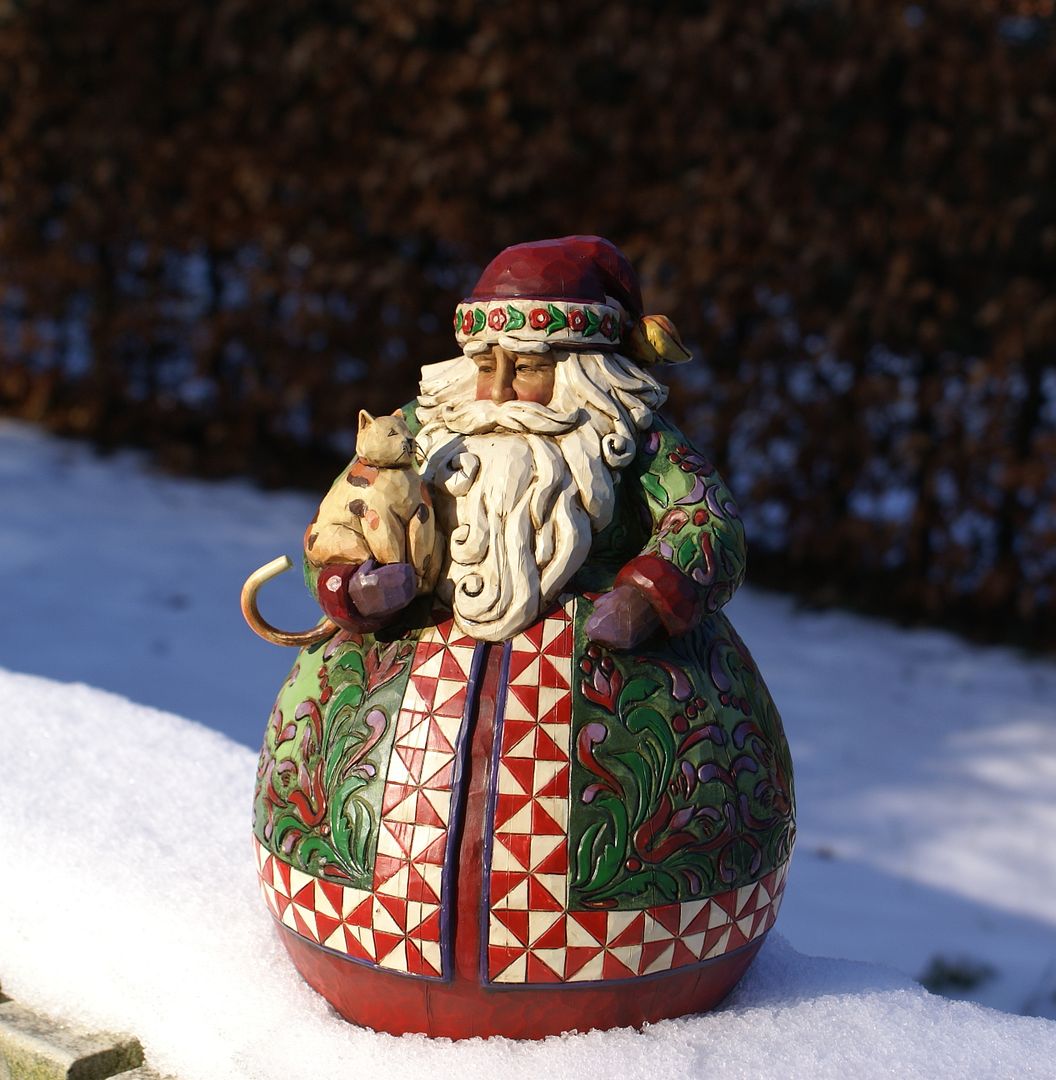 is het geen schatje? Ain't he cute?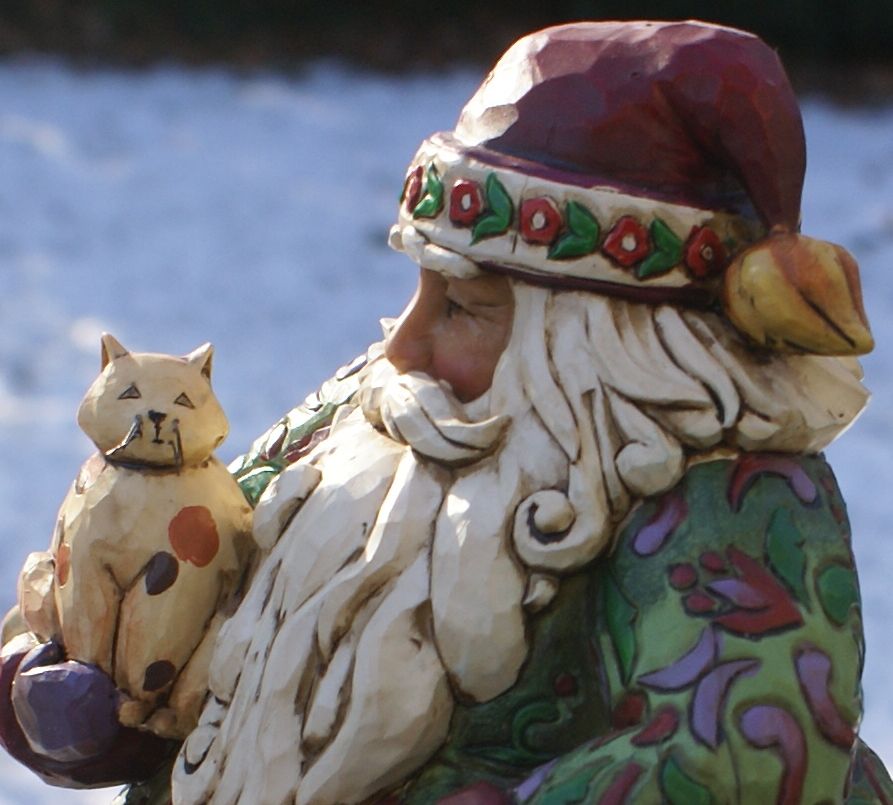 Ik vind die jas prachtig, Just love the coat
zo bont en chique, en dan die rand van blokjes, geweldig!
I love the red&white blocks, so classy. And while I'm not too pleased with myself for not having this quilt sandwiched, Zopje doesn't mind at all! The green fabric is for the backing, the colour's a bit pale in the picture, and the gold doesn't show as well. I'm planning to put red/gold sashing on the green, for I don't have enough to cover the top completely, so the backing will be patchwork too.
Terwijl ik een beetje baal dat ik niet aan het sandwichen ben toegekomen, vind Zopje het helemaal niet erg, integendeel. Elke dag denk ik "morgen", en elke morgen komt er weer iets tussen. Die groene stof met kraanvogels is in het echt iets donkerder van kleur, en deze komt tegen de achterkant aan; er zit iets van goudwerk in, en dat komt weer mooi uit met de beige stof van de blokken en borders. Er komt nog een rode rand aan weerszijde van deze groene stof, anders is het niet breed genoeg, dus ook op de achterkant komt patchwork.☺
This evening I went to the FLC (or Fat Ladies Club: Weight Watchers) it was very busy with a few newcomers and a lot who didn't dare to come last week showed up tonight. Yet again I stepped from the scale with a happy face, lost 0.8 kg's this week, which puts the total loss to 10.6 kg's! And all of this in just 10 weeks time, isn't it wonderful, and without feeling hungry too. I just love it. I want to loose another 8 to 10 kg's, what will put me on a just slightly overweight weight, but a healthy one as well.I need to keep some fat as wrinkle-filler, and hope my boobs don't go all the way south like used-up teabags. Pictures below speak for itself, the before andafter photo, the after photo taken just an hour ago in the bathroommirror, and I mirrored the image again with photoshop.
Vanavond was het weer de DDC bijeenkomst ( Dikke Dames Club ofwel de Weight Watchers, voor wie pas mee leest op mijn weblog), het was druk, een paar nieuwe dames erbij, en omdat ik wat later dan normaal was, kon ik achteraan een lange rij schuiven om gewogen te worden. -0,8 kg, weer een flinke mep vet kwijt, ik begin een beetje bang te worden en zou een controle bij de specialist helemaal niet erg vinden, maar ik weet dat het komt, omdat ik me heel goed aan de pro-points houd, en ik heb nergens last van, dus heb er alle vertrouwen in dat het goed zit met mijn lijf. In totaal ben ik nu 10,6 kg al kwijt en dat op 10 weken tijd, niet slecht zeg! Hier een foto van before
, en van nu, net zelf in de badkamer genomen. Okay, de bril is ook anders, maar ik heb o.a. weer een kaaklijn en hals.
Maar we zijn er nog niet, ik wil nog iets van 8 á 10 kg kwijtraken, en dan heb ik nog maar een licht overgewicht, waarmee gezond geleefd kan worden. Ik moet wel wat vet overhouden om de rimpels te vullen he. Ik hoop ook niet dat mijn borsten zo gaan zakken en uithangen als gebruikte theezakjes, maar wat doe je d'r aan?
En dat zonder honger te lijden, zo fijn. Ik heb nog nooit zoveel fruit gegeten, en met mij de kinderen, want of ik nou 2 mandarijntjes pel of 6 maakt dan ook niet meer uit. Het naar de bijeenkomst komen helpt veel, en tussen gemotiveerde dames zitten die ook lekker bezig zijn geeft ook een boost, het is leuk als ze bij het gaan zitten belangstelling hebben en dat we met een grijns zitten, omdat we zijn afgevallen is gewoon leuk.