(English text at the bottom of the page) Nooit in me opgekomen dat borduurgaren zou kunnen bloeden, mijn moeder belde me vanmorgen om te vertellen dat garen van Threadworx -vervanger van Needle Necessities- was gaan bloeden. Ze had een borduurtje nat gemaakt om de getekende lijnen van de verdwijnstift eruit te halen, en toen het opgedroogd was zag ze het, onder en naast de bloemen van de Fashionshop. Ik heb gelijk garen nat gemaakt en tussen 2 tissues gedrukt en laten opdrogen, helaas bloeden de volgende kleuren ook hevig (tussen haakjes is de vergelijkbare NNnummer): 1069 (142), 1035 (124), 1098 (156). De bruine 1043(130) geeft heel lichtjes af en de nummers 1027 (117) en 1079(148) zijn te verwaarlozen qua bloeden. Goddank, want die heb ik veel gebruikt bij het maken van de bloemen van de Wisterias. Ik weet nog niet wat ik ga doen, uithalen of niet, ik zal vanavond kijken hoeveel er uitgehaald moet worden.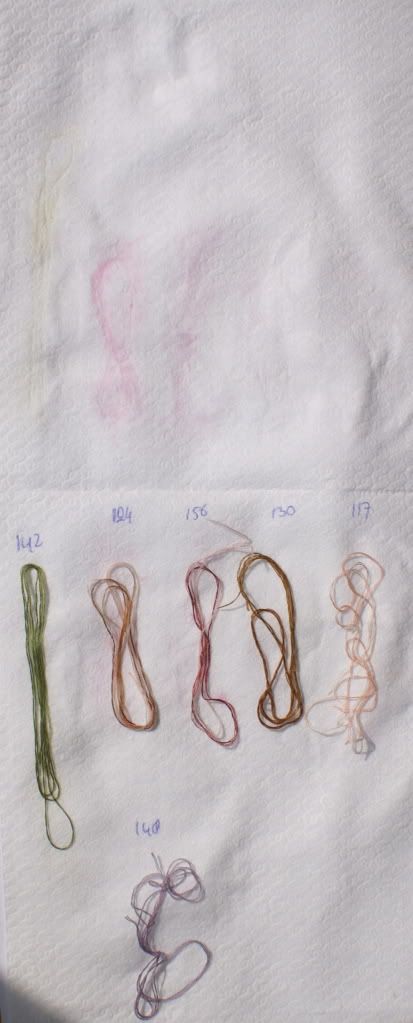 It never occured to me the overdyed floss of Threadworx (used instead of Needle Necessities) would bleed, my mum who's also working on The Girls Day Out called me to warn me this morning. While using water to remove the fine lines of the blue (water erasable) pen on her Fashion Shop block, she found out the hard way, the bleeding floss of the flowers left quite an imprint! As I have used the floss on several Girls Day Out blocks, I wanted to know about the other colours I've used. Like the horrormovie Scream! The numbers in between the ( ) refer to Needle Necessities.
Heavy bleeders are: green 1069 (142), peach/brown1035 (124), aubergine/pink 1098 (156). The brown 1043(130) only bleeds very lightly and the bleeding of numbers 1027 (117) and 1079(148) are negligible. Thank God, because I've used quite a bit of 117 and 148 on the wisteria flowers. But what shall I do, take out all of the used bleeding floss or try to live with the knowledge? I'll check it out tonight. I've warned the designer Libby Richardson and also the shop where it was purchased.