Toen om half 5 Tim belde om te zeggen dat ze over iets van 20 minuten op 't station thuis zouden zijn, viel er een pak van mijn schouders. En te zien aan de opgeluchte gezichten van de andere ouders op station waren we dus niet de enigen.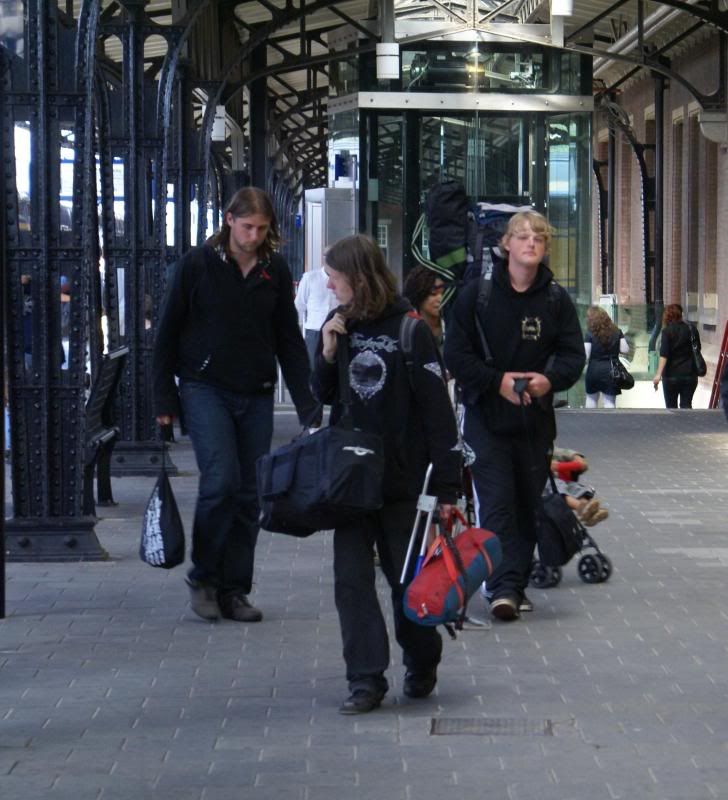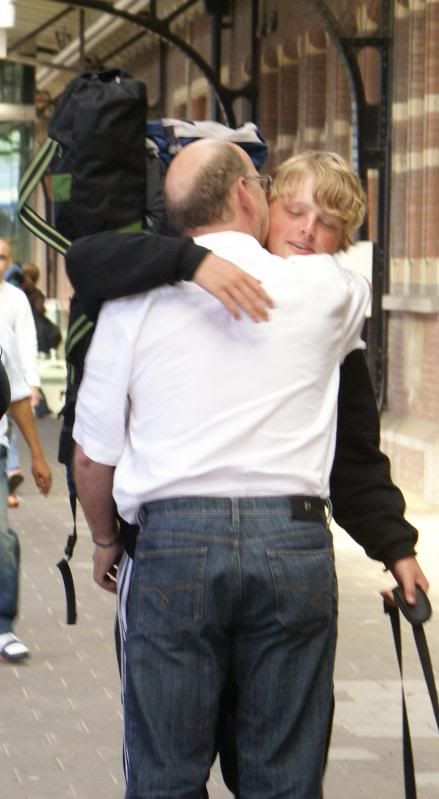 Blij hem in de armen te sluiten, bruin en een uur stinkend in de wind -viel wel mee hoor-. Moe maar vol verhalen zat hij -na een douche- fris aan tafel, eten naar binnen te schuiven, het ene verhaal na het andere kwam aan bod. Het was een hele ervaring geweest; je leert je vrienden pas echt kennen als je er een week bij op de lip zit, dag en nacht. Maar ook de ballen gezien van een knul in kilt die al croudsurvend over hem heen de verte in verdween, zijn klok-en-hamerspel vrolijk showend, dat moet een mooi zicht zijn geweest ☺ Dat hadden we allemaal wel willen zien, maar dan zonder het geluid. De stilte nu moet oorverdovend zijn voor Tim, hij vertelde dat het daar geen minuut stil was, muziek ging dag en nacht door, daar konden geen oordopjes tegenop. Hij slaap al sinds 7 uur pm, en wat al ik zometeen ook lekker slapen!
Als ik maar niet droom over de quilt van Evelien, hij is al bijna helemaal doorgequilt, 1x ben ik met de naald door het topje van mijn middelvinger gegaan, diepe snee in vinger en naald kapot, gelukkig geen bloed aan de quilt. Dat komt er van als je te lang door blijft gaan.
Dear son (17) has returned from his 7 days Wacken adventure, tired, brown and very dirty and also full of stories. Like the boy in a kilt, crowdsurving and no knickers on. He said: "at first I saw his bum and when I pushed him over my head towards the guys in front of me, I looked straight up to his balls and penis, and thought it was funny. And the guy didn't seem to care." He was surprised it was so quiet in the house, at the festival and campinggrounds the music went on no-stop.
Like him I'll sleep like a log too, tonigh, that is, if I don't dream about Evelien's quilt, on which I've been working this afternoon and part of the evening. I wasn't paying attention and sewed right through the top of my middlefinger, a big cut and broken needle, but no blood on the quilt.