hehe de quilt voor Evelien is klaar, ze ligt al te slapen, anders had ik wel een foto gemaakt met haar terwijl ze de quilt vasthoudt. Vanmiddag voor het eten kreeg ik het doorquilten af, het werd nog heel spannend of ik het wel zou redden met mijn King Tut garen, dit is wat er van over was toen ik klaar was; op z'n blote billen ging het er uit, zeggen we hier. Finaly finished Evelien's quilt, she's asleep, otherwize she'd be on the picture holding it. I finished quilting it late afternoon, I wasn't sure I'd have enough quiltingthread (King Tut), and this is all what's left after I finished quilting.
En toen 8 meter biasband gesneden uit roze boomschorsprint, het past er precies bij! Tijdens het eten klaarmaken heb ik de band dubbel gestreken en daarna de band er op gespeld; toen ik na het 8 uur journaal wilde gaan naaien had Zipje zijn favoriete slaapplekje weer gevonden, tussen de spelden lekker in een kuiltje. Before dinner I cut 8 meters of biasbinding, while preparing dinner I ironed the binding and after dinner I pinned the binding on the quilt. But when I wanted to start stitching the binding on the quilt (after watching the news) it was taken; Zipje had found his heaven on earth, a freshly quilted and piled up quilt, with needles.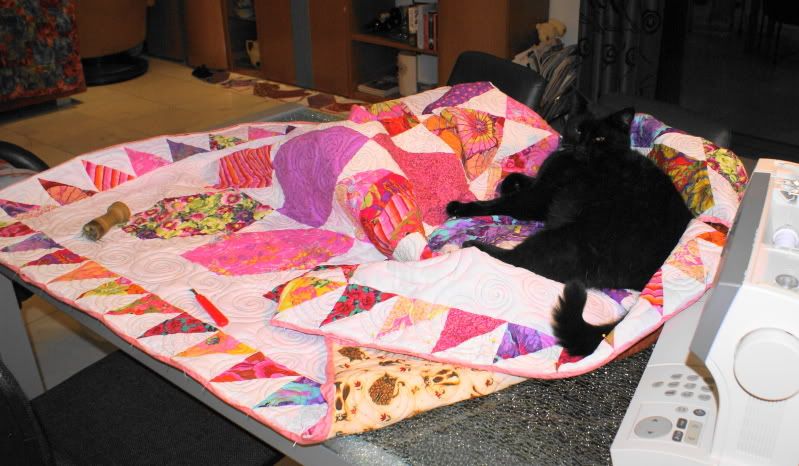 Met tegenzin nam hij later plaats op een ander quiltje die ik voor hem op tafel had gelegd, ik vond het wel slim dat hij die hint gelijk snapte. Reluctantly he took his place on the old quilt I put on the table, he took the hint which I thought was very clever.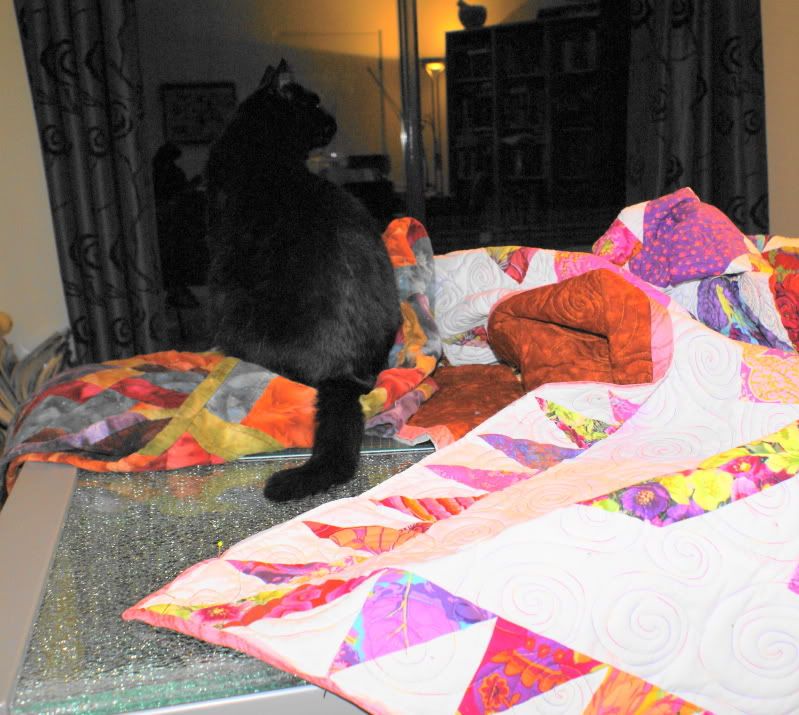 En zo ziet de quilt er in z'n geheel uit, jaja, de bies golft, maar dat komt omdat ik er net alle tags uit heb gehaald -de vloer is bezaaid met zwarte spikkeltjes- en de quilt steeds oprolde. Morgen na het wassen ligt hij vast als een plankje zo strak. And here it is, yeah alright, the edge looks very wavy, getting seasick? It's just because I was working on it, rolling it up and such, taking out all the tags; the floor is covered with black spickles, first I thought they were ants. After a nice wash the quilt will lie perfectly flat, I promise.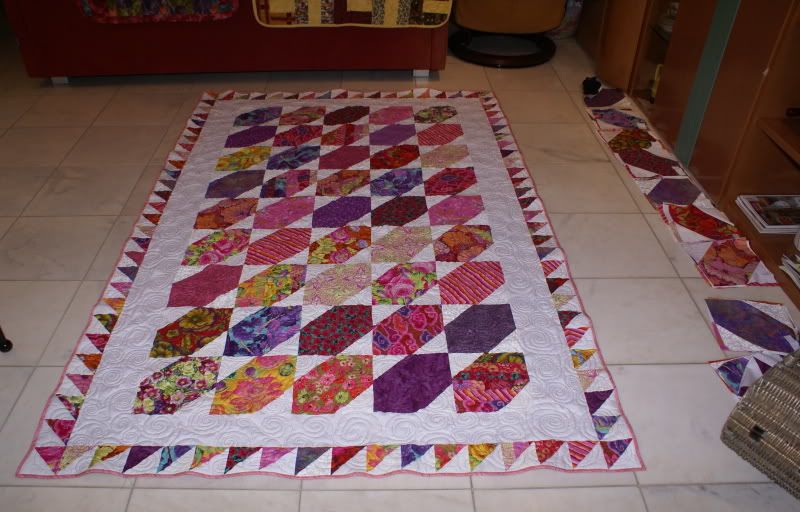 en de stapeltjes blokken rechts tegen de kast zijn voor Suzanne's quilt, netjes gearrangeerd en per rij genummerd, daar moet ik morgen aan beginnen ☺The row of blocks to the right are for Suzanne's quilt, neatly arranged and numbered; I must start that one tomorrow.