Bij mijn quiltlijst deed ik weer mee met de Secret Santa, waarbij je een cadeautje moet verzinnen voor een deelneemster en een deelneemster doet dit ook voor mij, allemaal heel anoniem. 2 Weeks ago i received my Secret Santa gift, organized by a member of my quiltgroup, and I was allowed to open it tonight.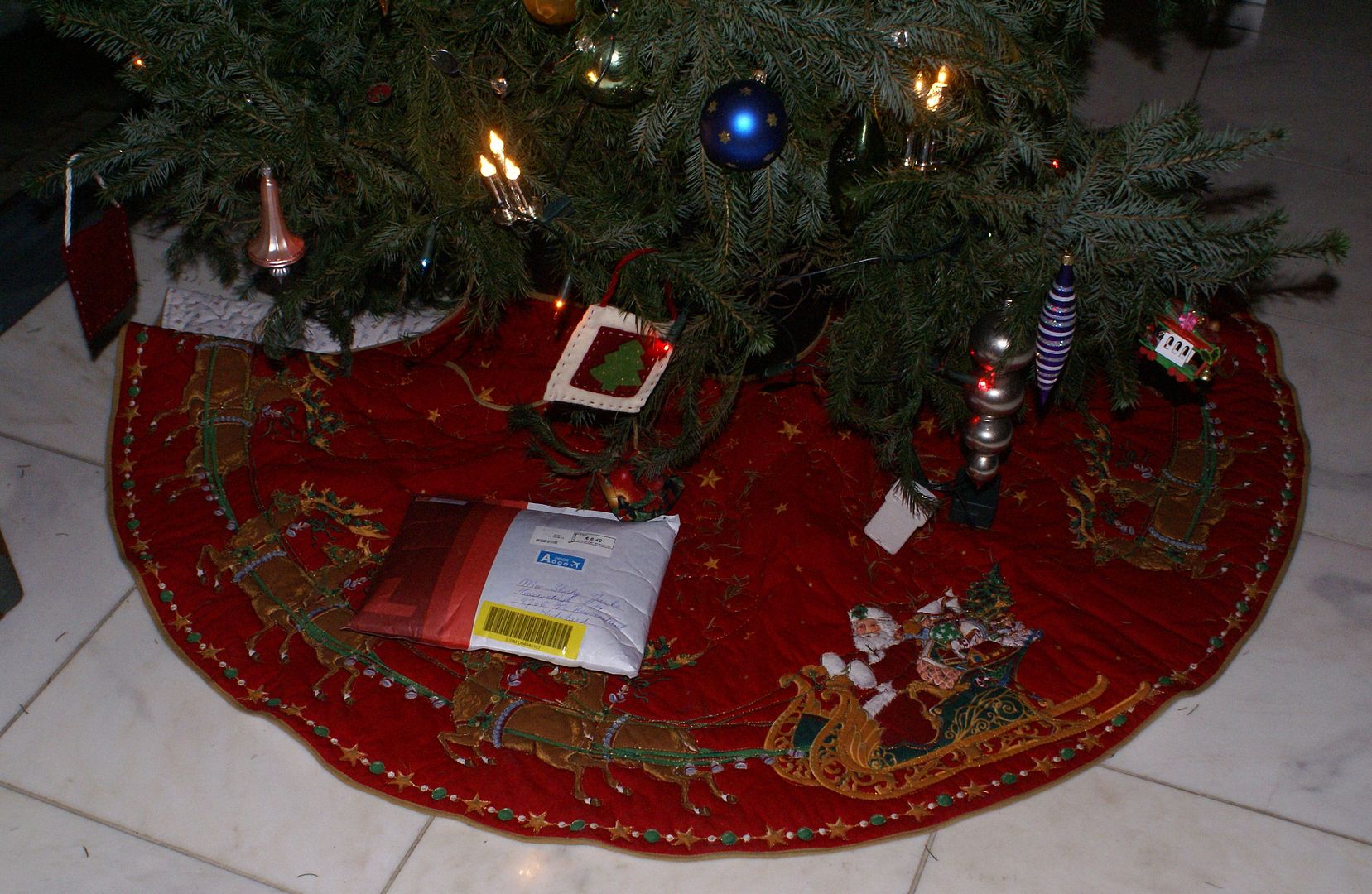 Mijn cadeautje kwam 2 weken geleden al binnen en lag sinds een paar dagen onder de boom, tot ik het op Kerstavond eindelijk mocht open maken. The letter said: dear Shirley (that's me) because you have been such a good girl not eating any cakes, Santa treates you to one.

The cake (pincushion) is lying on a paper napkin, and the embroidered 'balls' are already hanging in my Santa quilt in the hall.
Een heleboel mooie lapjes stof, 2 zelf geborduurde hangertjes die ik gelijk aan mijn Santa quilt hing, een paar labels om achter op affe quilts te naaien, en een speldenkussen met een chocolade gebakje er op geborduurd, zo mooi gedaan! Op de foto ligt het ronde speldenkussen op servetjes, om mijn kwijl af te vegen. Ik voel me zeer verwend ☺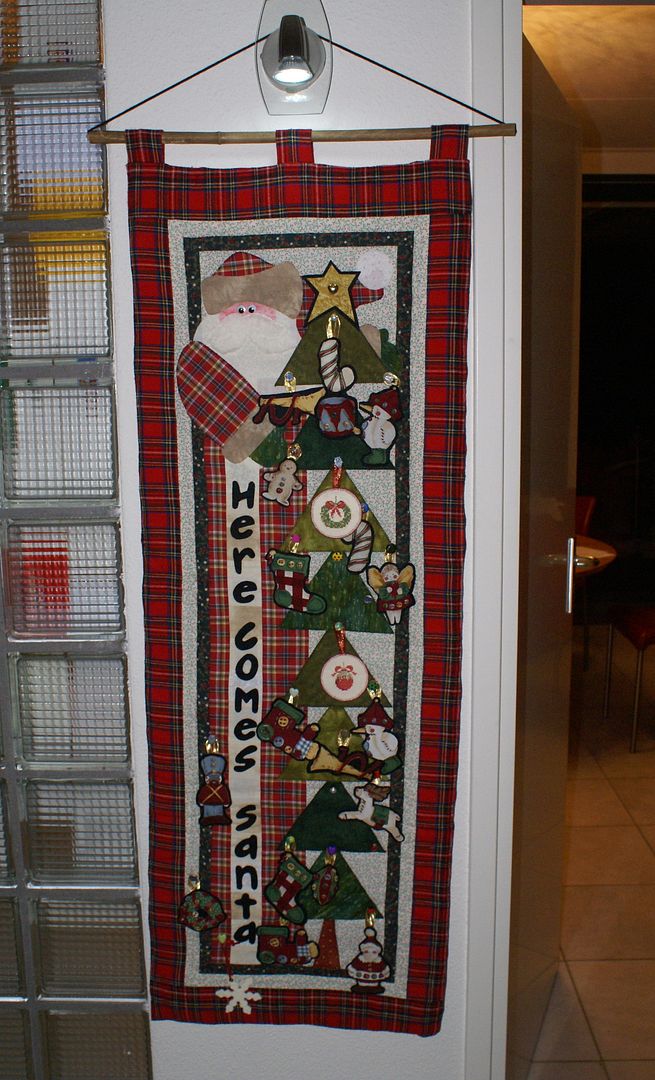 Vanavond maakte Evelien ons voorgerecht klaar, Here Evelien is making a starter, carpaccio, jummie
ze had er lol in, ook al kijkt ze hier heel geconcentreerd. Na het eten heb ik het toetje voor morgen gemaakt, Blanc Manger, dit heeft even tijd nodig om goed op te stijven. Voor wie niet van deze romige 'pudding' houdt, is er gelukkig ook nog ijs, al dan niet met warme kersen. mmmm. Ik denk niet dat we met honger van tafel zullen gaan, ik hoop maar dat we wel met honger áán tafel zullen gaan, (we gaan steengrillen/gourmetten), want we hebben zoveel liflafjes en zoete lekkernijtjes voor bij de koffie, Perry en Suzanne hebben Jamin geplunderd vanmiddag. Ik zal proberen heel sterk te zijn, heel sterk. Tomorrow we'll have family over for X-mas, we'll eat a lot of goodies from the shops (chocolat and cookies) as well as from my mother's kitchen, she makes the best cakes with raisins and nuts in it, the're legendary. I hope we'll have some appetite left at night.