Na het gezellige en Bourgondisch feestje van gisteravond onder zwoele temperaturen, afgesloten met bloedstollende bliksemslagen en fikse stortbuien, was het vandaag afkicken met 10º koeler en bewolkt tot halverwege de middag. Pas toen de Koninginnedag uitzending van tv klaar was brak ook hier de zon door, maar voor buiten zitten had ik geen tijd, er moest gewerkt worden en gauw een beetje. We had a great party last night, lots of food and lovely weather, unfortunately the evening ended with a big bang, lots of thunder and rain. Today started chilly, rainy and 10º cooler then yesterday. After watching the celebration of our Queen's birthday on tv I had no time to loose but to finish the fruitquilt. Well, just a few snapshots of the springtime flowers. The Wisteria is very hesitant, but very promising too, with flowers -not yet open- all the way up to the masterbedroom; the Viburnum in our front yard smells so heavenly, you can smell it from far away, a shame it's almost finished blooming; the white flowers on the tree are from our neighbours, I love them, so elegant. The picture of the Wisteria is pathetic, I'll make a new one in a few days, when there are more flowers to be seen.. Nou vooruit, heel even dan om snel een paar foto's te maken van buiten, de Wisteria toont een aarzelende bloei, helemaal tot boven het balkon van onze slaapkamer, geheel volgens de planning. Wel een trieste foto, de klimmer is haast niet te zien! Een betere foto volgt eerdaags. En de bloem van de Viburnum ruik je tot in de wijde omtrek, heel zoet, en deze boom staat bij de buren volop in bloei, beeldige bloemen! En nu snel digi wegleggen en aan de slag! Eerst nog het moment van de opgeruimde kamer op de gevoelige plaat vastleggen -bewaren voor het nageslacht- en toen de naaimachine geïnstalleerd en doorquilten maar. Om 2 uur aan begonnen en met rustpauzes tussendoor waarbij de inwendige mens ook niet vergeten werd After taken the shots I started on quilting the quilt, the only distraction were the coffeebreaks and the odd feeding, the quilting took me 4 hours! Unfortunately -and despite of the tekst on the plate- I met a calorie I didn't like, the cake looked better than it tasted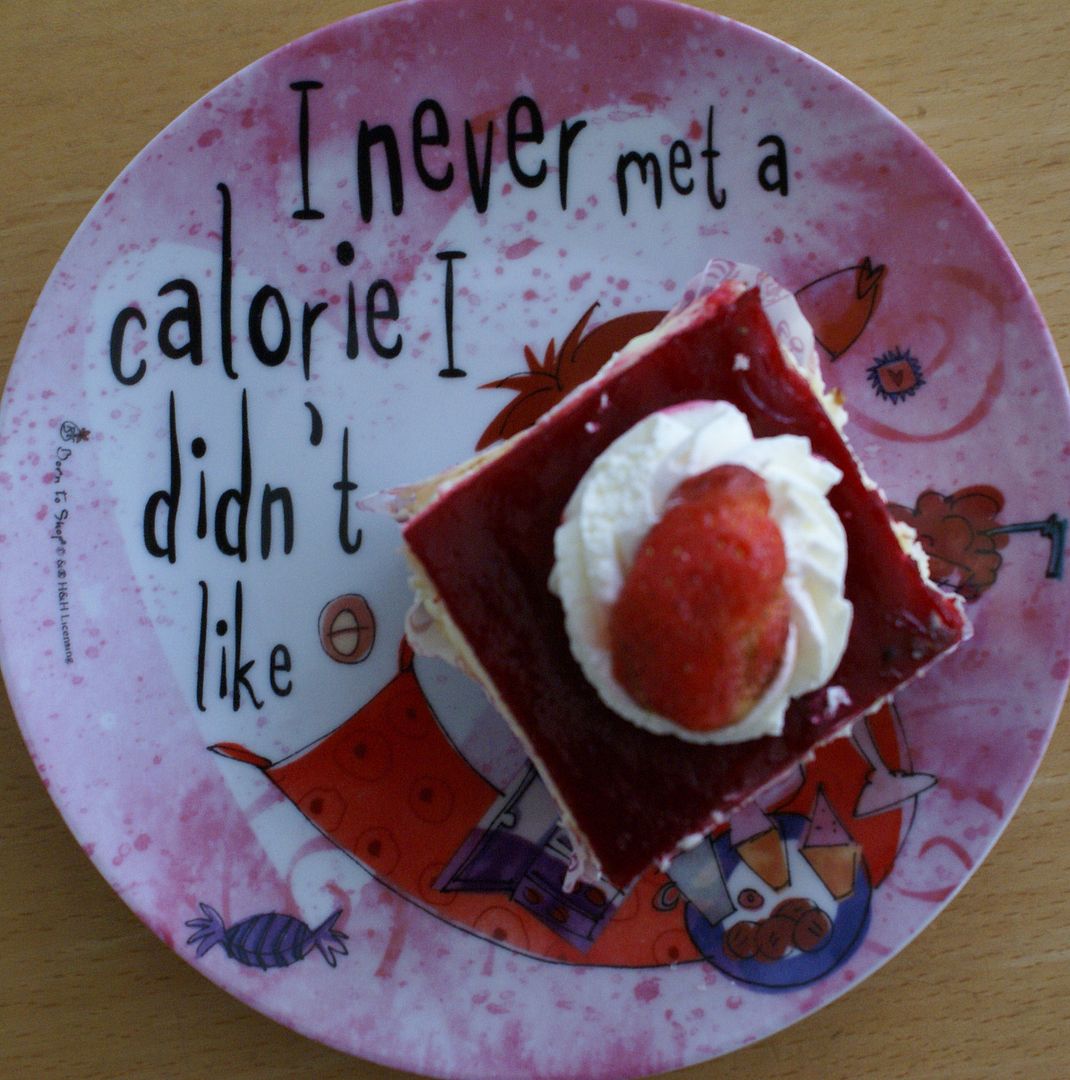 (in tegenstelling tot de tekst op het bordje smaakte het niet zo lekker als dat het er uit zag, zonde van de calorieën,) was ik om 6 uur klaar met het doorquilten. Toen nog even mooi recht snijden op de vloer, en na het eten ben ik begonnen aan de bies opzetten. 2½ uur later was ook dat klaar, pfff, ik voel mijn schouderbladen nu wel zitten zet, links en rechts achter op mijn rug, zo'n beetje halverwege. 't Zou verkeerd zijn als ik ze elders zou voelen, dan zou ik pas een reden hebben om te zeuren.
I worked on quilting the quilt from 2 till 6 and after dinner I did the binding and finished the quilt the same evening, I just wanted to get it done today. Tomorrow I'll be gone to a quiltexhibition in Veldhoven, sunday I have time to wash and dry the quilt, and add a label to it. Morgen ga ik naar de QTT in Veldhoven, en dan kan ik zondag de quilt wassen en drogen, en dan de label er op zetten.