Vanavond bij de DDC (dikke dames club, ja, oftewel de Weight Watchers) ging ik hoopvol op de weegschaal staan in de wetenschap dat ik vanmorgen ruim 1 kg minder woog dan de vorige keer, en wat schetste mijn verbazing: ik ben 2,4 kg afgevallen! Het dubbele van wat ik dacht.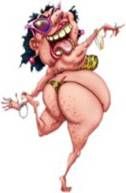 Jullie snappen wel dat ik mezelf vanavond bij de thee trakteerde op 2 droge biscuitjes, zalig! Meer bewogen (je moet jezelf zodanig in het zweet werken dat je haast geen adem hebt om te praten, Miranda), meer magere soepjes gegeten mmm en nog strenger op de inname van punten gelet. En de worteltjes in de groentenla helpen me ook enorm, lekkere knabbeldingen voor tussendoor.

Vanmiddag ben ik bij Dorry geweest en heb daar, -na de quilts van Supergoof te hebben bekwijld, meisje wat mooi in het echt- 3 meter wollen tussenvulling gekocht. Zo licht van gewicht en zo zacht en natuurlijk lekker warm, ik kan haast niet wachten om het uit te proberen met doorquilten! Morgen ga ik de top afmaken, ik heb er zin in.
When I went to the Weight Watchers Club this evening I heard the lady say I lost 2,4 kg, and it was a pleasant surprise, I was smiling like crazy when I stepped down from the scale. Just a few days and I'm 6 kg lighter then I was 4 weeks ago, great! It helped that I had more action this week, like raking all the leaves of the street and garden, Nordic Walken, the gym. And of course eating more carrots, low fat vegetablesoups and minding the amound of input even better.
This afternoon I went to Tilburg to visit Dorry's quiltshop , slobbered on Supergoof's quilts (you can see them here at Dorry's weblog) and bought 3 meters of woolen batting, lovely thick and fluffy, I can hardly wait to try quilting it. Tomorrow I'll finish Tim's quilttop and hope to find backingfabric in my stash