Even een tussendoortje, een hexagon bloem maken en daarna op een achtergrond naaien; hexagonen heb ik zat gemaakt, en dan allemaal aan elkaar met de hand naaien, pas du problem. Maar om het op een achtergrondje te naaien, dat viel wat tegen. De rechte buitenkant natuurlijk niet, eitje, maar waar de inkepingen zitten, om die netjes te doen, pfff. Komt ook omdat er bij mijn bloempje nog alle malletjes in zitten, die maken dat de bloem weinig flexibel is. Maar ik ben niet voor 1 gat te vangen en heb er het volgende op verzonnen. Zal je vast zien dat dit al een aloude en zeer bekende manier van appliceren is, maar ik vond mezelf wel erg slim.Geweldige stof he, is gemaakt voor 1 inch hexagonen denk ik.Onderaan zie je meer foto's plus uitleg.
Making hexagons is a piece of cake for me, been there, done that, but appliquéing a hexagon on a piece of fabric, that was something I'd never done before. No problemo on the straight sides, but when it came to the inward pointing corners I had some difficulty, for the hard hexagon-papers were still inside and I couldn't fold the fabric. I solved it by flipping the fabric and working from the back, folding the fabric over the edge to see were I needed to stick my needle, and making a backstitch after every 5 or 6 stitches . It looks really neat and I am very pleased with myself; from the top you can't see any stitching, from the side looking almost between the flower and white fabric, you can, but the person who looks at quiltblocks that way should be hold in contempt (watching too many law&orders).
Je speld het bloempje op het lapje stof, en dan ga je aan de achterkant verder werken met naald en draad;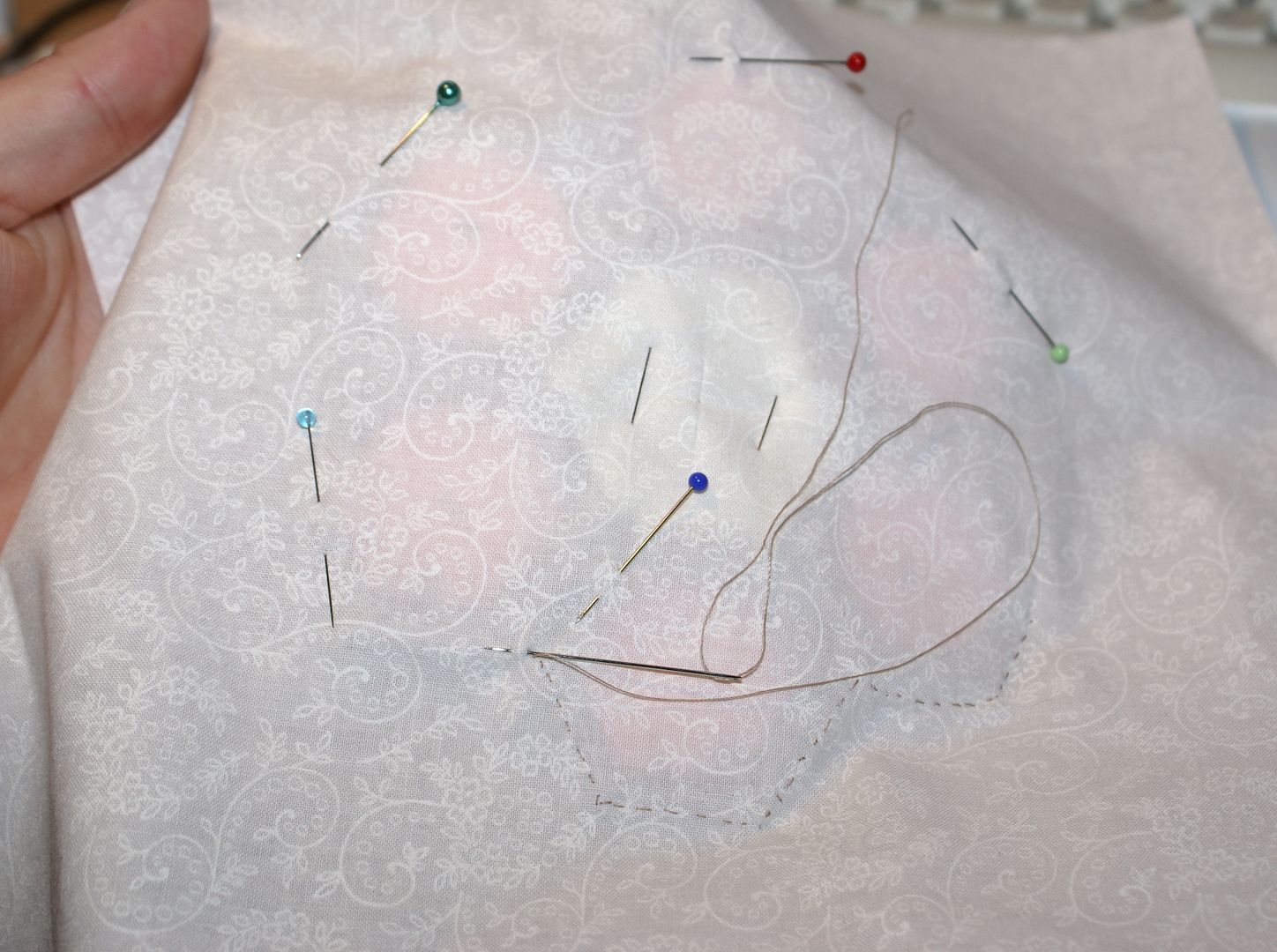 vouw de stof zonder te trekken om de hexagon, en nu zie je precies waar je met naald in en uit moet steken, precies op het randje of een mm van het randje af. En om de 5 a 6 steekjes maak ik een terug stik steekje. Ik sta gewoon versteld van het mooie -en van bovenaf gezien- onzichtbare naaiwerk!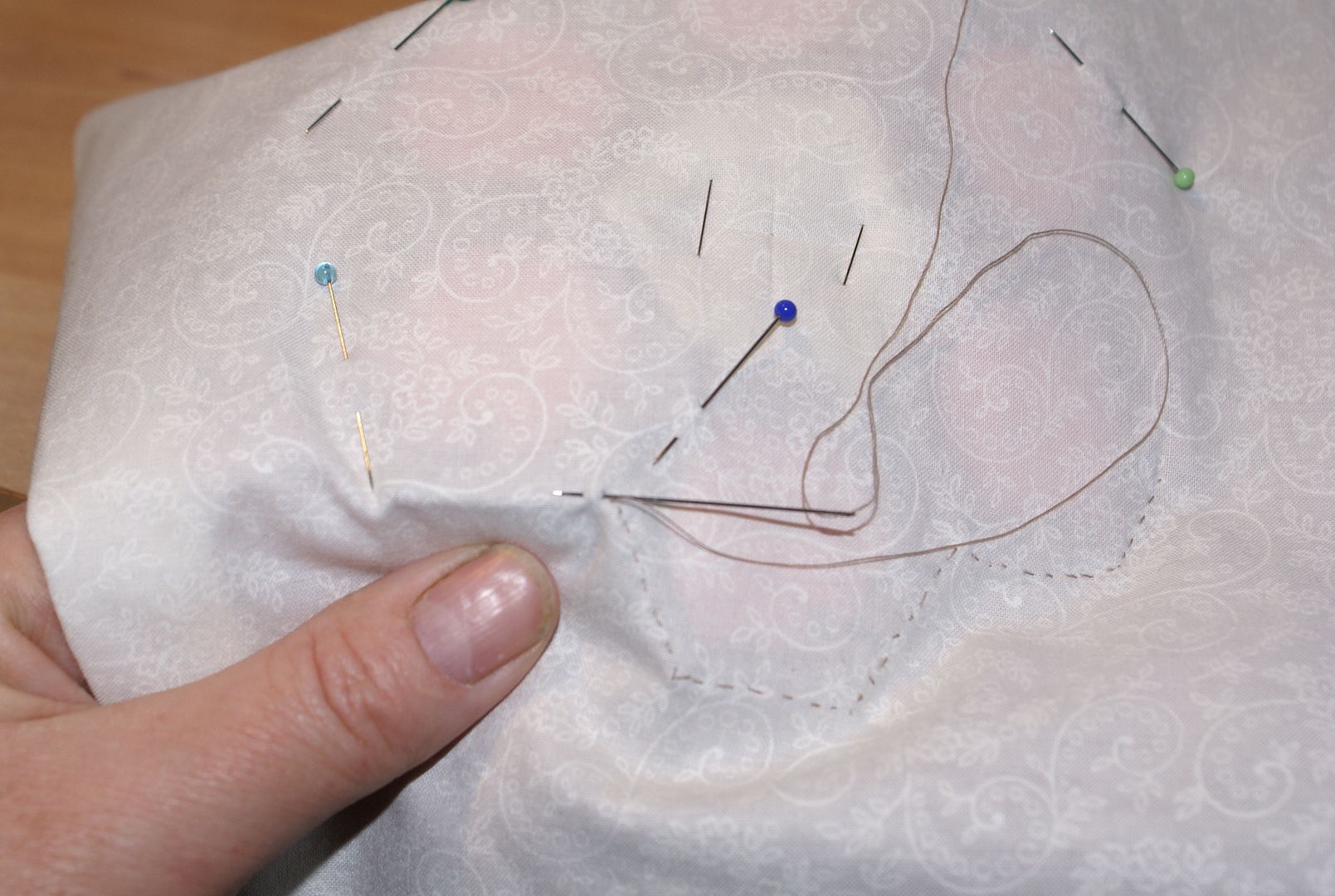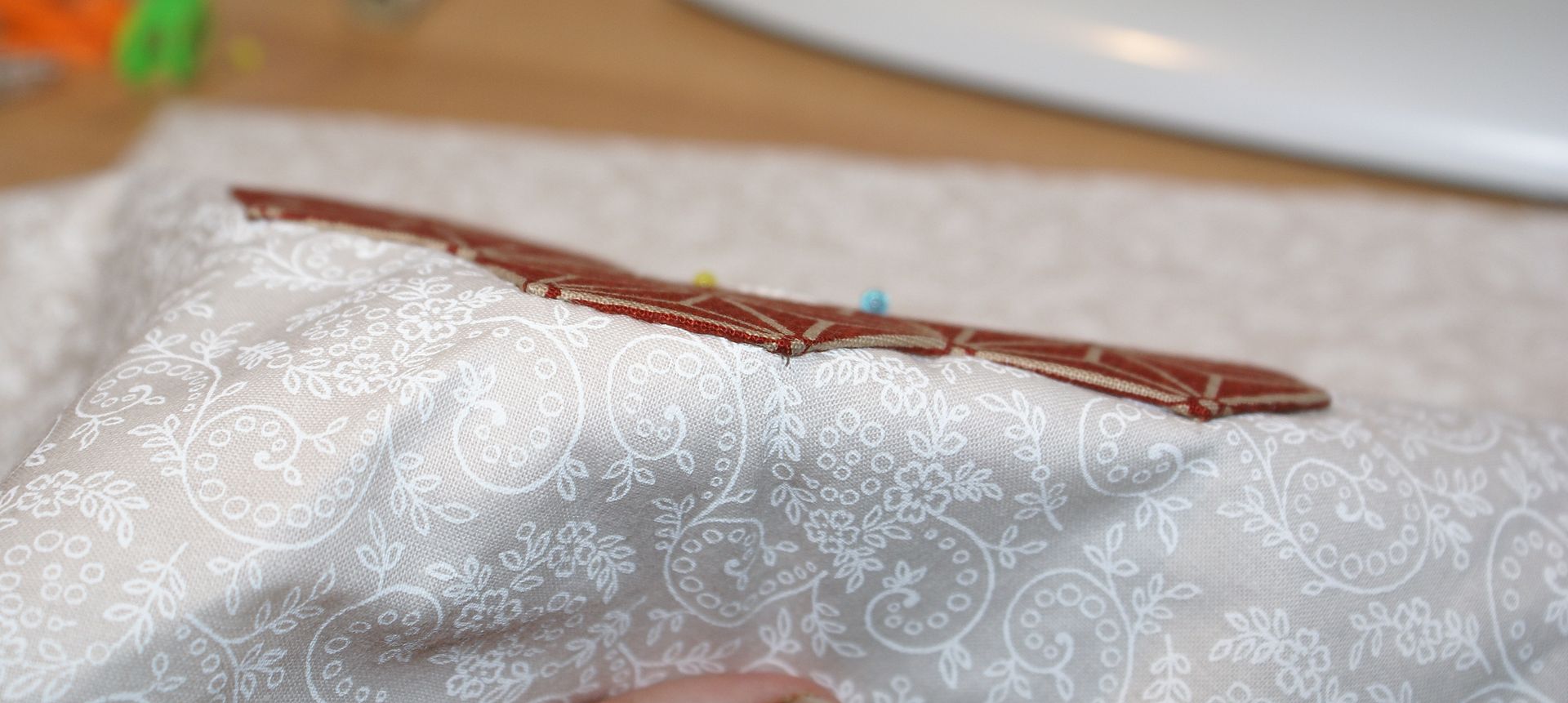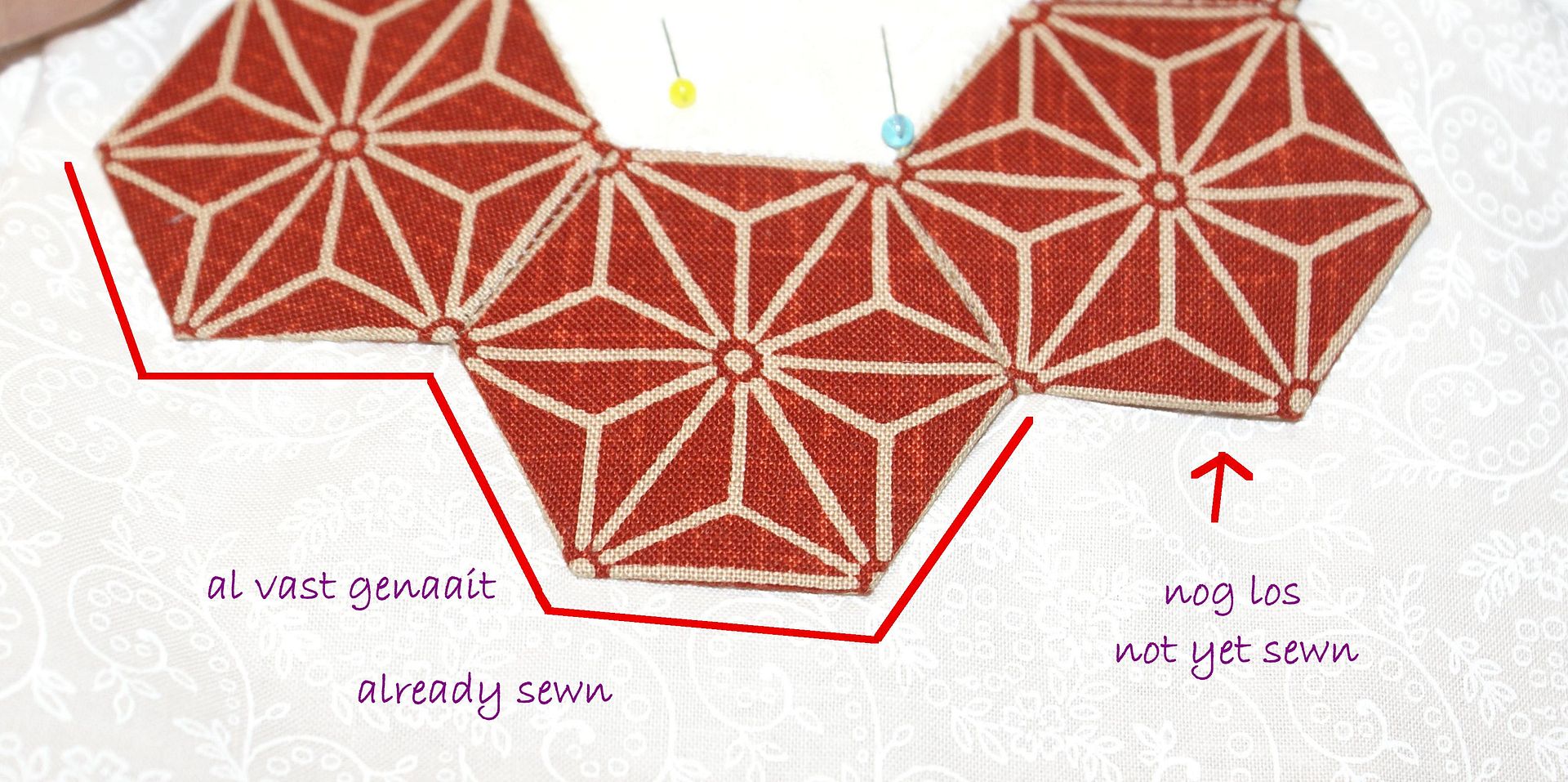 and don't you just love this fabric!
And when you're done, you cut a hole in the back, just big enough to remove the threads that hold the papers in its place. Carefully remove the little pink papers and it's finished, ready to sign and press. (I always press after signing the block, the hot iron fixates the ink from the pen for sure.
En als je klaar bent met vast naaien, dan knip je uit de achterkant in het midden een gat,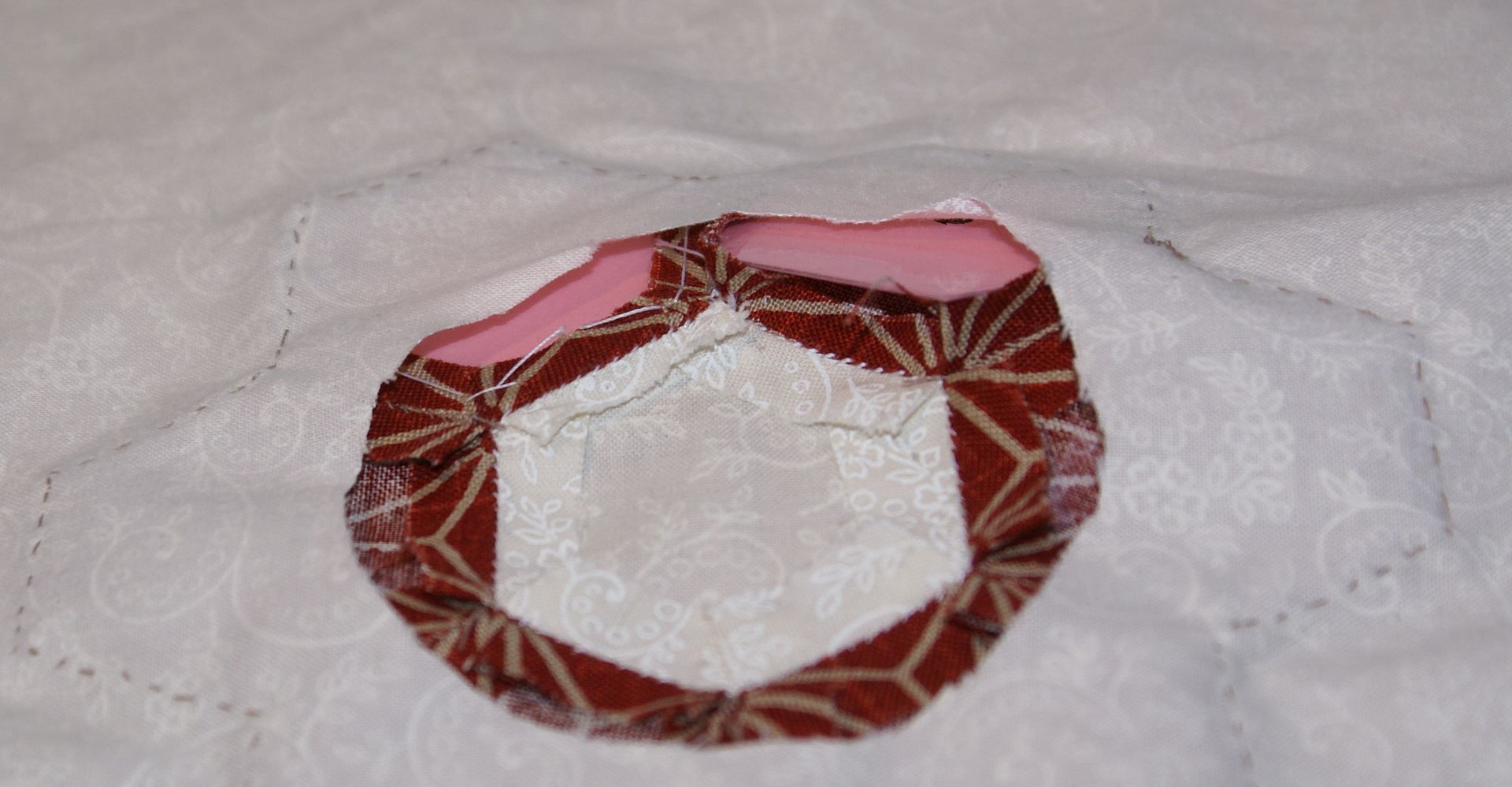 en knip je voorzichtig de rijgdraadjes waarmee de hexagon-kartonnetjes vast zaten los, -alleen die aan de buitenste 2 hoeken- en dan trek je voorzichtig het kartonnetje er uit. Leg de naden weer mooi plat en voila, klaar is Shirley.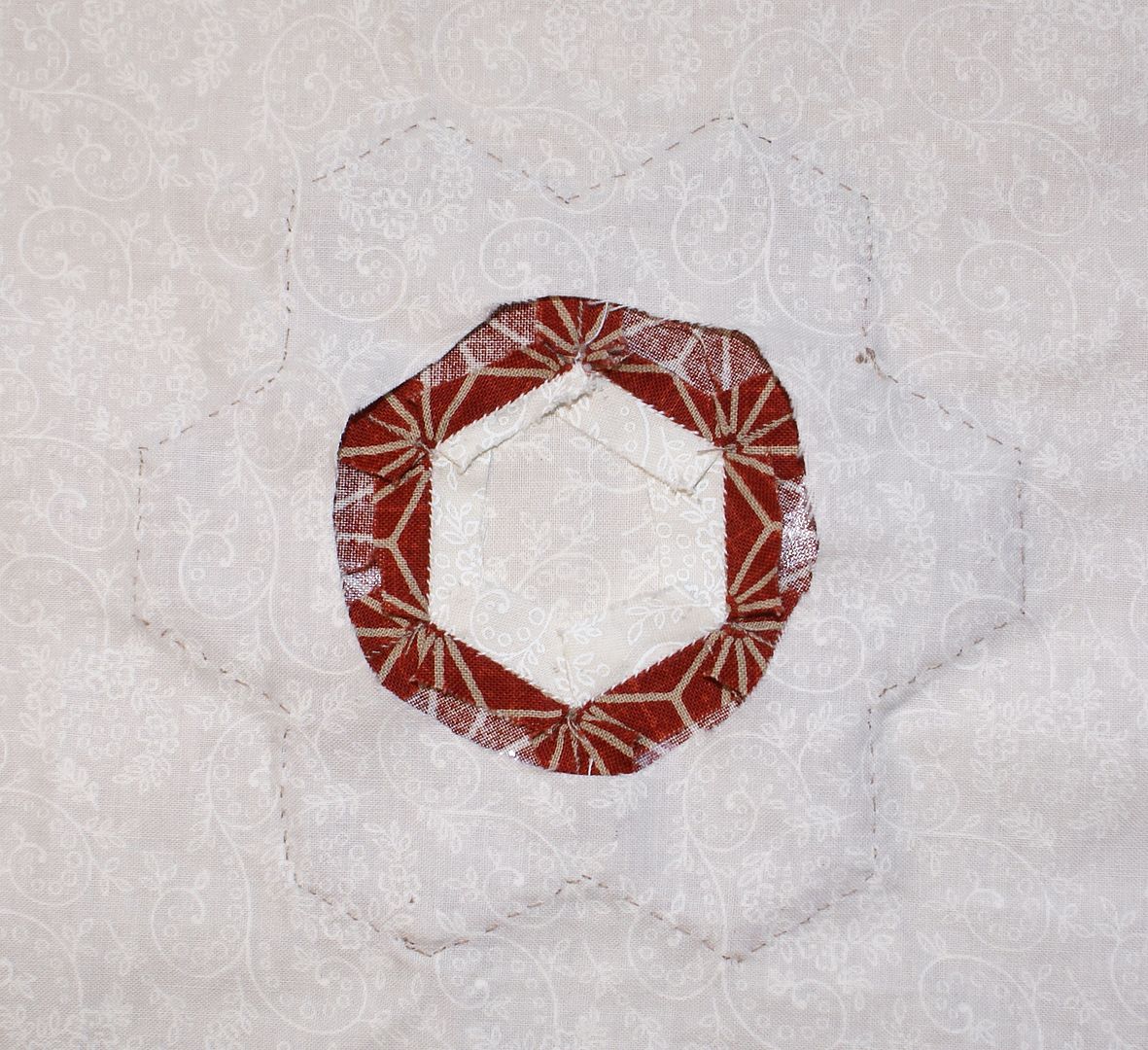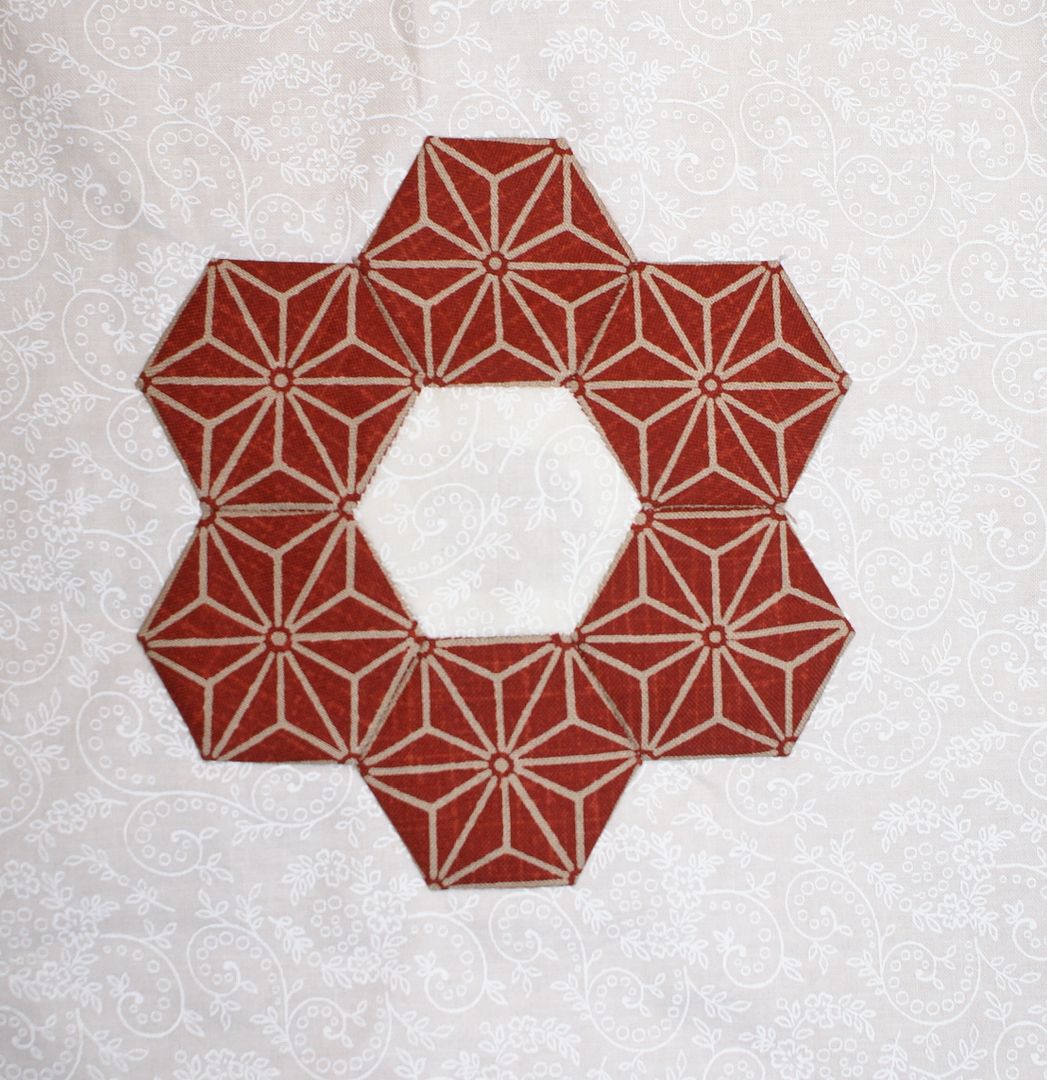 Nog even signeren en persen voordat-ie de deur uit gaat. Het kan de goedkeuring ook wegdragen van deze 3 kattebeesten,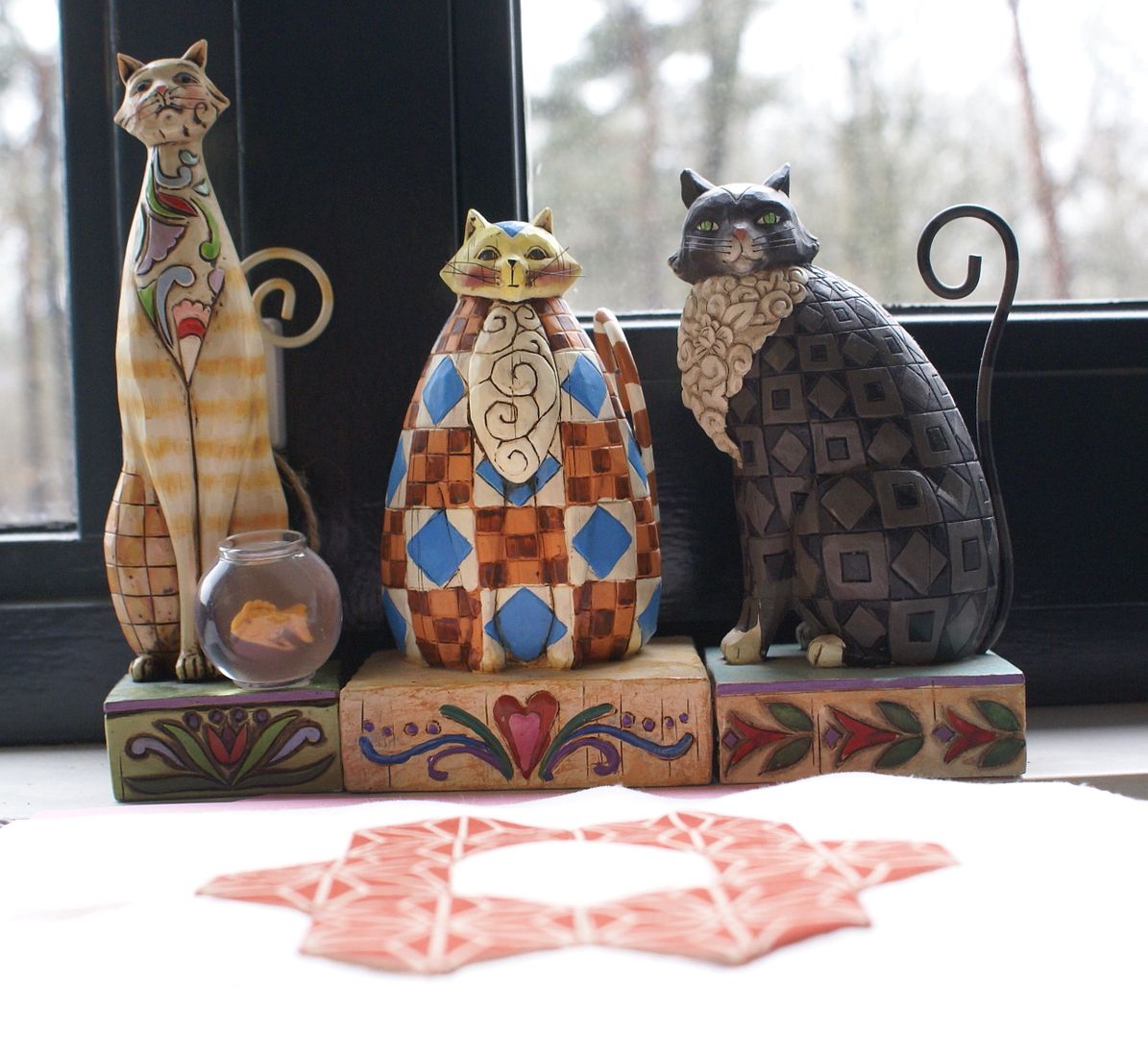 en hola wat een gemiauw van de andere kant van de vensterbank, jaja, jullie mogen ook kijken, vooruit dan maar.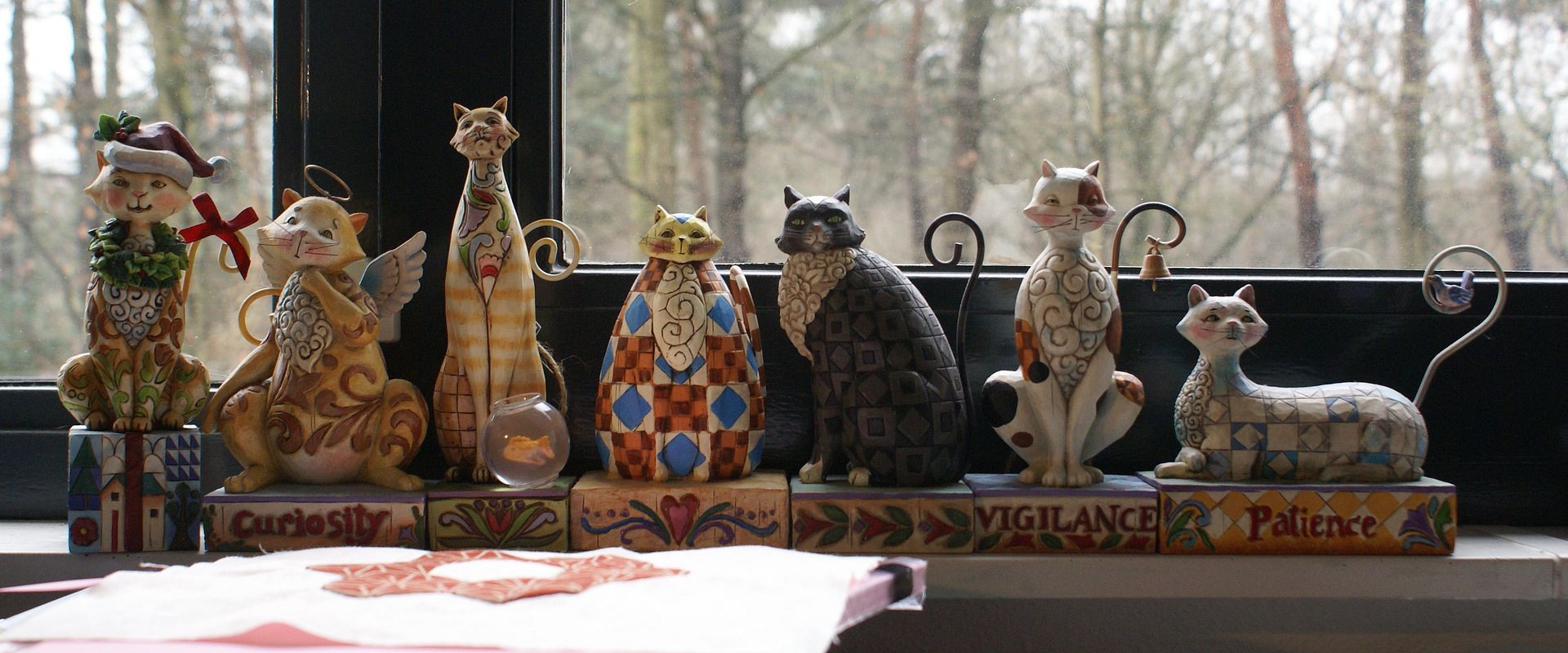 The cats were impressed, and the other ones complained for they couldn't see, so I moved them over to the other side, and yes, now they're all happy.
Ps.: de zwarte spinnende kat rechts op mijn weblog heb ik verwijderd, er kwamen steeds meer pop-up venstertjes met reclames in beeld, bah.
Ps.: I removed the black purring cat on my weblog, for it also brought pop-up commercials which I hate.