Ik ben nu halverwege het quiltwerk van de zwevende blokken, het is een behoorlijke klus, zo groot als deze quilt is, is toch wel het matje hoor, eigenlijk heb je hier een (semi) longarm voor nodig. I'm halfway through quilting, it's a bit too much for a domestic machine to handle, this size is begging for a semi-lingarm, as am I.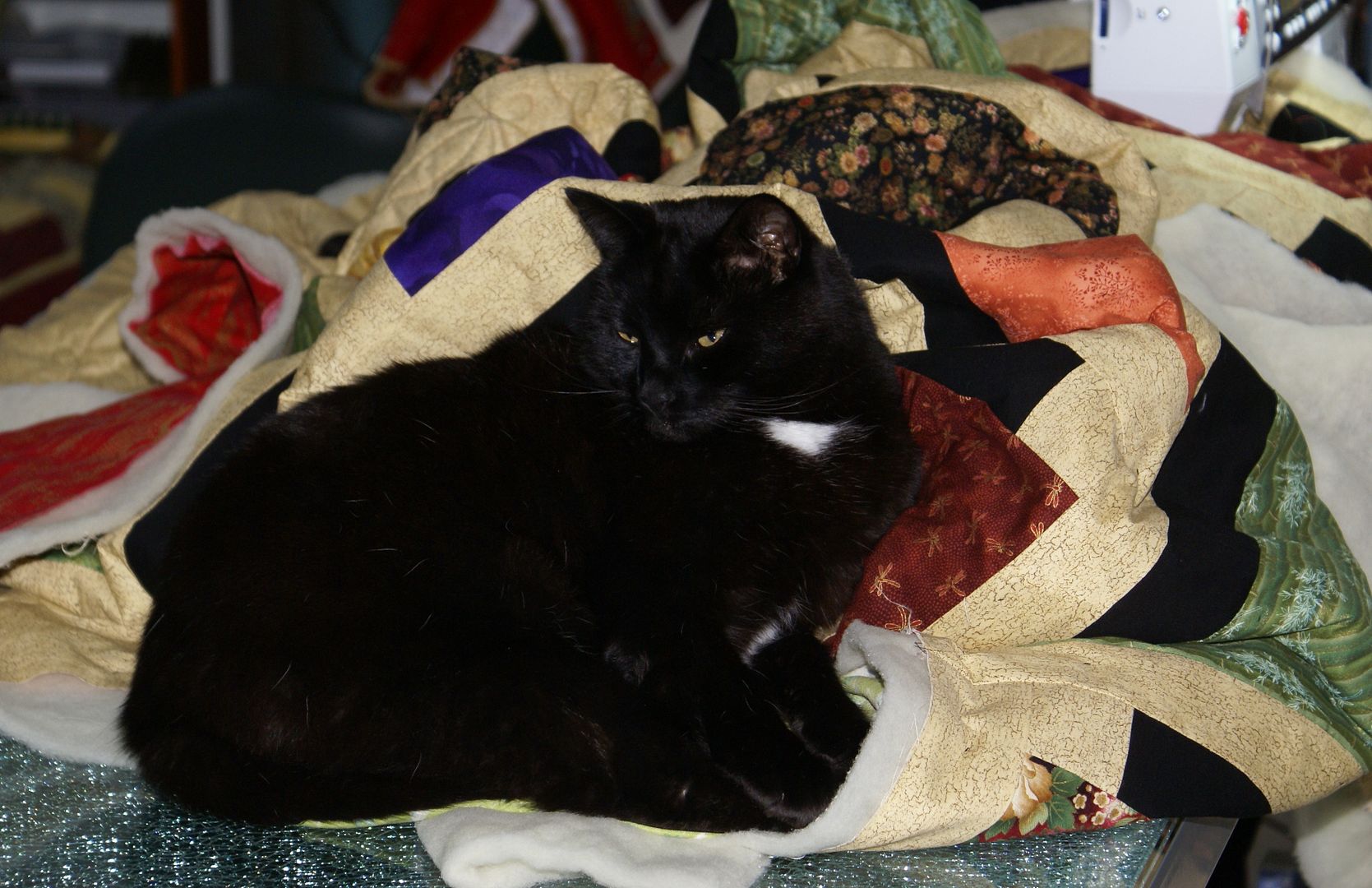 Zopje houdt me de hele dag al gezelschap, eerst lag hij nog netjes op het puntje en ging het met gemak, maar toen ik even naar boven ging, was hij wat hogerop gaan liggen, en toen ik weer verder ging met quilten, moest ik de quilt steeds dichterbij de machine trekken, en Zopje schoof gewoon mee.
Zopje has been keeping me company all day, didn't blink an eye when I asked him to move over a bit, slept through the afternoon while I was tugging an pulling the quilt closer to the machine, he almost ended up with his tail under the needle. That would have woken him up ☺ Suzanne took these pictures when she came home from school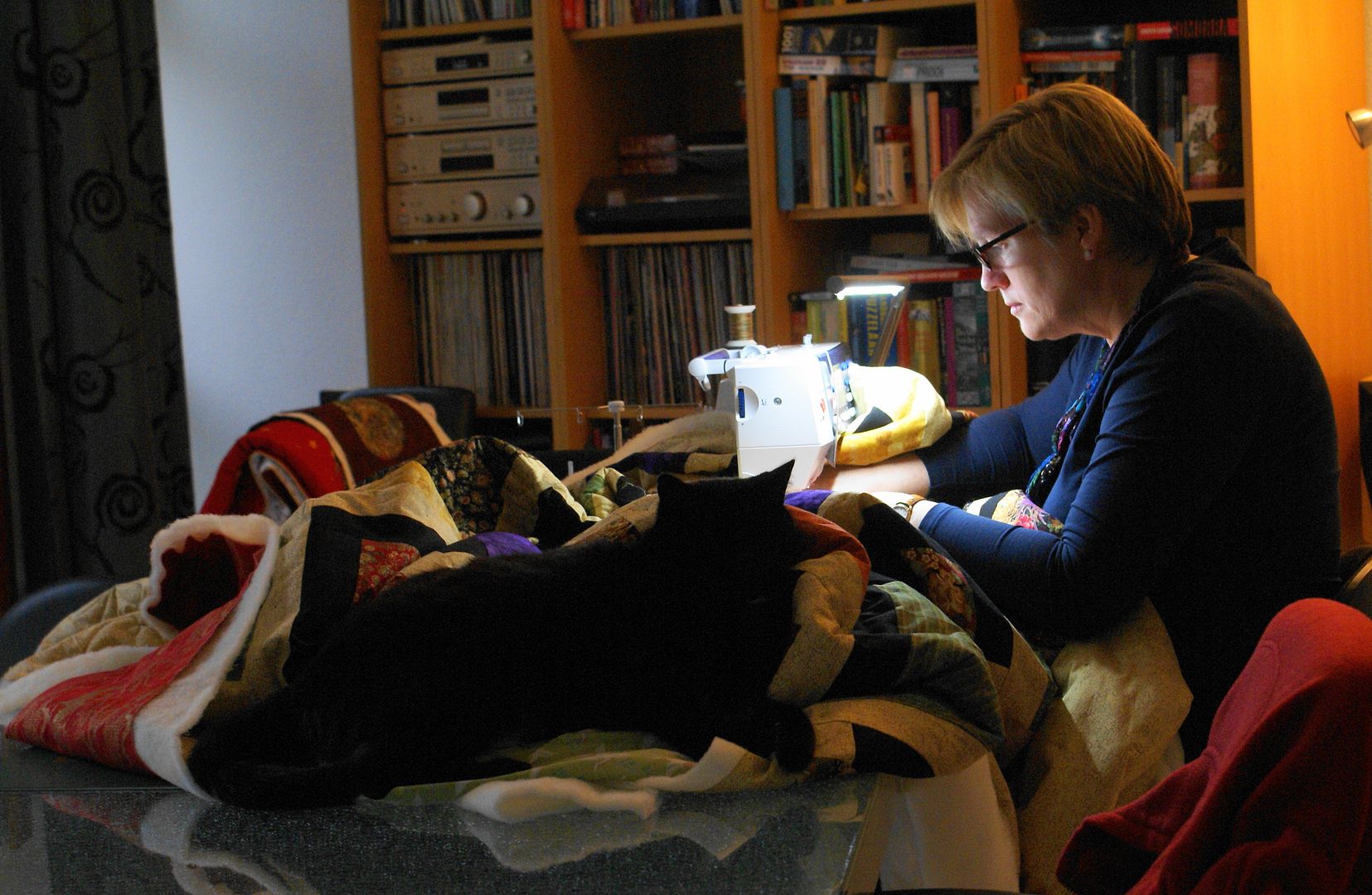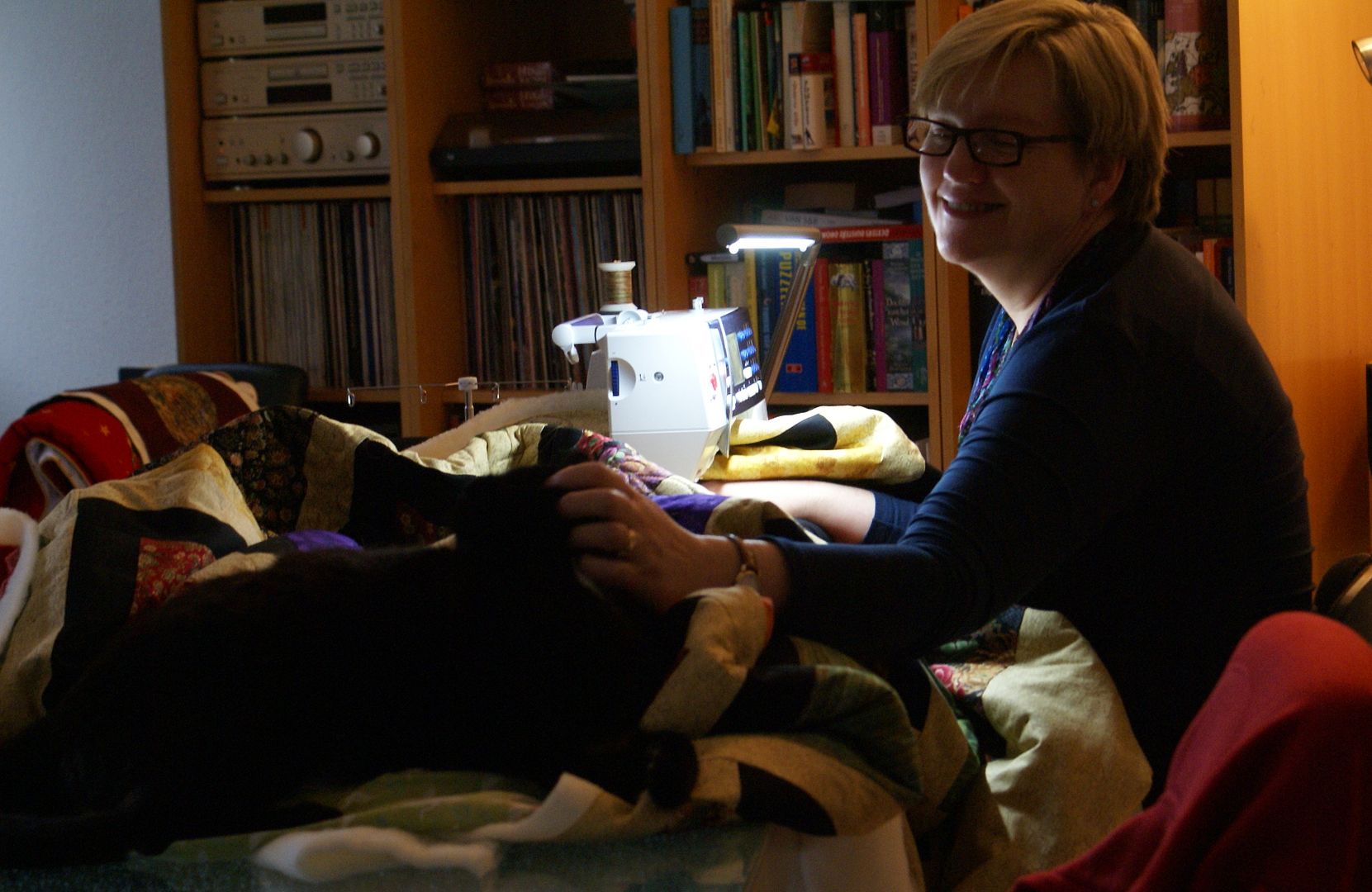 Suzanne kwam net thuis en nam deze foto's van mij met Zopje. De foto's zijn vrij donker, in het echt was het gewoon lekker licht in de kamer. Hij lag op het laatst echt bijna tegen de naaimachine na het maken van deze foto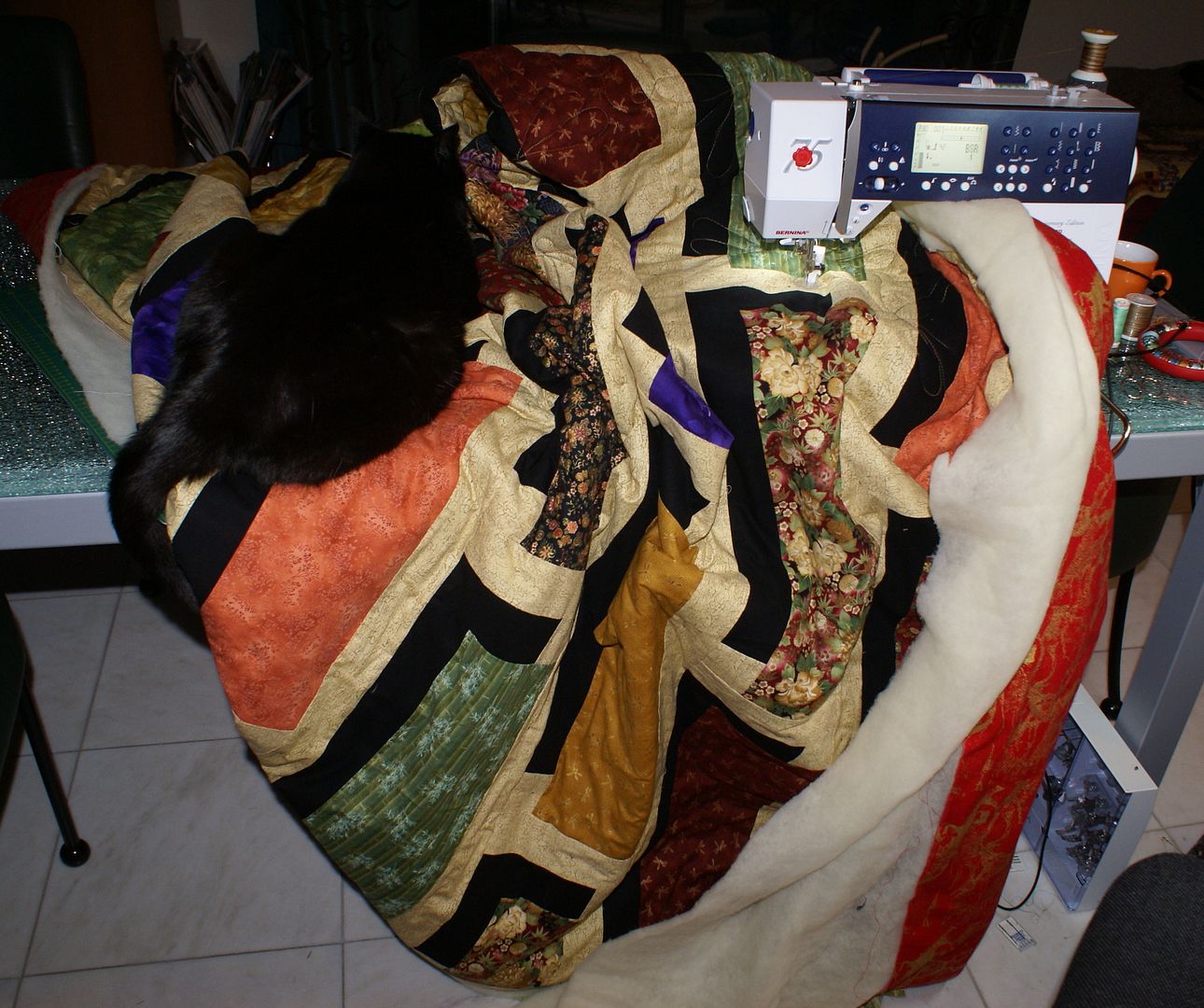 gelukkig voor hem moest ik toen aan het eten beginnen. No way dat hij op het opgevouwen quiltje op tafel wilde liggen, uh, veel te hard ligt dat.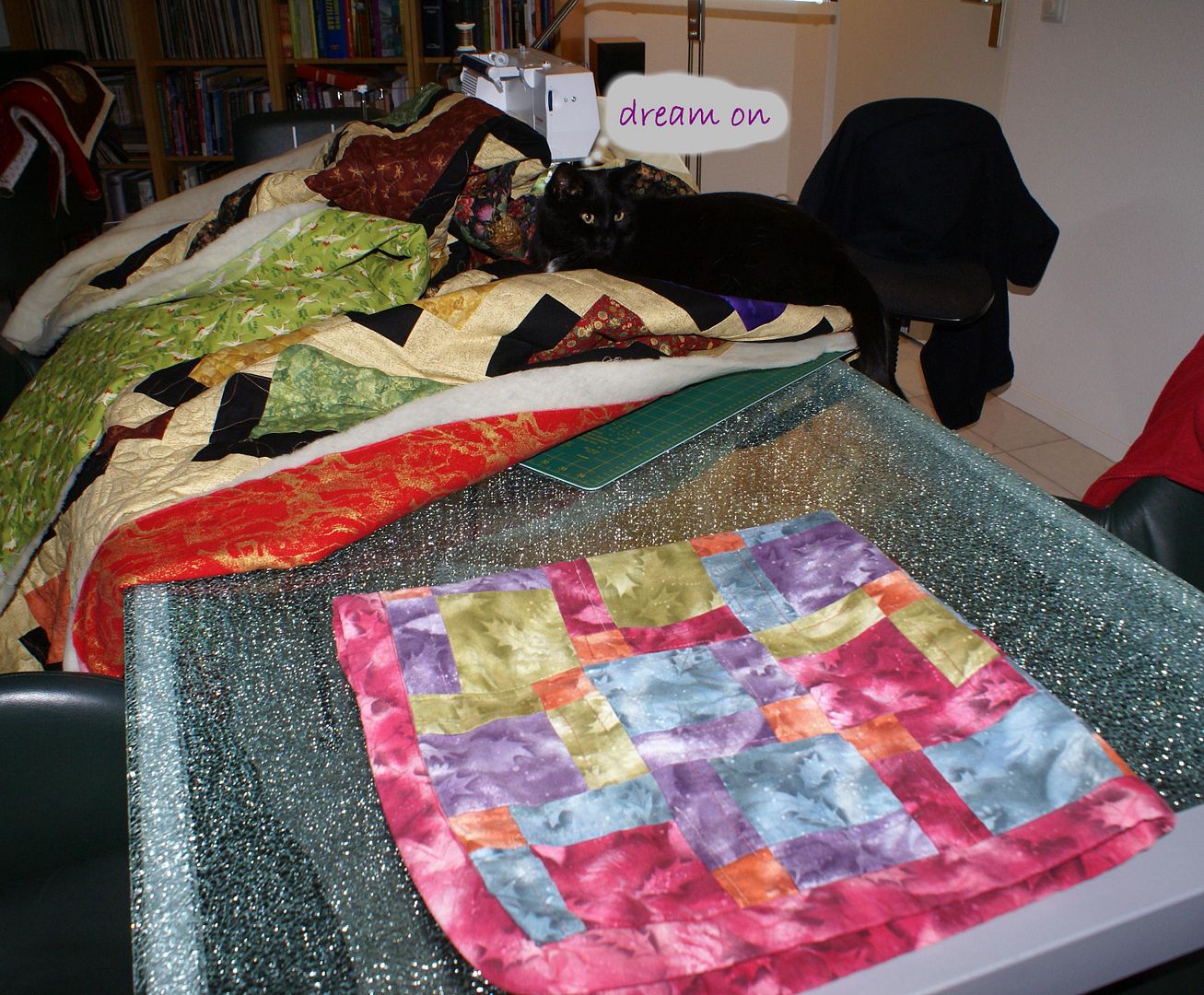 Pas toen ik -na het eten- er het fleesevest van Evelien bovenop legde, kwam hij in beweging.
His royal highness didn't find this quilt soft enough, only after I put Evelien's fleesejumper on top did he move over.
En ook ben ik over de helft mijn gewichtsverlies; vanavond woog ik op de DDC een halve kilo minder dan vorige week, wat het totaal op -11,1 brengt. Jipppieeee. Ik ben nu bijna 3 maten afgevallen.
And to top off this 'well done' blog, tonight at the Weight Watchers I've lost half a kilo this week, so that brings the total to 11,1 kg's! I've lost 3 sizes, jipppiieee!☺