Gistermiddag liep ik in de stad langs een kaaswinkel en zag deze beauty staan in de etalage, en voor €12,- kon ik hem niet laten staan. I noticed this beauty in the window of a cheese shop, and could resist it, I just had to buy it, for only €12,-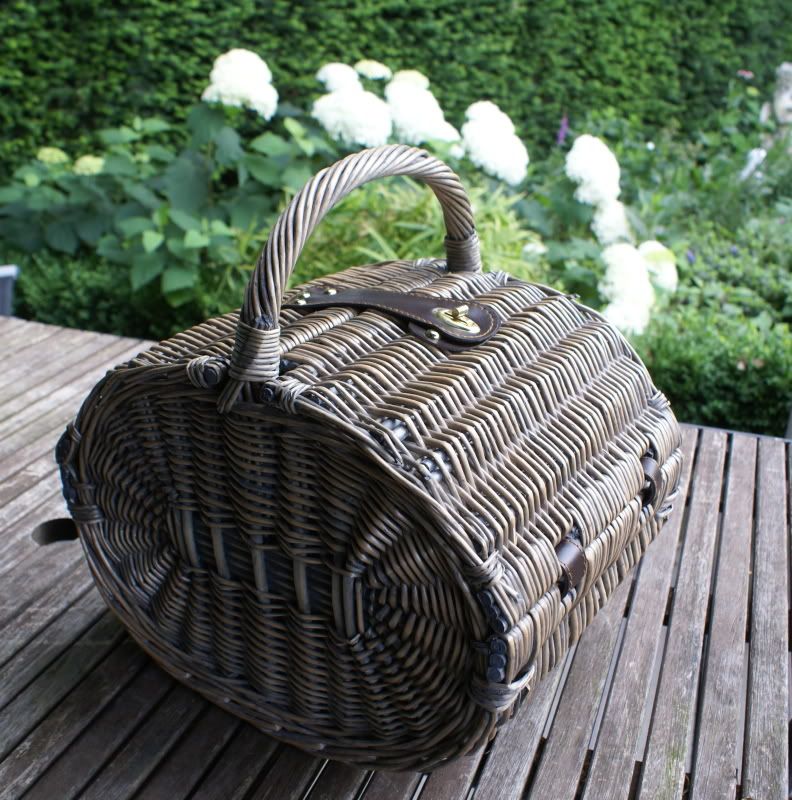 Wat moet je nu toch met een picknickmandje voor 2 personen als je een gezin van 5 personen hebt? Nou, haal eens al die picknickspullen er uit en stop er eens een schaartje ed in, dan heb je een enige handwerkmandje! Toch? En ook al doe je er niks mee, het is toch een mooi ding om naar te kijken? A 2 person-picknick basket doesn't go far with a 5 person family, but who mentioned a picknick? No way, replace the crockery and cutlery for a pair of scissors and stuff, it makes a wonderfull needleworkbasket?
Nog een mooi ding om naar te kijken, ik ga vanavond de tekst op het hartje naaien en dan moet ik nog zo eentje maken, met andere tekst. Ook een schatje he. An other beauty to look at; this block only needs text stitching, I'll finish it tonight.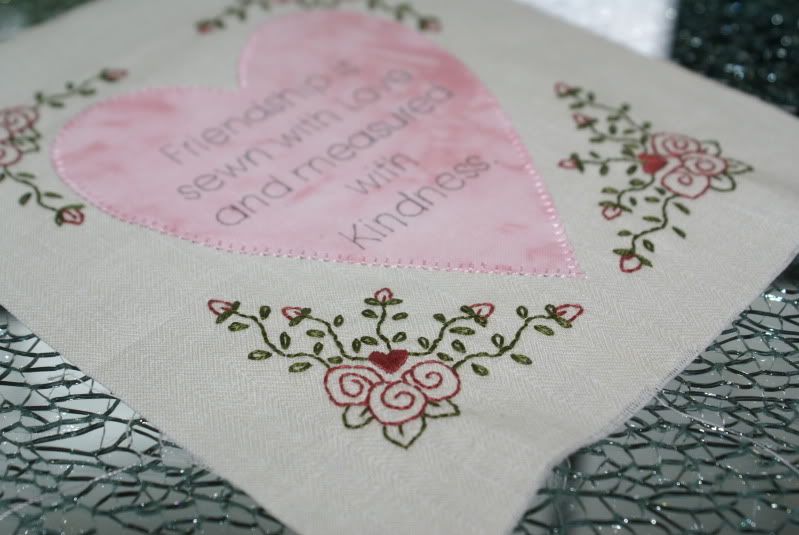 Op de langwerpige stroken moesten ook nog de hartjes op, dus die heb ik achter mekaar geknipt en geappliceerd. And while I was at it, I stitched the applique hearts on the rectangle blocks.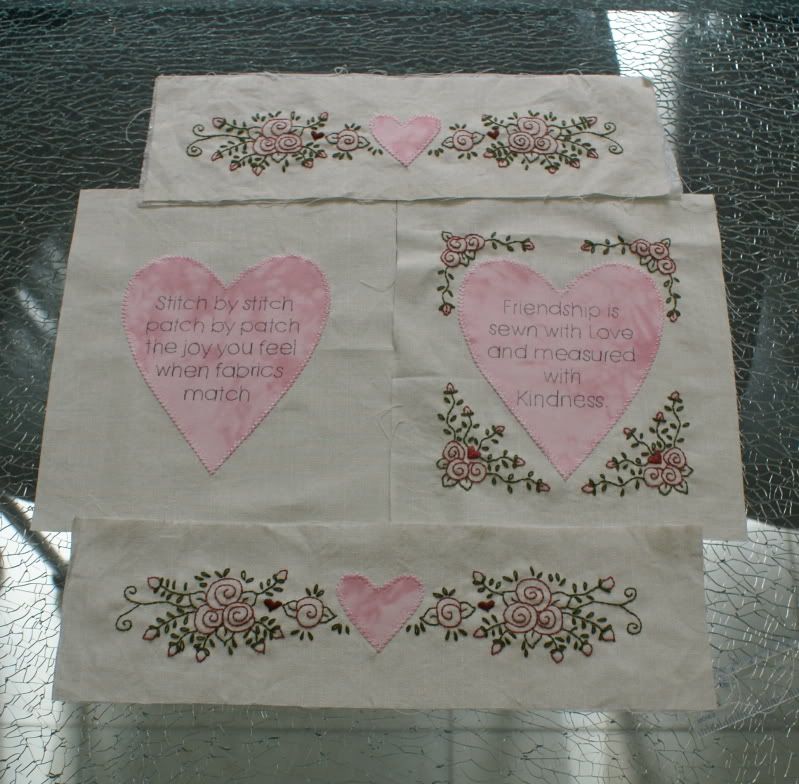 Next is the blooper-part; yesterday we went to a bbq party (people from DH's work) and I was wearing a new blouse with a false top, and after 2 glasses of red bubbly wine from down under, the strips started to annoy me, they kept on peeping from underneath. So -while I was chatting with the ladies- I just took my Swiss army knife and planned to cut the strips, but instead of that, I cut the strap! The front of the top fell down. You should have seen the looks on the ladies faces, so hilarious. After the tears where wiped off I tied the strap to the strips and yes, no more wine for me. En dan nu de blooper, kan je zien wat 2 glazen Australische rode bubble-wine met mij doen. Ik had een leuk bloesje gekocht bij Ms Etam, met een zwart 'vals' hemdje in het voorpand gestikt. Nou zaten er nog van die ophanglussen op de schoudernaden,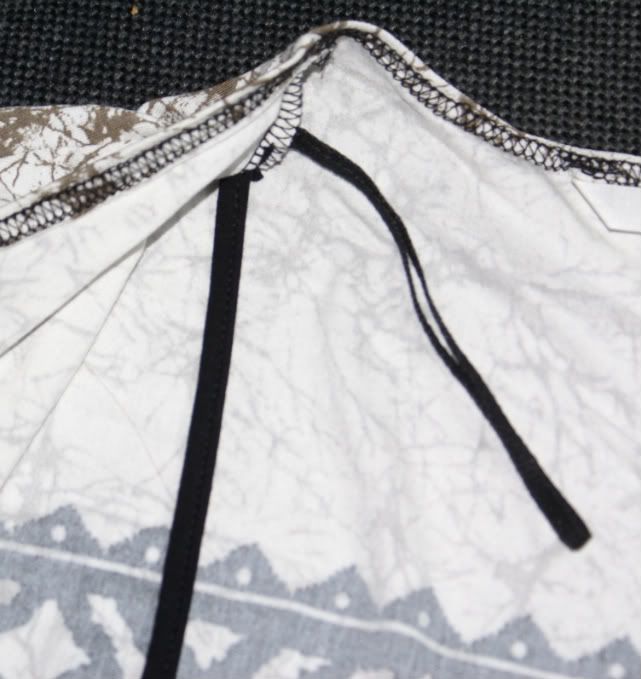 die ik vergeten was er af te knippen voor we de deur uit gingen; een collega van Perry gaf een bbq-feestje voor alle collega's en het beloofde een gezellige avond te worden. Na het 2e glaasje rode wijn begonnen de ophanglussen me danig te irriteren, ze piepten steeds van onder de halslijn van mijn bloesje uit, en dus pakte ik mijn zakmesje met schaartje uit mijn broekzak en knipte al pratend hup de lusjes door bij de aanzet, dacht ik. Tot mijn zwarte topje gelijk omlaag zakte, oeps, ik had de verkeerde lus door geknipt. Gierend van het lachen -de verbijsterde gezichten van de dames die het met open mond hadden aanschouwd waren goud waard- knoopte ik het schouderbandje van het topje vast aan de nog wel vast zittende lusjes. Ik heb daarna geen slok wijn meer gedronken.