Maar desondanks heb ik toch een paar mandjes afgekregen. Ze zien er saai uit zo -qua kleur-, ik ga er nog wat aan toevoegen, en ook nog 2 mandjes bijmaken. Het blauwe mandje blijft -denk ik- de enige, zodat-ie mooi in het midden kan staan, en ik ga er iets rond appliceren, weet nog niet wat. Zo'n gedrogeerde kleur ben ik niet meer gewend na de laatste quilts, moet afkicken.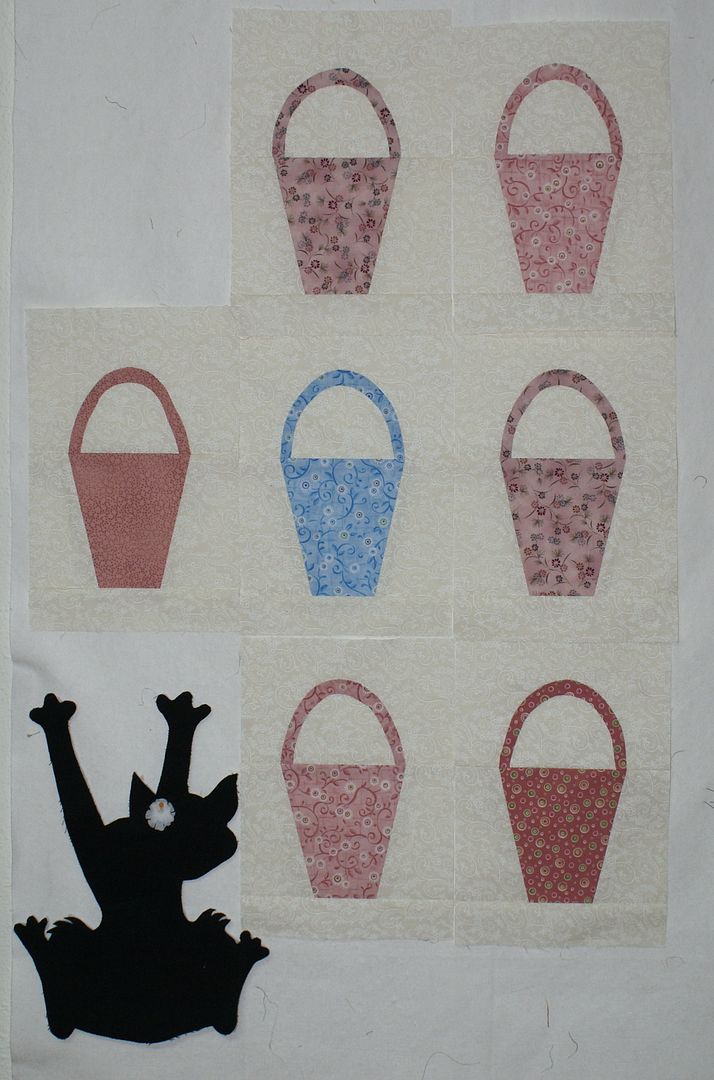 Not so much action today, though I did manage to make a few more baskets, I find them a bit boring -colourwize-, I'll add something in the baskets, don't know what or how, and I'll add something else around the blocks and that's also a big questionmark too, all one big surprise and not only for you lot.
Dikke pret op de fitness, waarbij ik een soort 1 minuten ronde moest maken, 3 verschillende oefeningen elk een minuut lang in zo'n hoog mogelijk tempo en toen de ronde klaar was mocht ik ze nog alle drie weer een minuut lang doen; keikapot was ik, en dat was slechts een beetje opwarming. Na afloop van het half uurtje beulen zat ik na een halve minuut nog steeds met een pols van 168/min.! Door de regen naar huis fietsen was weer zalig afkoelend.