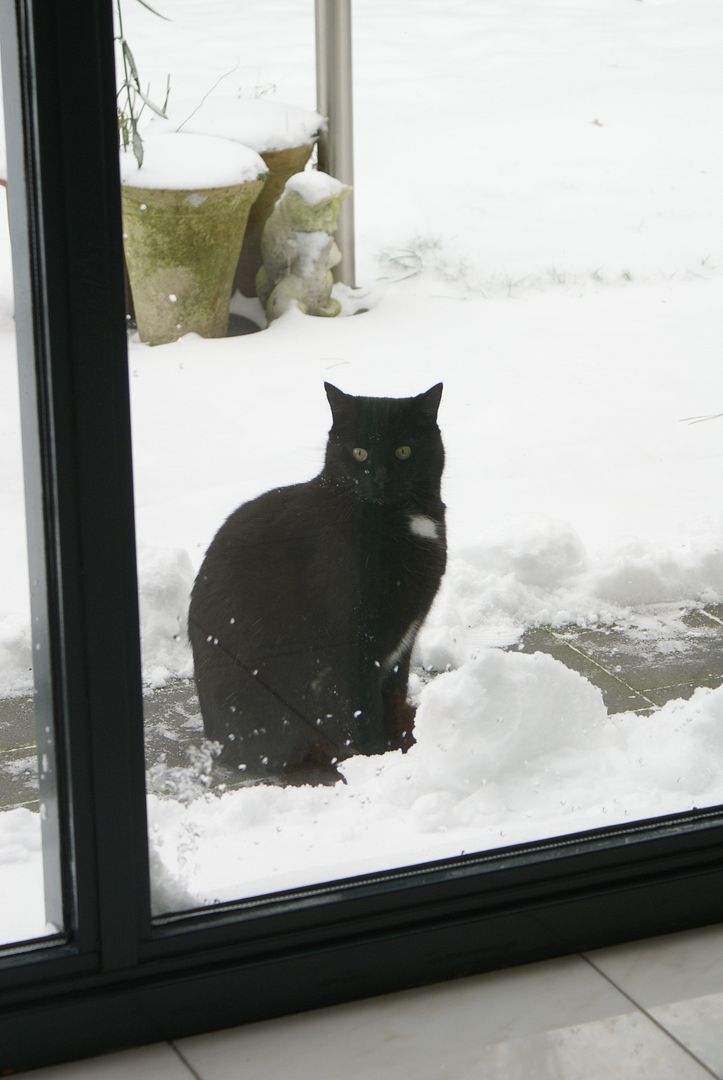 Geweldige hoeveelheid sneeuw is er de afgelopen dagen gevallen, jammer dat de Kerstparade van SBS6 werd afgelast omdat het te gevaarlijk was, wij kregen hier pas lucht van toen we in een hoofdstraat liepen; het gebrek aan geparkeerde auto's en mensen die de andere kant dan de onze opliepen hadden een hint kunnen zijn. Niet getreurd, we hebben lekker gegeten bij D' Oude Markt', en toen zijn we weer terug naar de auto gelopen (stond bij de oude muziekschool) en al glibberend en slippend weer naar huis gegaan.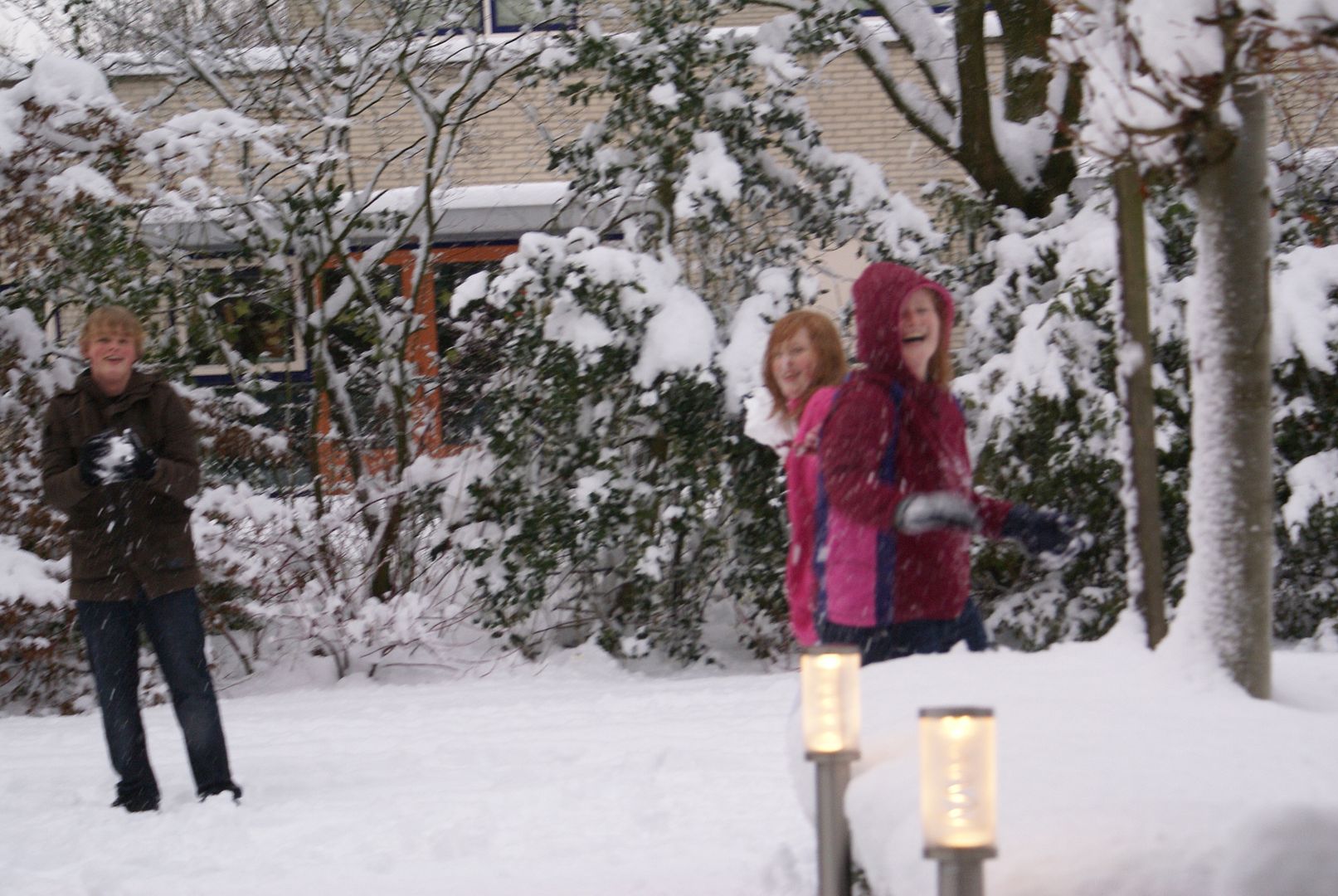 Today a day of fun and relieve; fun because of the snow, decorating the tree, playing Boggle and Cluedo, and relieve because we're not going to Düsseldorf tomorrow because of the snow and bad weather forecast (black ice?). Perry's car got stuck in the middle of our street, just when he wanted to back up onto our driveway; too much snow on the road and no 4-wheel drive, no wintertires, an automatic gear and a car that's way too heavy for its own good. It was like pushing an elephant, horrible, but with us 3 pushing after clearing the road near his tires we had a lift-off.

Vandaag een dag van pret en opluchting, de kerstboom is helemaal opgetuigd en Zopje nam gelijk het kleed in beslag, mij verwijtend aankijkend dat we dit wel wat eerder hadden kunnen doen.
Daarna geheel in stijl Boggle gespeeld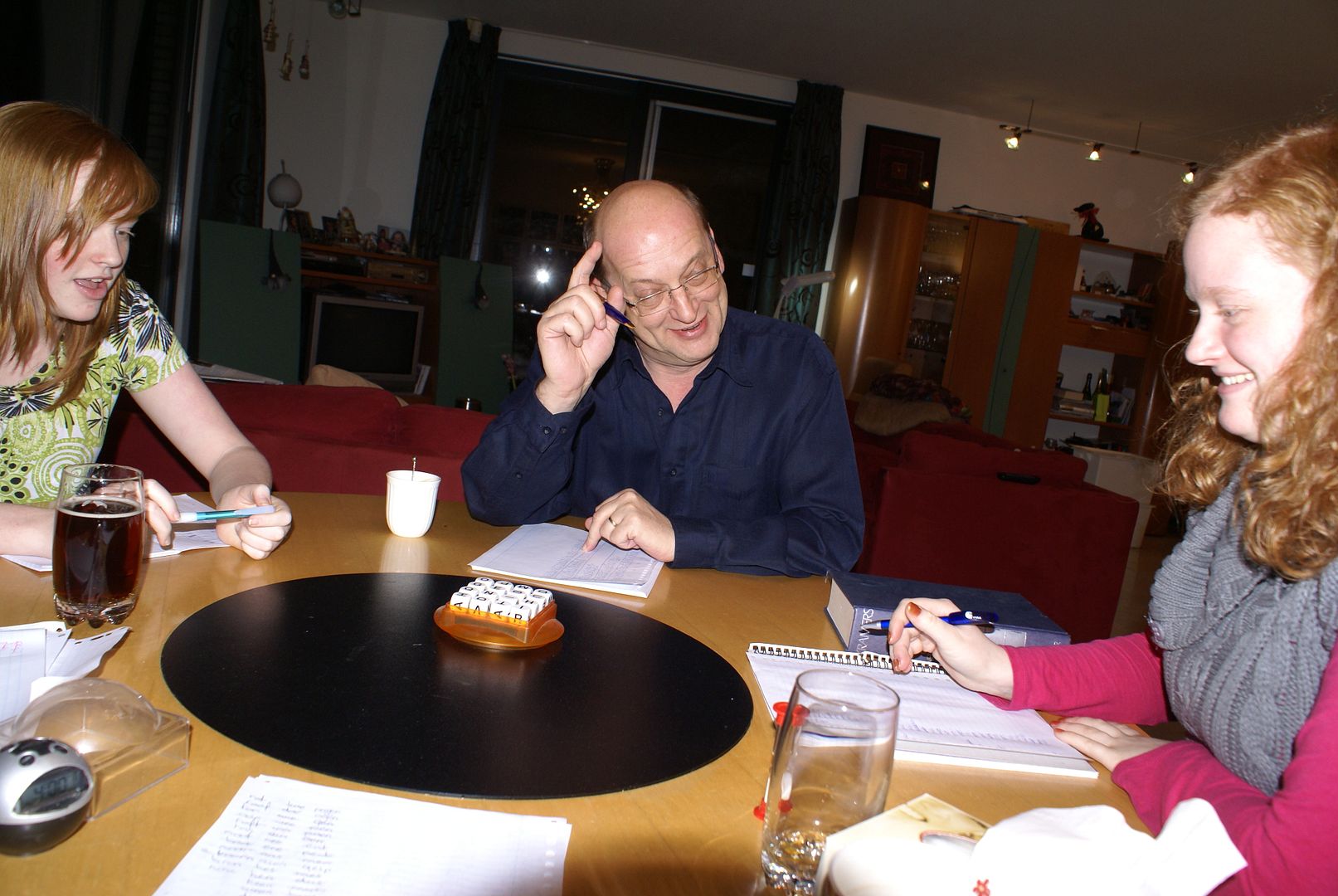 en na afloop van iets van 10 potjes gingen we naadloos over in Cluedo. Dat was de pret, de opluchting was dat we met z'n allen Perry z'n auto uitgegraven en losgeduwd kregen, toen hij na een heleboel verwoede pogingen om hulp vroeg. Terugkomend uit de stad kreeg hij de auto niet meer op de oprit, hij stond vast precies midden op de weg. Het kostte ons heel wat uitgraven, en daarna nog flink duwen met 3 man (Suzanne was cheergirl), wat een zware bak, zeker als je geen grip op de weg hebt met je voeten. Dit plus de kennis van grote kans op ijzel en sneeuw morgen deed de baas beseffen dat een ritje naar Düsseldorf (kerstmarkt) niet verantwoord was, dit tot grote opluchting van de kinderen en mij, want ik zat me al op voorhand zorgen te maken.