Na een afbeulsessie bij de fitness ging ik -na enigszins afgekoeld te zijn- de tuin in, blad van het gras weghalen en de afgeknakte en platliggende stengels van oa de Verbena (die metershoge met paarse bloempjes die op onderstaande foto te zien zijn. Deze foto is trouwens niet van vandaag, maar van afgelopen zomer, 't is maar dat jullie het weten)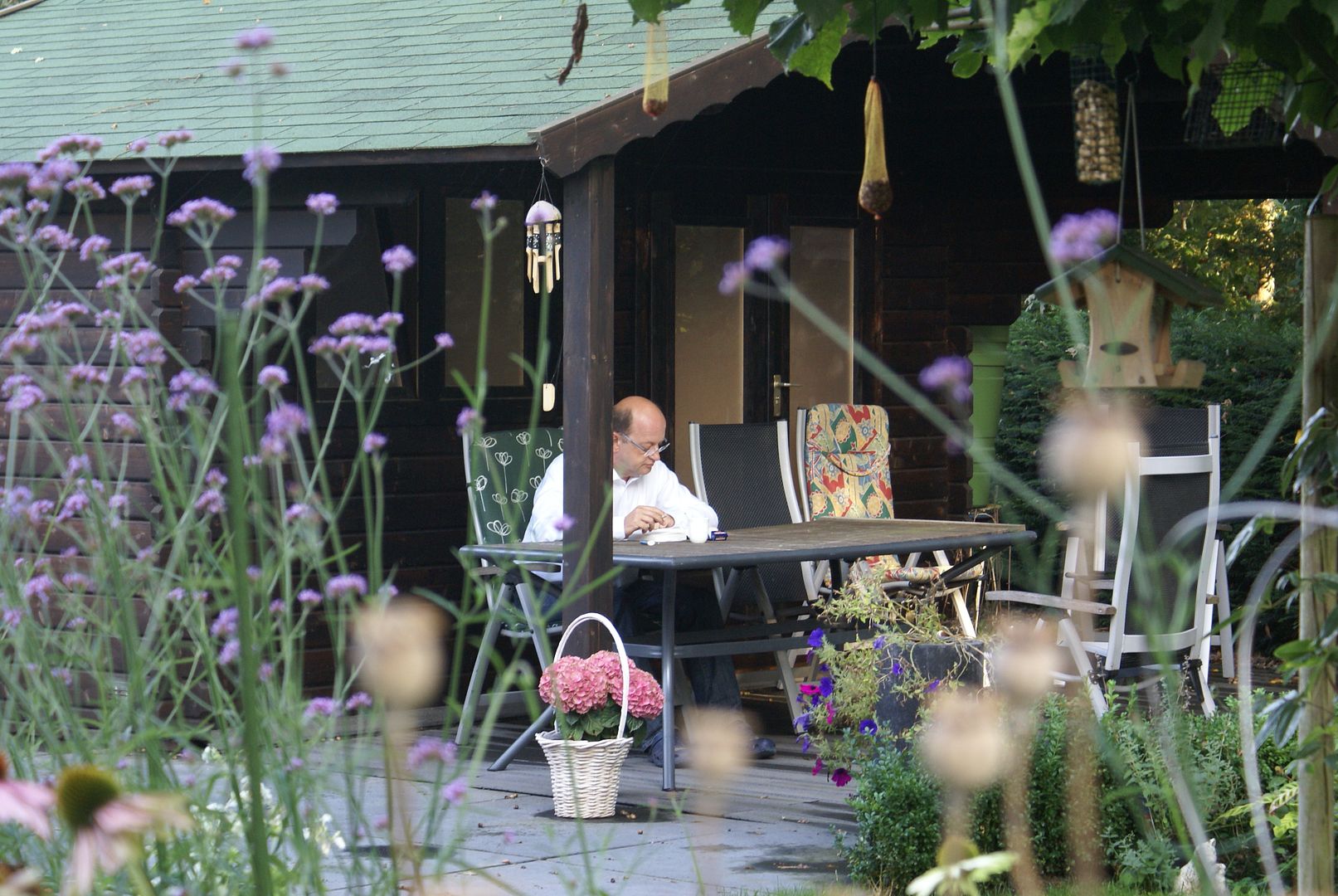 weg te halen. Helaas komt er overal ook boterbloem op tussen de vaste planten, smerig woekerspul, eens kijken of hiertegen te spuiten is, want weghalen ging niet zo makkelijk. De gemeente kreeg heel wat van hun eigen blad terug, zo lief van me, en bijna had ik ook een muisje over de heg gegooid; ik schoof met een bladhark een hoge stapel blad tezamen en toen ik de stapel over de heg wilde tjoepen, sprong er hard piepend een muisje van tussen, recht omhoog op mijn gezicht af. Ik gaf ook een gil, schrok me lam, en de muis schoot onder de heg door.
Ik heb een kwart tuin 'schoon' gemaakt, en toen zat ik er door, lekker gedoucht en aan de thee gehangen met een filmpje. 'Pursuit of Happiness' met Wil Smith, wel een goede film, maar ook deprimerend en af en toe langdradig, en op het einde -net toen alles goed was- stopte de film. Verdikkeme, ik had ook even willen genieten van een feel-good ending die langer duurde dan 2 minuten, na al die ellende die ik over me heen had gekregen daarvoor. Wel een schattig klein ventje die zijn zoontje speelt in de film, 't is ook in 't echt zijn zoon.