maar niet alleen de blaadjes vallen, maar ook de pc's.
Als ik zo links en rechts van me luister op internet, begeeft de ene pc na de andere het, en dan geef ik mijn pc maar een bemoedigend klopje op d'r systeemeenheidbolletje, met de woorden "kom op meid, je kan het"; en ook al werd ze de laatste dagen steeds tenenkrommend trager, weer hoopte ik op een wonder als ik een scan er over heen liet lopen. Tot vanmorgen, toen hielp zelfs dit niet meer, ik kreeg haar wel opgestart, maar toen zei ze: "je bekijkt het maar, ik eis een lekkere grote beurt door mannen die wel weten wat ze doen." Geen enkele dreiging mocht baten.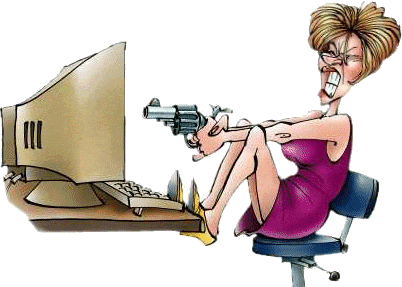 en dus sleepte ik ze naar Breda, naar PC-compleet, waar de meneer me bij naam en adres kent (slecht teken). 'Druk druk druk' was zijn uitstraling, de nieuwste versie van Windows komt er aan eind deze week, en de pc's staan in rijen van 3 om ermee geinstalleerd te worden. Toch zou hij proberen de mijne zo snel mogelijk te helpen, en vroeg of er nog belangrijke data op stond wat niet kwijt mocht. Huh, data? Nee, wel mijn fotomapjes. Juist, dat bedoel ik met data. O. Op de terugweg naar huis bedacht ik me ook dat mijn word.docjes met workshop materiaal vast ook onder 'data' vallen, daar zitten uren, dagen, weken werk in, mocht ik dat kwijt raken ben ik in de aap gelogeerd!
Ik heb de oude pc van Tim van onder het stof gehaald, (wie wat bewaard…) en daar ben ik nu op aan het rammelen, yeah. 't Ding kraakt en kreunt, deed er heel lang over om op gang te komen en ook hier zit iets helemaal niet pluis! Dus als jullie na dit blogje niks meer van me horen, weten jullie waar het aan ligt. Voordeel: ik heb meer tijd om aan de sterren te werken!
My computer is in the repairshop after refusing to work this morning. I'm working on a very old and tired pc of my son, so no worries if you don't hear from me anymore (this week). The only positive thing is that now I have plenty of time to work on the stars.