een oplettende quiltster wees me op een verdraaide blok dat verder geheel onopgemerkt was gebleven in blogland, en ik liet het aan Suzanne over wat ik er mee moest doen: uithalen of zo laten. Ze koos voor het laatste, ze vindt het wel stoer, vooral omdat er in Tim's quilt ook een blok verdraaid zit. A quilter's eye caught this mistake in the border of the quilt, (or is it the other way around and is it the mistake that catches the eye?) I missed it completely. I left it up to Suzanne to tell me what should be done, undo the error or leave it, and she choose the last option. She thinks it's kinda cool, Tims quilt also got an upside-down block.
Laughter, ik kan er geen genoeg van krijgen, afgemaakt tijdens tv luisteren, en toen ben ik gelijk verder gegaan met Togetherness. Leuk werk, maar ik krijg een beetje kramp in mijn vingers van het vasthouden van die kleine lapjes. Na deze moet ik nóg 5 van die kleine blokjes maken.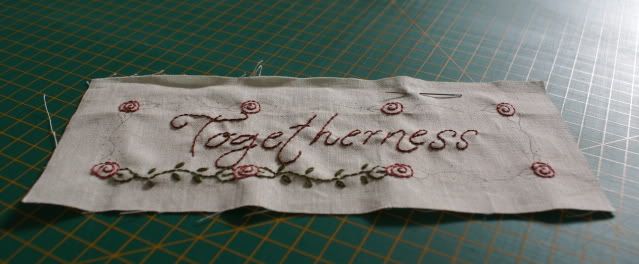 I finished Laughter while listening to the tv and Togetherness is almost done, 2 down, and only 5 to go. The only downside with these blocks is my fingers cramp up after a while.
Ik zit tijdens Amerikaanse misdaadseries altijd op te letten of ik quilts zie hangen of liggen, en gisteren zag ik tijdens de Law& Order SVU (met Olivia) 2 quilts in een 'ondervragingskamer' hangen; een niet om te gillen zo mooi cathedral window, en een wel om te gillen zo mooie log cabin. Die log cabin was zo verrassend mooi -vond ik- omdat hij gemaakt was in pasteltinten. "Wie heeft die quilt gemaakt", vraag ik me dan af. Ik heb er van tv af een foto gemaakt, is-ie niet geweldig?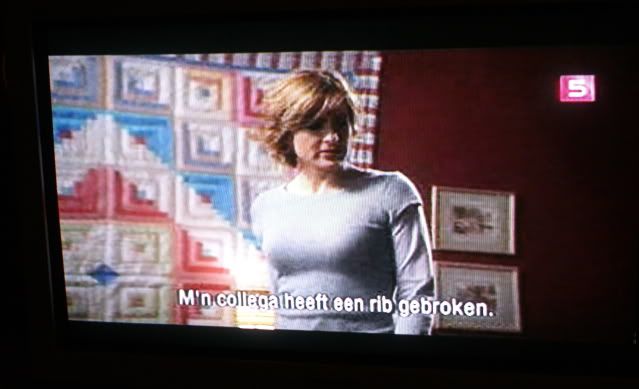 Do you ever notice crime-scene-episodes where quilts are showing? Yesterday there was a Law& Order's SVU, and in the interviewroom -looked like a familyroom- I saw 2 quilts, a cathedral window and a stunning log cabin quilt. The stunning thing about this log cabin was that it was made out of pastels and the outer border was done with all small strips of red/white fabrics sewn in a row. Who's the maker of this quilt, I wonder. The episode was about a twin, a boy and a girl, but the girl was born a boy and she did'n know it.
Lian won een paar dagen geleden de give-away ter ere van mijn weblogs 4 jarig bestaan, en omdat Lian het pakje vandaag al heeft ontvangen en zelf geen weblog heeft, heb ik er hier een foto van haar cadeautje, het staafje in plastic is een heerlijk ding, een telescopische magneet, ooit bij Nordic Needle gekocht.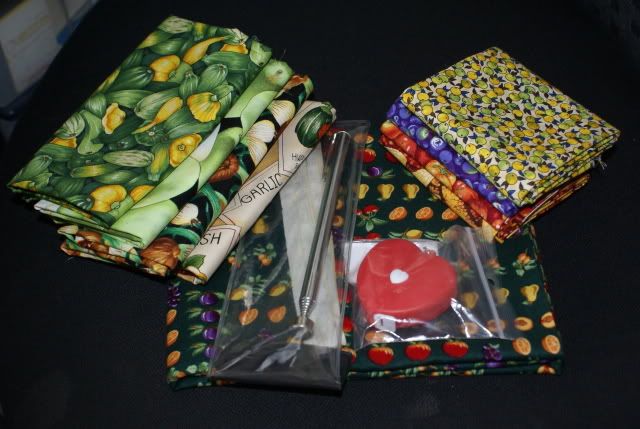 Today Lian received my present and because she hasn't got a weblog I'll show you what she got. The fabric and red heart tape measure speak for itself, but the silver thing in plastic is a wonderfull item,not for sale in the Netherlands. It's a magnet wand I bought it at Nordic Needle